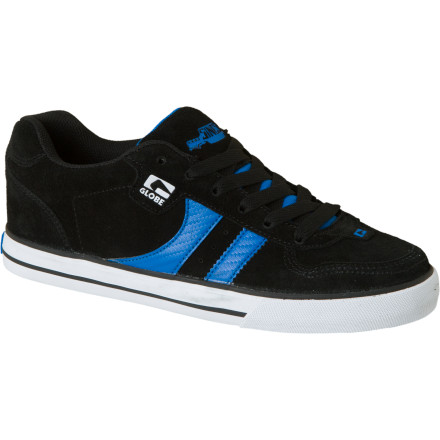 Detail Images
Yeah the first roll in the hay is fun, but it only gets better from there. The same goes for the Globe Men's Encore Skate Shoe. This street-smart shoe skates smoothly through life's tests. Globe improved this latest clone of the classic Finale shoe with a vulcanized rubber outsole and the multi-directional S-Trac tread. Gel cushioning pads your impacts, a triple-stitched toecap holds firm, and internal tongue stabilizers keep your foot pointed in the right direction.
I already tried numerous skate shoes but these ones fit me the best. They are much lighter than the sabatons and not that stiff, which I prefer better. I ordered them in grey color and they look great too! Plus they are cheap so I think it's for at least trying out.
These are some pretty killer shoes. Inexpensive, comfortable and very blue. They were comfy right out of the box. Lots of padding and the fit is perfect. I've had them for a few months now and they are holding up very well.
25cm would be about an 8.5 in US sizing. I would order the Globe Encore in 9. I wear a 9 in most shoe brands but a 9.5 fits me better with Globe.
Uhhhh wat size wuld 25 cm be?
Uhhhh wat size wuld 25 cm be?