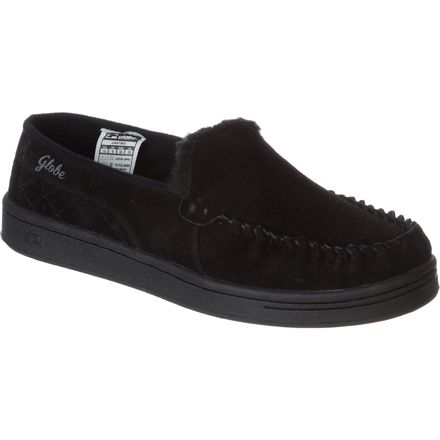 Detail Images
Description
Slip into Globe Castro Shoes for a taste of Cuban style.
Slip on the Globe Men's Castro Shoes, tip-toe into your neighbor's garden, and steal some fresh mint for a mojito. These killer slip-on kicks have hand-sewn details, super cushy EVA footbeds, and imitation sheepskin linings to keep you comfortable while you sneak back to your kitchen and mix up a refreshing beverage.
Share your thoughts
What do you think of the
Globe
Castro Shoe - Men's
? Share a...
Unhappy
Familiarity:

I've used it once or twice and have initial impressions
After a week the stitching came undone.
These kicks are awesome, super comfortable and the perfect shoes to wear with jeans, shorts or whatever. I am considering buying another pair in a different color to keep my style fresh.
these kicks are dope as $*&%
These are great for summer. They act like a sandal when needed, or a shoe. Dress 'em up, dress 'em down, either way you really can't go wrong. Super casual feeling, and comfortable after the initial break-in period. At the dogfunk discounted price, these are a sure thing.
Comfy shoes, not made for 4wheeling
This is my second pair, I love them. The feel a bit loose, but they are comfy as hell. They feel like they may slip off at times, but that doesn't bother me. I am a big guy and they fit just right. I owned my first pair for a long time but, they are not ideal for 4wheeling through the mud, hence the second pair.
Great shoes i wore them till they were falling apart and they were still mad comfy. im ordering more really recomend them.
Great shoes i wore them till they were falling apart and they were still mad comfy. im ordering more really recomend them.
Unanswered Question
I have wanted a couple select castro shoes,...
I have wanted a couple select castro shoes, however they have been out of stock every time I check to buy them. Is there a way to special order them or is it just a first come first serve? The shoes I am refering to are the Castro White/Blue Check. Thanks
First off, mad comfy shoes, look great. Only problem is that when I ordered I thought the "canvas" would be lighter brown turns out its a real darkshade of brown, but even with this tiny flaw the shoes are raw! The black on brown looks great and will make anyone have SWAG
Would only wear these for a slipper. Ended up giving them away because they fell off my feet to easily to skate in and the sole didn't have enough give to be my go to slipper.
Nothing to complain about. Globe did well with these comfortable loafers. Fits true to size. I ordered mine a size large, and guess what, they showed up a size large. Like earlier reviews said they do get a bit stinky if worn for too long. This is probably due to the limited breathe-ability, as I tend to not have the stinky foot problem. Great looking and guaranteed to get compliments.
I'm always slipping on loafers and these are top choice. I go straight from the boat to the bars with these on.
If you're messing around or just hanging out they are awesome. They are like slippers for the outside world. Mine had no problems holding up. I had the plaid ones as my first pair and wore them hard (to bars and in the rain and snow) and they lasted 8 months ish. Got my second pair in the tweed and they are awesome. Beware they are sized small, I wear 11 and bought these in a 10.
hey if i buy these but order the wrong...
hey if i buy these but order the wrong size can i send them back and get the proper size?
Hey keaton722379600, that's not a problem. Hit up the "Help" link in the top right hand corner of the page. That will take you to the DogFunk.com Help Center. From there, the Return and Exchange Policies will be in a link on the left side of the page. Click on that and you'll see our return policy and instructions.
I recently received these shoes in the White/Plaid and LOVED how they looked and was happy to have chosen them. However, they did't last at all. They were indeed comfortable but after walking a total of 4 city blocks the stitching on BOTH shoes was coming undone around the toes and the shoes were unusable without a lot of repair work. Maybe it was bad luck, but I've heard of poor construction from Globe before.
for relaxation inside... away from the snow
I also need to comment on the shoe box that looks like a cigar box, rad!! As for the shoe... it's pretty cut and dry, yet it still manages complete comfort. A sense of being more carefree is present as I walk around the office in these loafers. Totally worth the price. (I went with the Granite/Khaki style)
comes in a cigar box--what more do you want?
Just like the dictator would himself, these kicks are for straight-up lounging, smoking cigars, and plotting your next third-world takeover.

New favorite shoe.
I got these as well as the Globe Don Shoe and both are most excellent. I am a fan of slipper-type shoes so these are a must buy just like the awesome Don Shoe. Def get these.
Write your question here...How do you clean...
Write your question here...How do you clean these shoes/?
It would all depends on the material of the shoe. The Globe Castro can be leather, suede, or canvas. Don't be afraid to throw the canvas ones in with the laundry. The leather/suede ones, I recommend treating with a spray. You can usually get them at a shoe store or pay them a little extra cash and they'll do it for you. If you already own and they are dirty a little water on a rag and some elbow grease should do the job. You may want to contact your local cleaners if that doesn't work. See if they have suggestions.
I wore mine to grad just to be different, couldn't be comfier..