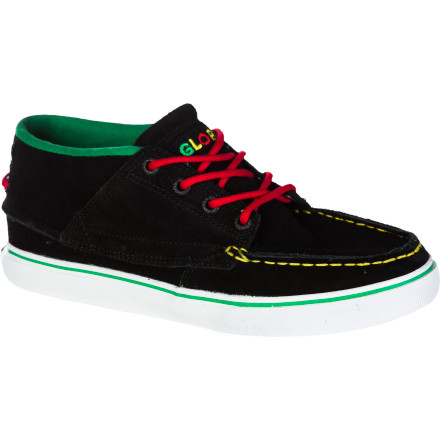 Detail Images
Your skating lacks style. Remedy the situation with the Globe Bender Skate Shoe. Leather laces and a leather heel accent give you the 'fresh off my yacht' look that you've sought your whole life, and the hand-stitched moccasin toe with ballistic-grade thread will hold up long after your knees collapse and you're wearing adult diapers.
What do you think about this product?
Have questions about this product?
you can literally skate to the yaht club and then wine and dine coprate ceo's with these shoes. Seriously though, they are so comfy and the boat shoe style is legit! i've had one paie that lasted me a very long time. Bonus feature, if you're on the yaht, and the swells come on board...you wont slip and slide from bow to stern...best grip around
Jake Duncombe in X Games 16: Real Street
This montage of Jake Duncombe includes some of his best tricks, which are hugely impressive. No doubt his pro model shoe helped him make these flip tricks so buttery.
When I first ordered these, I was kind of skeptical about them. But when they came in the mail, I was surprised about the quality and material of the shoes. They're light but they seem very durable and tough. The they're made of probably 50% suede and the rest is the canvas material. They're very comfortable and fit pretty well. I like how they look and look cool with jeans or shorts. They shipped in about a week with free shipping and they included a spare set of wide laces in case the leather laces go bad or if you want to replace them.

Overall I'm very satisfied, and might conder buying another pair soon.