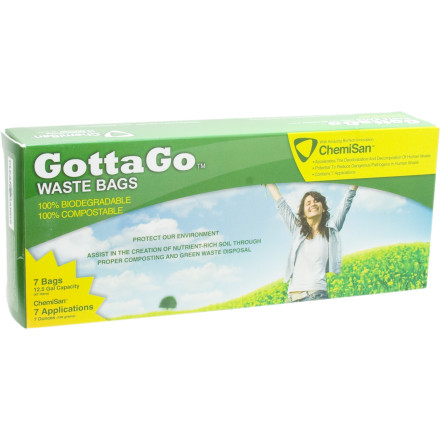 Global Sanitation Solutions GottaGo Waste Disposal Bags w/ Chemisan - 7 Applications
View Larger Image
When you're forced to answer Mother Nature's call on the trail, reduce the impact of your waste with a single application of Global Solutions Chemisan. The biodegradable collection- bag and microorganism-based powder gives you an environmentally friendly method dispatch with odors and dangerous pathogens. Chemisan reduces your waste to an environmentally friendly humus that's ready for disposal in your chemical toilet or trail-side cat hole.
What do you think about this product?
Have questions about this product?
Number One in Your Number Two Business
Just like the sign on the outhouse at home used to say.

Sure, I'll be the first to review these (although I'm sure many others have made good use of these bags). Sometimes you can't find a BLM outtie and digging a hole isn't an option or you're too close to a water source, so what's a coffee-loosened camper to do? These bags and a waterless toilet are the ticket. Well, actually the paper in your hand is the ticket, but these bags take the cake. Seriously though...

After researching some similar options these bags really do appear to help out good ol' mommy nature in a big way. Why not just dig a hole? You could, but consider the potential environmental impact of adding harmful poo pathogens to a nearby water supply (fresh water is valuable), or even burying an unpleasantry that might cause wildlife activity near a heavily-used campsite (no one likes a slob). Most people don't know how to dig a proper cat hole, or the best methods for popping a squat without making a scene. Feel like you fall into either of those categories? Grab these bags.

Hey, when you gotta go, you GottaGo.