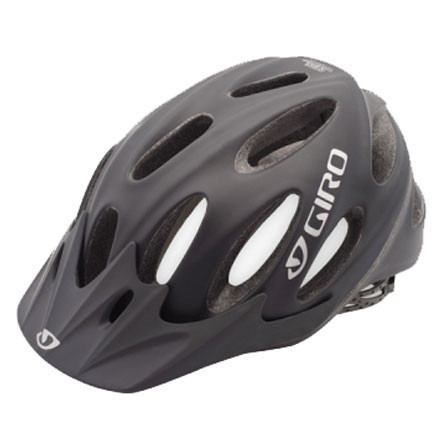 Detail Images

Community Images
Find inner peace along the gnarliest singletrack with the low-pro, high-performance Giro Xen Helmet. The Xen takes its divine, full-coverage inspiration from skate helmets, without resembling S.W.A.T. team protective headwear. Wind Tunnel technology means the 17 vents not only scoop air inside, but channel it along your cranium to keep you cooler than going bareheaded. The integrated visor helps reduce glare, and provides a little bit of extra pro when branches reach in to scratch your shades.
Find Your Xen State
Familiarity:

I've put it through the wringer
Love this helmet.
The Good:
Comfort beyond belief. Wearing this for hours on end never is an issue.
Lightweight.
Good ventilation.
Looks really good for a helmet
Adjustable visor.
Easy to adjust the fit.
Good coverage.

The Bad:
The price is a little on the high side.
No longer available.

I am on my second Xen. When I am ready to replace my current one I will get the updated version the Giro Xar.
this has to be one of the (if not the) greatest helmets on giro's line. super lightweight, yet provides awesome protection. slammed into some low-hanging branches and barely realized it. also love the POV visor. definitely would recommend it
Awesome All Mountain Lid!
Really great helmet for all mountain riding. Very comfortable and offers plenty of protection. I've been in a few good crashes with this helmet and it has stood up to everything. I really like how much protection the Xen gives at the back of the head. No real cons except that the Xen tends to get a bit warm during the summer months, nothing major though. This is definitely one of the best all mountain helmets around. Giro really did a great job with this lid!
Going into my third season, I love this helmet. It's super light, and the fit is superb. It keeps me pretty cool on those mid afternoon grinders without leaving me feeling exposed when things get wild. The removable pads are nice for washing. The graphics are still sharp as a knife. The visor is even tight still and doesn't flop around. This helmet even sports goggles with ease and great fit, just in case you have an identity crisis. Buy it!
I've had the same old Specialized helmet for 10 years and finally bought this Giro Xen - way more secure fit, great ventilation and considerable aesthetic upgrade. It appears to be very well made, easy to adjust and the Large size fits my massive head (23.75"). Great product.
Great Helmet, Great Service!!
Ordered on a Saturday Night and shipped on a Monday.

I have a normal-large head and this helmet is perfect in the Lg-XL

The Camu looks like it's white in the pictures but really it's more like a Grey and White and appears more camouflaged. The picture makes it seem whiter than it is.

It covers more of the head than the flimsy road bike helmets but less of the head than the military style helmets. A very nice compromise.

Since I'm in the middle of a Electric Bike conversion that will have me traveling 30+ miles per hour, figured time to get a little more protection.

BTW- It vents well, is relatively light and very comfortable. It just downright feels safer and I hope I'll never need to find out if it really is!!

By the way HucknRoll ships from stock and has real salespeople manning the online chat lines a cut above the faceless shells that you deal with at many of the online companies.
Great helmet overall. Very comfortable, snug, customizable fit thanks to the strap in the back. Doesn't move around while biking, and has good ventilation. Also fits well with my GoPro helmet strap. Only con is that the rear strap for customizing the size doesn't stay put very well and is easily expanded on accident. This is normally not a problem though as once it gets on your head, it stays put very well.
I was kind of suckered, but I still bought it.
I looked at this helmet because it was "on sale," only to find out that the on sale item was not that of the picture. Which of course the pictured item was the one that I wanted. False advertisement? I don't know, I'm not a lawyer but I would recommend that you check the prices next to the size and color in the drop down menu. The size and color that I wanted/needed was not on sale, but I bought it anyways and am pleased with my purchase. I've never been one to wear helmets, but I would recommend this one. It's light weight, fits comfortably, and is well ventilated for maximum coolness.
The helmet looks good it's very comfortable and seems very durable and tuff and the roc lock adjustment is really nice
Works as intended, personally tested.....
I bought the Xen because of the extra protection in the back compared to most other xc helmets. Glad I did.

Couple weeks back I went down and broke my arm, fractured my wrist and cracked some ribs. I hit the back of my head so hard that I had amnesia. Wife says I was like 'Ten second Tom' from the movie 50 First Dates, I would reset and ask the same questions every three minutes. Did that for 12 hours. I still don't remember the crash or even going for a ride.

I'm fine now, brain is all good. Judging by my other injuries, it wouldn't be had I not been wearing this helmet. I hit the back where it offers a bit of extra protection and it cracked just like it was supposed to. Instead of my head. If you are looking for something that offers a bit more protection than the average helmet and has been tested, this one fits the bill.

On a side note it felt pretty light to me, had good air flow and my Oakley's fit well with it on.
Love this lid. It is super comfortable and fits great once I got the right size. I was on the big end if the small size according to the chart. But the med fit much better.
Tried other helmets in this price range and this one fit and felt the best very comfortable helmet and doesn't block your view
Fits perfect and looks sick!!!!!
I love this helmet because it's light weight and the roc loc adjustment system is really easy to use, creating the perfet fit! I tried on many helmets at several stores. I have a size small head, but I have heard that this is one of the best selling helmets giro has out there...great price too!!!
This helmet is awesome and fits my head perfectly. It seems to be good for riding, and does not move on your head while you ride. It has good coverage of your head incase you fall. I don't know how well it handles if you fall on your head, I have not fallen on my head lately. My last giro got a dent in it from falling, but is still holding up. This helmet is better and more durable, so we will see how it holds up.
A very comfortable helmet and recommended. Light and easy to adjust. Sizing seems a little on the small side so consider ordering the next size up. I think that I will have some problems using this helmet while wearing balaclava this winter.
Just try my new Giro Xen helmet really love the color and pattern. it fits great. I evan got the chance to try the quality hit a tree with my head bonced off and kept going. Beauty
My 3 year-old son with a big head LOVES it!
We tried a number of helmets to fit my 3 year-old, and none would give him a good fit. But the second we put the Giro Xen on his head, he would not let us take it off. He took it to his first day of school (we drove there, no bikes!) because he said it protected his head and it kept him safe. The helmet that my son won't take off is the best helmet of all, in my opinion. I tried it on and once adjusted it fit me well, so he has a good while to grow with it. It sure is light! Now I am thinking I want one for myself...
Huck n Roll offered the Xen at half price... they threw in a great pair of sunglasses in addition. The Xen offers comfort and simplicity to a sport riddled with obsessive and finicky minutiae. Thanks for offering a helmet that not only works intuitively, but also doesn't make a rider look like a Super Mario Brothers Mushroom character.
I have worn giro helmets for a long time they didnt quite fit great . But this guy fits awesome, has great venting ,has good protection really worth it.