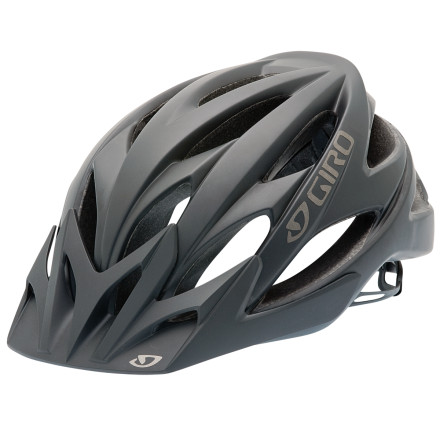 Videos

Community Images
It's not that road helmets are substantially less durable than helmets made for mountain biking, it's just that the three-way balance between ventilation, weight, and durability is readjusted for off-road purposes. The Giro Xar Helmet gets the same expert engineering found in the top-line road helmets. That means the same In-Mold process that make Giro road helmets some of the strongest and lightest on the market is also used for the Xar. The In-Mold construction process fuses the outer shell to the EPS foam liner. This process enhances the effectiveness of both parts. In fact, the fusion process actually reinforces those formerly vulnerable spots around the vents and ribs. It makes them lighter, more durable, and better ventilated than helmets with shells that are glued to the liner.
Where the Xar differs slightly from the road helmets is in the focus placed on the ventilation. With 17 Wind Tunnel vents and internal channeling, Giro has hardly skimped on ventilation, it's just that by reducing the number and size of the vents, slightly more emphasis has been put on durability. You'll also have the benefit of the P.O.V. visor to deflect the sun, rain, and twigs. The visor has a patented internal clutch system that allows for 15 degrees of vertical adjustment without the need for any tools; just give it a quick whack with your hand. And if you'd rather not have it on at all, you can easily remove it without tools.
Giro's development of the Roc Loc 5 Fit System makes it possible micro-adjust your helmet on the fly, with just one hand. Though other helmet manufacturers have similar adjustability options, none of them even come close to the weight savings that the Roc Loc system offers: it is almost 40% lighter than comparable systems.
The Giro Xar Helmet comes in Small, Medium and Large. It is available in Matte Black/Grey Bars, Matte White/Grey Bars and Black/Cyan/Lime.
RocLoc 5 provides a comfortable fit with unrivaled adjustability (easily adjust vertical and horizontal positioning), stability, and weight savings
Seventeen wind tunnel vents provide internal channeling to keep your dome cool
In-mold construction fuses a durable polycarbonate outer with the helmet's impact-absorbing foam liner to provide better ventilation in a lighter package
POV visor offers 15 degrees of adjustability
Share your thoughts
What do you think of the
Giro
XAR Helmet
? Share a...
This is the one to get!
Familiarity:

I've used it several times
Returned my Giro Hex and glad I did... the Xar is of better quality and design, and is much more comfortable, I find. Love the matte white w/black graphics, and found the transaction with Back Country.com to be an excellent one - thank you!
Broke when it was supposed to
Familiarity:

I've put it through the wringer
Just ordered my second one! The first one fit well and I used it for a little over a season including a few races. It met its end when I wrecked and broke my hip. The helmet cracked in 4 places but my head was fine. Thank you Giro!
Solid helmet.
Familiarity:

I've put it through the wringer
Enough coverage that you don't feel exposed, but not so much that it's uncomfortable to pedal with. The adjustable visor might be kind of gimmicky, but it's not a bad thing, I just don't think I've ever wanted to push it up. The Roc Loc is sweet, too. I got the yellow, and be warned, when they say "highlight yellow" they mean "HIGHLIGHT YELLOW".
I like it.
Familiarity:

I've put it through the wringer
Easy to adjust roc loc head fit, while riding even. Good airflow and fit, if you have the head shape. Visor adjusts up and down a bit. I like the light colors since its hot out there, why heat up your head!
Amazing design and quality!
This is my second giro helmet. My last helmet was the giro hex and I loved that helmet but it finally reached its braking point so I decided to upgrade to the XAR helmet and I can definitely say its worth every extra penny. If you are looking for a high quality mountain biking helmet then this is the one to go with...no doubt! I haven't been able to try it out yet but still an awesome helmet!
BC Employee and bike shredder extraordinaire, Vinny, is a taker of many risks upon his cycle.

This is the helmet he chooses, so take note!
I wear this helmet for 90% of my mountain biking. It's my go-to for trails and XC. It's very light and comfortable.

I've had mine for two years and have never had a problem with it. After several hours of riding the helmet never irritates or feels heavy, even in the middle of the summer on a hot trail.

Get out and feel more comfortable in the Xar! Feel free to chat or call - ext. 4490. I'd love to talk more about the Xar!
I WOULD SAY THE BEST HELMET BETTER THAN XEN AND HEX.
I keep coming back
Familiarity:

I've put it through the wringer
I've owned my XAR for three years now. I keep trying out newer fancier AM type helmets, and I keep going back to my XAR. It might not have the super full coverage and safety of some of the other options... but it's light, sits on my head without moving around at all, and is all-around encumbering out on the trail. I like to think that the best gear is the gear you never think about, and the XAR nails that criteria.

One specific feature to call out would be the super effective and easy to adjust retention system. It's easy to do one handed and holds strong. I loosen my helmet after every ride and re-tighten it so I'm playing with that thing constantly, and after years of this it is still flawless.
Does what is says on the tin...
Familiarity:

I've put it through the wringer
I smashed my last XAR and it saved my bacon in a big way. Without it, even if I could even make it to this page, I'd probably be writing this -----> sdaluhsgl gsfhl hsfglkh la lkjnhlu. EXACTLY! GIBBERISH! Get this helmet and wear it, it could save your head from getting smashed in. I like it enough to be on my 3rd. (The first one saved me too, but it wasn't as bad). Anyway, get it in white because that's bitchin! The new way it secures to the head is also good if you have a massive melon like me. Buy this helmet
Giro XAR Helmet
Familiarity:

I've used it several times
This is replacing my older Giro X2... fit is similar (I fit medium in all my ski and bike helmets from Giro or Smith).
I like that the chin strap now routes on the outside of the RocLoc head band. Fits and breathes well.
Nice Helmet
Familiarity:

I've used it several times
its done what its needed to do. Its not too hot on the way up. Stays put on the way down.
This is a very good MTB helmet, fit and finish are what you expect from Giro. It could be a bit lighter but that's my main complaint.
Not bad
Familiarity:

I've put it through the wringer
My head shape fits well with this helmet, have had a few over the years from giro. Easy strap set up. Rocloc is nice. Would like more vents, but the ones with more look less appealing. Use it for mtb so I like the visor. Weight is ok.
Really like the helmet. Vents well, excellent adjustability, and good airflow and coverage. My only gripe is that Giro is been adding minimal padding to their helemts lately. They're comfy to wear, but soak up almost no sweat. I am extra sweaty and maybe the improved airflow prevents this issue for most people, but I end up using a bandana or sweat band. Seems like that's where all helmets are headed. So with that in mind, this ia a five star choice.