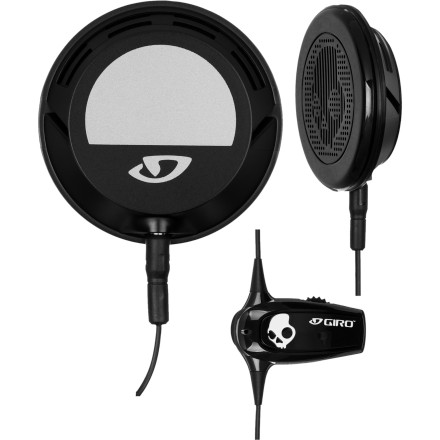 Detail Images
Tune out all the distractions around you and drop in with the Giro TuneUps Audio Kit. Giro teamed up with Skullcandy to create speakers that slides easily into your Giro helmet earflaps so you can keep your favorite tunes bumping while you ride.

Skullcandy-powered 40mm drivers deliver crisp, clear sound
In-line volume dial allows you to mute the sound when your friend is trying to talk to you or turn up the music when your next to some annoying gapers on the chair
Compatible with Giro Omen, Seam, Sheer, Fuse, Prima, G10MX, G10, and Ember helmets
Not compatible with Giro helmets manufactured before the '09/'10 winter season
.....Not to "amped up" on these
Familiarity:

I've put it through the wringer
I have these in a Smith Vantage helmet, and they fit great, they also sound great.



BUT.....the inline volume dial/mute button attached is absolute garbage. It continuously cuts in and out and once muted, its difficult at times to turn the volume back on. I wouldn't say I'm very happy with the product.



The good thing is though, the volume control comes as an inline attachment to the actual speakers, SO, for pretty cheap, at least you can get a set of descent head phones that can direct connect to your IPod if necessary.


This system will fit Giro S4?
This system will fit Giro S4?
Great for the price but could be better
Gender:

Female

Familiarity:

I've used it several times
I had a bunch of stuff stolen a month or two ago so I've been buying and trying new equipment. This looks functionally pretty similar to the Smith helmet audio kit and was a bit cheaper so I decided to give it a try. The kit is pretty easy to install and should fit just about any helmet that is set up for audio. The hardest part of the installation is lining up the hole in the speaker (while inside the ear piece of the helmet) with the plug in....basically the same design premise as the Skullcandy Cassette Headphones minus the mic and headband.

I installed these into my Giro G10 helmet instead of buying new Skullcandy earbuds to replace the stolen ones (I wanted to try something that might let me hear more going on around me than with the buds in) . They end up blocking out a fair amount of outside sound (I know a lot of people like outside sound blocked out but I'm talking about even when I've turned the music off) and make the earpieces tighter on my ears than preferable but that might be because I'm right on the border of Small/Medium helmets when wearing Giro and I went with a Small because it was on sale. The clip that is used to control the headsets is a bit too far down the line and with pocket placement can make the cord (overall great length) seem a bit weird. This headset looks like it should have a mic (as does a majority of Skullcandy products) but IT DOES NOT. These sound decent, get fairly loud and the sound stays pretty clean.

There is a trick to getting these to play properly using your phone (I use iPhone 4s) that took me a few trips up the hill to figure out. Unlike most headsets with an in-line volume knob and on/off button you have to manually start music on your phone then hit the on/off button to get your music to play. If you stop your music for any reason using your phone you MUST restart the music on the phone. Your phone music volume also affects speaker volume (you can get it cranking if you turn your phone volume up all the way).
Is it compatible with Giro Revolver? Th...
Is it compatible with Giro Revolver?

Thanks
Best Answer
Hey Silvio,



Your Revolver is compatible with all TuneUps systems!
Didn't see if they were compatible with...
Didn't see if they were compatible with the combyn. Wondering if they are? Thanks.
Best Answer
Hey Justin,



The Combyn is compatible with all aftermarket Giro audio systems
skull candy
Familiarity:

I've put it through the wringer
great sound, a bit fragile. I broke the clip but I was able to hot glue gun the mute/volume control to a clothes pin and continue to use the device. I really like the mute button. overall, a good deal however, I expect to replace this helmet head phone with the same item after this season (maybe 2 ski seasons)
Compatible with Giro nine.10 helmet?
Compatible with Giro nine.10 helmet?
Yes, these are compatible with that helmet.
Will this Skullcandy "audio system" fit...
Will this Skullcandy "audio system" fit in the Smith helmets that accept these type systems? Backcountry used to carry the Smith/Skullcandy system, but I no longer see it on their website.
Best Answer
They should fit just fine. It is essentially the same system with the approximate same size of the audio slip-ins so you should have no problem.
Bought these for my G10 helmet and the sound is good, but the controller is fragile - literally fell apart after the first day or so. I now have it patched together with duct tape and it functions OK