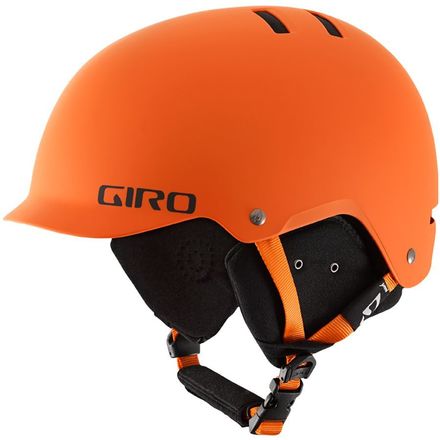 Colors

Detail Images

Videos
Description
Brimming with protection and forgiveness.
You may forget her birthday, never call, and make other plans for Thanksgiving, but you can always make it up to your mom and wear the Giro Surface S Helmet. Stylish, comfortable, and affordable, the Surface S protects your ungrateful little noggin when you're out doing things that scare her silly. So you make her happy, while you still do your thing. Giro even threw in a skate-inspired brim to sweeten the deal.
Hard Shell construction offers durable, reliable protection at a wallet-friendly price
In-Form Fit system lets you fine-tune the fit with an ergonomic dial, even with gloves on; vertical tuning features accommodates different head and goggle shapes
Six Super Cool vents with mesh covers pull cool, fresh air into the helmet while pushing out heat and stale air
Compatible with TuneUps audio systems (sold separately)
Unanswered Question
Can I wear this helmet for winter bike commuting?
I likey, but some drawbacks
Familiarity:

I've put it through the wringer
I will say that I do love the style of this helmet, but it's not a fluffy hat. It doesn't have closable vents, which can make it chilly on those super cold windy days. It is noisy and, for me at least, since I kinda have a skinny noggin, the ear pads don't mate with my ears. This can cause the helmet to seem "loud" and it does let cold air past your drums. Recommendations; buy a size larger and wear a thin hat, or run a size smaller to help the ear pads conform to your face a little better. Or, get bigger face.

For the price though, the helmet is well worth every penny.
Giro Surface Helmet
Familiarity:

I've used it several times
Read the mixed reviews, but liked the look of the matte black helmet and price point. Turned out to be a great looking and fitting helmet. I have been skiing in some pretty brutal temperatures lately and it keeps my head and ears warm without wearing anything else. Fits well with my Oakley goggles. Very happy with this purchase.
Can this helmet be used by women and men? or just men?


Either! Certain colors might appeal more to men or women, but the helmet itself is not gender-specific.
Fantastic
Familiarity:

I've used it several times
This helmet is great it's very protective and comfortable.this helement is great in the freezing cold temps, and keeps you aired out in the hot tempetures. Great helement!!
So-so
Familiarity:

I've used it several times
It's a good helmet, and works great with my oakley a-frames. It looks like a bowling ball with a brim, tho. It's rather big, and isn't low profile really at all. The earpieces are poorly designed, as they don't cup the ear, and force air inside the helmet. I have to wear a thermal running headband under this helmet to keep my ears warm. The wind noise is unavoidable with these earpads. I suggest you look somewhere else. It's just not a great helmet. Okay price, however.
giro surface s helmet
Familiarity:

I've used it once or twice and have initial impressions
like the helmet really comfy even room for a hat under it.1 drawback if you're really fast you'll get allot of air noise through the vents. I'm and older guy don't go fast anymore. so if it's making noise I slow down.
good helmet
Familiarity:

I've put it through the wringer
great helmet, i like being able to take the pads out of it fairly easily. nice and warm if you plan on keeping the pads in. the earpads are nice because they have holes for earphones. overall nice helmet.
is this helmet gopro ready
is this helmet gopro ready
I don't know about this helmet specifically... but go pro makes a sticky mount that can go basically on anything very securely.
No, it is not GoPro ready, you would need the Giro Edit helmet, that comes with a mount for the front of the helmet right above the visor. I have the Edit and it is a very nice helmet. Check it out.
ahhhh brain freeze
Familiarity:

I've put it through the wringer
I live in the colorado mountains and snowboard in every condition and this helmet fits comfortably but is terrible on those windy runs. There's nothing like riding beaver creek and having to buy tape to cover the vents so that the terrible brain freeze will go away. The only way I can wear this helmet if it's not 40 degrees outside is if I wear a hat under it. Not a bad helmet for the price but if you spend a lot of time on the slopes I would suggest something with adjustable vents and bring a hat to save you from brain freeze.
I have a 58cm head and I sometimes where...
I have a 58cm head and I sometimes where a thin ski mask beneath my helmet. It seems like im right on the cusp between the medium and the large. What size would be recommended?
I would recommend that you go with the Medium, that should fit you just fine.

Pray for Snow!
Awesome and thank you! I do everyday and dream about it too.
This helmet's good. Looking online made it look like the perfect helmet, and I got it based on other reviews saying that it merged with the oakley a frame goggle well, which I have. The helmet does go with the goggle like peanut butter and jelly, but there are a few things that are not super-awesome. First off, the first impressions were whoa this things gigantic. I got a medium, and it looks like a giant bowling ball with a brim when I don't wear my goggles, my jacket, and neck gaiter with it. But whatever, the only time anybody's gonna know it's me behind my goggles is on the gondola. Another thing was the earpads. They didn't seem to be very well-made, and kind of curved out from my ears instead of cupping around them. The only time this really bothered me was when I would make a line down a groomer, but it wasn't that bad. I'll still use the helmet, but I'll keep my eye out for maybe a bern hardhat with a lower profile. For my first helmet, it's good.
Plenty of ventilation, doesn't make you look like a bobble head, prevents gogs from fogging and can take a hit. You're set with this one.
Giro surface helmet
Familiarity:

I've put it through the wringer
- this helmet fits great with my oakley a frame goggles.



- it is adjustable under the chin and at the back of the helmet so you can customize your fit.



- I purchased the black and dropped it on the ground, now I have a huge scratch in it. (watch out it scratches easily)



- The vents keep my googles from fogging up
Great Lid for the price
Gender:

Male

Familiarity:

I've put it through the wringer
I got it because I have a huge melon with some weird lumps, which in the past has caused issues with head protection. The mirco adjustments make it fit like a glove and I haven't looked back and worn it everyday since I got it
Does this helmet have removable ear pads?...
Does this helmet have removable ear pads? Is there a vent on the brim?
no vent on the lid, giro states that all padding can be removed to accommodate a beanie or goggle strap.