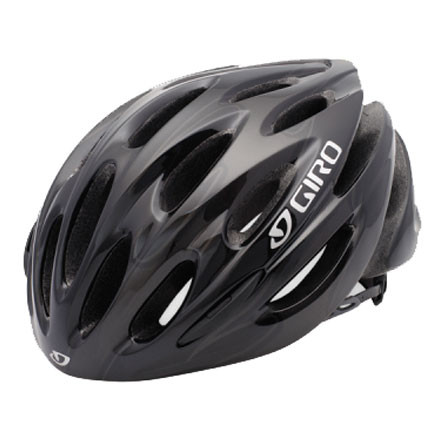 Detail Images

Community Images
The Giro Stylus offers all the protection of lids that go for twice as much. Twenty-six over-sized vents and Acu-Dial 2 adjustability mean a cool, custom fit for your everyday ride.
In-mold construction allows Giro to make the helmet light and inexpensive with tons of ventilation options
Wind tunnel ventilation combines active outer vents with internal channels to promote airflow around the head and cooling areas that aren't reached using normal venting systems
Acu-Dial 2 is an advanced fit system that allows you to adjust the helmet for a custom fit
Good looking and decent fit, but the innards are pretty underwhelming. They tend to unsnap from their designated snaps.
Coming down a hill at about 30 m.p.h. at dusk, my front tire caught in a grove in the road around a curve. I went over the bars and the first thing to hit was my head, squarely on the pavement. The helmet dented the outside plastic and cracked 4 places inside on the foam. I could literally feel how the design of the helmet evenly disbursed the impact across the helmet. I have little doubt that my head could never have withstood that hit. I am so grateful to Giro for this simple but excellent helmet. If they stop making it, I hope they make one that is similar. Great price. Great helmet. Thanks for the quality that I believe saved my life Giro!
Oh, p.s., after my head hit, I hit my shoulder, separating it severely, requiring surgery a week later. It is 3 months after now, and I am recovering beautifully. So thanks to you as well Doc! :)
P.s.s., I just started riding again two weeks ago and I bought a new helmet. Which one? Need you ask?! I found another Giro Stylus! Duh!!!
I love this helmet. I looked at helmets for quite sometime before actually purchasing. I tried on some of Giro's high end helmets and they just didn't fit as nicely as this one did. Only had helmet for a month but so far it's been great!
Good helmet but defective ratchet system to secure it
I have the older version of this helmet and love it.
Unfortunately, when I ordered this one the ratcheting system on the back was defective and would not stay secure so while riding the helmet would fall down into my eyes and drive me crazy.
Overall, a great helmet but I hope that the newer version does not have the problem consistently.
Here are the facts:
a. It's light and allows adequate airflow for those hot days.
b. It looks cool with several different colors to choose from.
c. It saved my head when I hit the pavement three days ago.

The helmet absorbed most of the impact to my head when I fell going downhill and left several nice dents in the polycarbonate shell as well as cracks in the foam from the impact.

So, it did its job it and I'm thankful for that. And yes, I will definitely be getting another one soon.
I can't really explain how particularly well the helmet works, as I've kept myself upright on the bike, but the fit is just fine, and the vents keep my head cool. Only issue is the tightening mech on the back seemed to get stuck, I never adjust it, so it's not really a problem, but I feel like it could get much more annoying if I had to.
Crackedhelmet after only 2 month.
Cracked in a fall. Will Giro replace it?
The helmet is only two months old.
I love my new helmet. The fit is great! Kinda cool looking too.
Vents work well for cooling my head, especially since it replaces the $20 Bell I was using before. Fit is great, even better than the Ionos for my head.

Wish the locking mechanism was more like the more expensive helmets though. When trying to tighten the dial, it is easy to hit the release button and loosen the helmet. I find it to be a bit awkward to use. Once the size is set, I have no complaints.
I love this helmet. I looked at helmets for quite sometime before actually purchasing. I tried on some of Giro's high end helmets and they just didn't fit as nicely as this one did. Only had helmet for a month but so far it's been great!
of many helmets I tried in past, this is the only one that fit! did not put too much pressure in the back half of my head. comfortable and with very good ventilation.
other sites had it cheaper but after i brought to their attention,they adjusted the price.
good and fast service.
Giro Stylus Cylcling Helmet
This helmet looks great on and is very comfortable and easy to adjust for a snug fit. It had dried glue on the outside, a couple of spots looked nasty, but I was able to flick them off easily. The inside felt lining that goes against my forehead has come unglued so I need to repair that. Happened second time i wore it. But overall I like the fit, feel, and nice appearance. Too bad they didn't take more care on assembly. I would recommend this helmet only if you find it onsale or check it out in person. I would not recommend ordering it full price unseen.
Write your question here...I have or had...
Write your question here...I have or had a Giro helmut until I had an accident. It saved me, but it cracked in 4 places. I have to replace it - is there any gurantee on these????
Best Answer
that's how helmets work, they crack in order to disperse the energy to different areas of the helmet... you gotta replace it, I'm sure no helmet company offers a no-crack guarantee since that's how they are designed to work.
I just recently cracked my helmet too & I wouldn't even begin to think about the company replacing it, it did what it was suppose to do... save my already beat up head.
Jared is right on. No, there will be no guarantee on that. ALL helmets (ski/snowboard, motorcycle, bicycle) are designed to crack/shatter upon impact. That's why you should replace your helmet if you ever even drop it bad (falls off your seat, etc) because it will not disperse the impact a second time.
A year has gone by and I've damaged another helmet. Someone mentioned to me that Giro does have a policy that they may replace the helmet. Here's what it says and Becky I'm sorry I accidentally hit your thumbs down button when I wasn't paying attention. (dumb trackpad) the link for this is: http://www.giro.com/us_en/customer-service/cycling-helmet-faqs-2/

DOES GIRO HAVE A CRASH REPLACEMENT PROGRAM?
Giro is interested in your safety and in advancing our state-of-the-art in head protection. If your helmet is involved in an accident you may be able to get a credit toward a new helmet from Giro by doing the following:

Send us:
a. Your damaged helmet
b. A copy of your dated cash register receipt
c. A letter describing your accident (in as much detail as possible)

Ship to:
GIRO
Consumer Service
735 Pacesetter Drive
Rantoul, IL 61866

If you have any questions about this program please call us at (800) 456-2355 or e-mail us at feedback@giro.com . Crash replacement program is available to U.S. customers only. Customers outside the U.S. should call (800) 456-2355 or e-mail us for information on the crash replacement program applicable to them.

Remember: NEVER wear a helmet that's been involved in an accident.
The helmet fits great, moves air really well and looks awesome!!!
I love the adjustable back strap, my only gripe is the straps by the ears, they are kind of irritating...
Comfortable and functional
This is my first helmet outside of the one-size-fits-all type that my parents tried to make me wear as a kid, and the upgrade is tangible. This is a good helmet for commuters--not too bulky, comfortable, yet I feel much better as the pickups buzz me on country roads. I recommend this one for people who don't fancy brain damage, but also can't justify the expense of a racing helmet.
It is extremely comfortable and fits great. I don't even feel as though I am wearing one. This helmet is highly recommended.
Awesome helmet for the price. It's light and fits perfectly with lots of vents. I recommend this to everyone.
Very comfortable and airy, lots of airflow compared to my old helmet which is nice.
No complaints, would definitely recommend to anyone looking for a cool helmet that fits!