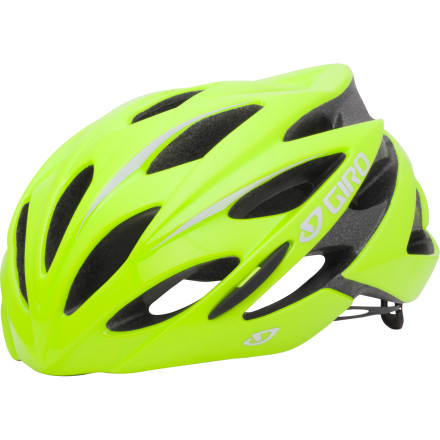 Detail Images

Videos

Community Images
Description
Doesn't take a genius.
Helmets are perhaps the kings of diminishing returns — after all, every bicycle helmet sold in the US is subject to the same testing, and requires the same certification. What's left after that is ventilation, fit, and, of course, style. Giro's Savant has all three in spades, at a price that doesn't require an immediate grams per dollar calculation. The Savant is secured with Giro's Roc Loc 5, and features 25 Wind Tunnel vents to keep air moving into, through, and out of the helmet.
Roc Loc 5 adjustment
25 Wind Tunnel vents
Fits and protects
Familiarity:

I've put it through the wringer
Comfortable and easy to adjust, I am a 7 5/8 hat size and this large helmet fit my fat head well. I can also say it works great from a couple of nice crashes. The green is not stupid bright fluorescent, but looks solid.
Best helmet for price
Familiarity:

I gave it as a gift but have feedback to share
Bought one for my dad and one for my gf. Super well ventilated and very light. Awesome overall helmet, no problems.
Comfy
Familiarity:

I've used it several times
Got this for my second season on the road as the previous helmet I got was just cheap and falling apart. This I got and love while it hasn't been warm enough to see how cool I'll stay with it I can wear it and be comfortable while riding great buy for the price
Back for a 2nd color...
Gender:

Male

Familiarity:

I've put it through the wringer
I already own the highlighter yellow Savant and I just purchased the matte white/black version on clearance. Phenomenal value for such a comfortable, stylish Giro helmet. I've tried other brands and I always come back to Giro. I also own a Saros, Atmos 2, and an Air Attack Shield. As is the case with most Giro road helmets, my Oakley Jawbones fit perfectly.
Nice looking helmet at a great price!
Familiarity:

I've used it once or twice and have initial impressions
I'm trying out my first road bike ever this year and it's been an adventure to say the least. Picking out the right gear for the first time is a little difficult, but I have to say I love this helmet. Everything about it is great. The look is nice and it's pretty lightweight. It fits great and having the adjustable loc in the back makes it feel secure. It's a great price and I feel safe in it!
It's a helmet
Familiarity:

I've put it through the wringer
A helmet is a helmet in my opinion (excluding aero helmets), as long as it fits and is comfortable i am happy. This has been going strong for years and does exactly what it is supposed to. I do not understand spending more on a helmet, this does everything you could possibly need.
Saved my head!
Familiarity:

I've put it through the wringer
I am a new road biker and purchased this helmet based off the reviews of other users. I recently wiped out on my bike at approximately 10mph and was thrown about 10 feet from my bike (watch out for those railroad tracks)! I remember my head bouncing off the cement and I have to thank this helmet for saving me from a more serious injury. I walked away with some bruising and a mild concussion. My helmet is scratched and the foam cracked all the way through so it definitely did it's job! I'll be purchasing a replacement Savant ASAP. Always wear your helmet!!!
Saves Your Noggin
Familiarity:

I've put it through the wringer
I purchased this helmet over a year ago and have worn it on every ride. I have found that the helmet fits my head very well (it's somewhat small as I'm a petite girl) and doesn't give me a headache or pressure spots on long rides. It also doesn't feel like it's weighing my head down, which keeps my neck from hurting. I recently got into a nasty crash, and this helmet came through for me. I was thrown to the ground (asphalt) with considerable force and my head bounced off the pavement. I nailed the right side of my head-that resulted in a cracked helmet, but a fully intact skull. For the price I don't think you'll find a better fitting and performing helmet. I've worn several different Specialized helmets prior to this and this helmet wins hands down. The highlighter yellow is an added hi-vis perk, if you ask me. :) Also, Giro does have a crash replacement program. But, thanks to the awesome Backcountry deals, I was able to get it cheaper here than that of the crash replacement discount. Incredible!
What really matters.....
Familiarity:

I've put it through the wringer
I've had this helmet for the last two years. It always fit really well with a bare head or a winter beanie - particularly with Giro's Roc Loc system, never felt overly heavy when compared to other helmets at much higher prices and I personally liked the looks of it. With all of that being said, I can tell you that this helmet performed extremely well during a crash this past weekend. My bike came out from under me on a sharp turn and some loose gravel and my head bounced - yes, bounced - off the pavement. After I dusted myself off and took stock, my head was fine and was able to finish off the ride. Looking over the helmet it had a few dents from the impact but by all accounts I have a fully functioning brain. Now you could go spend $300 on a POC Octal with its self-proclaimed safety benefits, but this $90 Savant has my lifelong support after saving my noggin this past weekend.
great product, great price
Familiarity:

I've put it through the wringer
I purchased this helmet at the same time that my wife purchased a 200 dollar helmet. i cant get her to stop wearing mine. the quality is fantastic, and it fits sooo snug with their adjustable sizing system, i can just about wear it with out using the straps. its light enough not to notice (i dont know why people insist on buying things any lighter than this, at that point you might as well complain that your hair is to heavy)

great product at a great price
Will Oakley M frames fit in the vents?...
Will Oakley M frames fit in the vents? (size medium)
Best Answer
Steven,



The Oakley's you have should not have any issues fitting along with the Giro Savant helmet.
Great helmet
Familiarity:

I've put it through the wringer
This is a really nice helmet if you want something that wont break the bank. Working in a bike shop I've tried a few helmets and this still is one of my favourites and have had 2 over the last 2 years. Its a super comfy helmet and offers really good ventilation as well. Giro never disappoint.
The weight for this helmet is 1.36 lbs.
I have size Medium and it says weight is 262 grams.
The Savant is an extremely light helmet and offers good protection. The Matte Black finish matches my bike:) The fitting system enables you to put the helmet on your head, turn the dial to your size, and you're set. I also like the ability to take the foam cushions out of the helmet and clean them.
Perfect affordable helmet
After wrecking and cracking my Ionos, I wanted to find a cheaper replacement. The Savant is a perfect alternative. The fit is very similar, and the vents are nearly the same. Oakley Radars fit in the vents the same too.

Great alternative for 1/3rd the price.