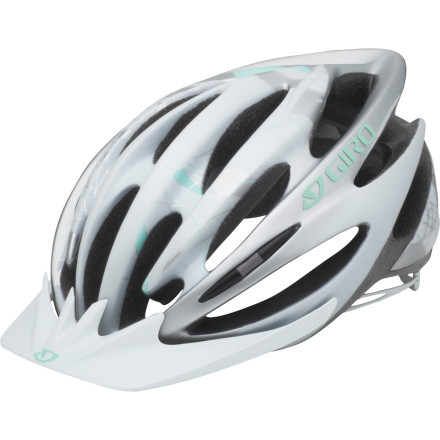 Giro's In-Mold Composite Reinforcement and Roll Cage technology allows its designers to provide the Sapphire Women's Helmet with cooling ventilation and class leading safety. The In-Mold Composite Reinforcement fuses the shell and impact-absorbing EPS foam into one lightweight structure.
In-Mold technology has been around helmets for a few years now, but Giro takes this to new levels. Within that structure lay webs of Dupont Nylon to provide added strength and integrity for an extra measure of safety. The shell, however, is going to be useless if fit is poor. With 20 years of helmet manufacturing under its belt, Giro is able to build on extensive data to produce helmets that offer excellent fit. It's available in two sizes, and its compact shape ensures a low-profile, custom look. Providing a secure, rattle free connection to your head is Giro's Roc Loc 5.
This lightweight system evenly distributes pressure for a comfortable fit. It's simple to adjust both fit tension and vertical position with a single hand. Just twist the micro dial and you can increase or decrease tension. A three-position bracket allows 15mm of vertical adjustment for a perfect fit.
Even the straps are carefully crafted to avoid interference with glasses, and baskets place the straps right where they belong. The Giro Pneumo Women's Helmet comes in two colors: Black/Color Fade, and Matte White/Soda Scribs.