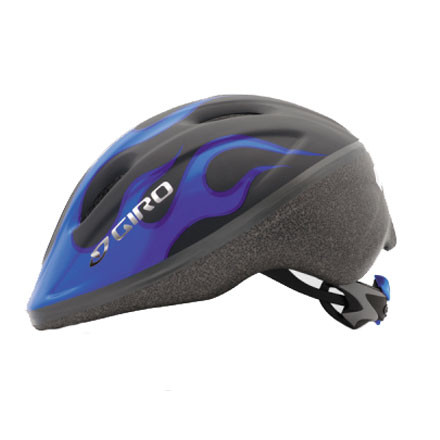 Detail Images
The Giro Kids' Rodeo Helmet protects first-timers from the bumps of learning, and gets them used to wearing a helmet. Boy- and girl-focused graphic choices make easy work of picky siblings, and the smooth, carseat-friendly shape means you'll only have to put it on once.
Protects that giant melon
Familiarity:

I've used it several times
After debating which helmet to get we went with this one thanks to the adjustable headband feature. It will grow with my boy's ever larger noggin' and we can pass it down to future niños.

He's weird about hats and hated it at first. However, once he understood that he had to wear it in order to ride his Strider he was all for it. It fits well, seems to be comfortable for him and is doing it's job so far. He's only 20 months old so he's not really tearing around on the bike just yet, but glad he likes wearing his "hat".
Almost Perfect for my Little Dude
Familiarity:

I've used it several times
My 4yo has a 19.5" head circumference, so his dome is just a little to small to fit into a normal youth helmet. The sizing dial on the back of the helmet makes it easy and fast to get the adjustment right every time--I don't know why more expensive helmets don't use a similar mechanism. The chin straps are a little long for his face, but we adjusted them almost as tight as they can go, and now the helmet fits nearly perfectly. The fact that helmet is blue is a bonus that means he always wants to wear it, which wasn't the case for his previous red helmet.

We can size it down to fit our 15-month-old toddler, but feels a little roomy on her. It would do in a pinch, but it's probably not the best for a tiny kiddo.

I'd definitely buy this one again.
Will this helmet work for 2-5 year old...
Will this helmet work for 2-5 year old children?
Hey Lisa, this is late and I'm sorry no one was able to get back to you on this. This helmet is based on the Universal Child Sizing with Giro - 19.75"-21.75"/ 50-55cm



My soon-to-be 5 year old is almost at 22 inches so it's safe to say it's good for a young toddler.
would this helmet fit an infant? he's 10...
would this helmet fit an infant? he's 10 months old....
Located just below the options selector drop down menu is a link to a size chart. You will need to measure the infants head and look at the size chart to see if the little one's head is big enough to fill up the helmet. It is likely that he will need the infant specific size which HuckandRoll is not currently carrying.
works really well for my 1 yr old
Love the adjustable headband - ensures he'll be able to wear it for a year or two...
I got this helmet for my nephew that is 6 years old. He really enjoys it and loves it. It fit perfectly on his head and the best thing is that it is adjustable. He loves the flame design on it.
got this for my little lady, she loves that it's pink and has dollies all over it and wears it all the time. it also protects her noodle when she bails. cute, sweet, apparently comfy. get one.
We really like this helmet for our one year old son. It was easy to fit to his head size and will be a good fit for a long time since it is so adjustable (adjusts like an adult helmet, not like some of the other child helmets). Also really like the design!
very fast and good handled delivery I recomended this site again!!
It's adjustable size makes it easy to fit, it looks cool and my child wears it well. He did complain of the top hurting his head but it comes with extra padding you can add and that seemed to fix the problem.