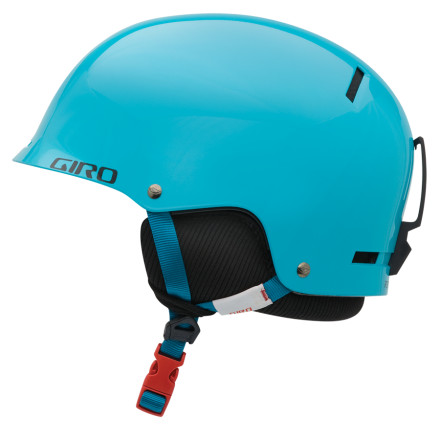 Planing on going big in the park? Pull the trigger on a Giro Revolver, you'll enjoy its wide range of vision—and if things don't go as planned, the high-impact shell will prevent scrambled brains.
Pads can be fine tuned for fit or removed to make room for a hat or goggle strap
Interior goggle channel creates room for straps and maintains a low profile
Included subliner provides next-to-head softness for a comfortable fit
Stack vent reduces google fogging and maintains an integrated fit
Compatible with all TuneUps systems, sold separately
6 vents move cool, fresh air through helmet
Great Helmet
Gender:

Male

Familiarity:

I've used it several times
I've used this helmet for 8 days now and I have zero complaints. I hardly notice it's on while I'm riding and it keeps my head warm on everything but the coldest days. Fits well with or without a beanie. Haven't had any gnarly wrecks yet, but I've got lots of confidence with this protecting my dome.



I wear my goggles over my helmet and my Oakley Crowbars fit without any problems.
I think in retrospect I would've went for a female brand of helmet, but this one works just fine. It fits nicely on my head as long as I wear a bandana under it. It comes with extra padding in case you wear it out as well as audio capability. Its a comfy brain bucket, the chin strap isn't annoying, and my head doesn't overheat! I totally dig the color and design, definitely a way for my friends to spot me down the slopes.
Unanswered Question
is this unisex or just men's?
is this unisex or just men's?
I got the Yellow Final Frontier design and it looks great, fits great, and feels just as good. Definitely recommend to anyone looking for a good helmet at a low price.
Unanswered Question
Do the splices fit well with these...
Do the splices fit well with these goggles?
Unanswered Question
Will they work with electric EG2. I wear...
Will they work with electric EG2. I wear my goggles under my helmet.
Yes, the small will probably fit you...
I had a Giro G10 before in M and it fit well but I wanted to replace it with something a little more steezy so I got this one on sale. With all the pads taken out a Small fits me perfectly with a beanie on and is very comfortable. No gaper-gap with this one either which was a problem for me with the G-10 - the small front lip covers nicely over the top of my goggles. Overall a great buy!
i really am glad that I got this helmet!!

It turned out to be a little loose, but I can just wear a beanie underneath, and its perfect!!
Has a lot of leeway in fit: no bandanna, yes bandanna and winter cap. Extremely light and looks pretty good, too. It is a little pricey: may have done as well with Fox product for less.
I love this helmet it fit perfectly with my dragon rogues and looks awesome. super comfy and warm, killer audio hookup, and this helmet saved my noggin many a time, unfortunately it made the ultimate sacrifice and i had to retire it, broke my heart to see it go.
Received mine promptly with the free 2-day shipping, which was very nice. It was packaged just like it would be at any store, though it rattled around a bit since there was no bubbles in the large shipping box.

Immediately seeing myself after putting it on I felt I looked like a bobblehead. I messed around with the padding, put on my Scott goggles, and thought it looked much better.

As of right now my absolute biggest complaint is that it scratches/gets dirty easily. While fumbling with the goggle clip I must have slid my nails across the back and my nailpolish left a little color that will not come off. But I guess it makes me look a little rough and tough. :P

Tomorrow morning I test it out on the hill and will leave a review of how it felt for me, as a not-hardcore-non-terrain-park boarder.

--Edit:

Went out this morning. It was fairly cold, probably about 28-30°... This helmet kept my head very warm, but not too warm! No beanie needed underneath. Scott goggles fit great and the clip held them there perfectly. I hardly noticed I was wearing a helmet/chin strap except for when the wind picked up on the lift -- it was really hard to hear what my buddy was saying, but I think that would be typical with any helmet.

I took a tumble when a skier cut in front of me a few times and we collided. My helmet kept my head from clanking against his skis, and I was glad I had it.

All in all, this helmet is my first one and I absolutely love it, especially for the price since I am on a limited budget.
This helmet is clean. I have the matte black version and I love it. Its sleek, fits well, and looks great with goggles. The only thing I think could be improved upon is how the ear covers/warmers velcro to the inside of the helmet. It could be better at attaching but so far for the most part it has up exceptionally well. I'm just worried about when the helmet is older and velcro ceases to work as well. Over all though I'd definitely recommend this helmet for the price.
Inexpensive helmet that comes in a variety of colors. Kept my head nice and warm during varying conditions on the slopes. my iPhone headphones slipped right into the speaker compatible each cushions so I could listen to my ski playlist if I wanted to. Even sounded pretty good...
Comfortable and didn't give me gaper gap problems with my VZ Skylabs; the attached photo was about as bad as it would get (if I wouldn't check meself everyone now and again)
, ☃bcs_badge_alumni_label☃
Safe Style!
Great helmet and really comfortable. The removable pads make it really convenient to be able to change up what you wear underneath in case it's too hot or too cold. Clean lines and overall great look.