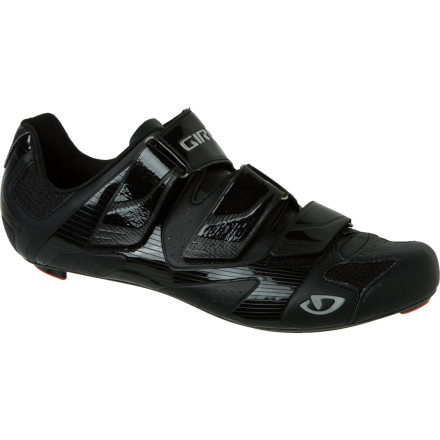 Detail Images

Videos
Description
Giving up weight and nothing else.
Someone once said, "If you can't explain it simply, you don't understand it well enough." Maybe it was Albert Einstein. We're too lazy to Google it right now. The point is, simplicity of approach is key, both to understanding something and, often, to achieving something. A glance at the remarkably good Giro Prolight SLX Shoe illuminates this idea - a design that achieves greatness by employing deceptively simple ideas.
Let's start with the most obvious detail: Lately, it seems the certain shoe manufacturers are in a competition to see who can concoct the most elaborate closure mechanisms. Sure, we're all for better function, but sometimes, these "innovations" end up as little more than marketing gimmicks that add needless complexity. To both save weight and save hassle without sacrificing adjustability, Giro fitted the Prolight SLX shoes with three Velcro straps across the top of the foot. Another reason? One of the brand's most prominent athletes, legend Levi Leipheimer, wanted a shoe with closure mechanisms that wouldn't break in the event of a crash. Wish granted.
The Prolight shoe earns its name with a plethora of outstandingly tough but lightweight materials, as well. Easton collaborated with fabric gurus Teijin to create the AG100 ultra-fine microfiber that comprises the shoe's upper. Tough and abrasion-resistant, but only 1.1mm thick and stretching zero percent under normal loads to maximize efficiency, AG100 ensures not just superior function, but lightweight feel. The shoe's sole is made by Giro's manufacturing partner, Easton, of the same top-shelf EC90SLX carbon that you'll find in their highest-end wheels and cockpit parts. Being so strong and stiff, the sole could be manufactured to an industry-low 6.5mm thick, keeping it light, and keeping stack height over the pedal spindle extremely low to maximize power transfer without giving up any of the stiffness that's critical to pedaling efficiency. Finally, the small D-shaped rings to pull the shoe on are made of titanium. That's serious attention to detail.
Lest you start to think the Prolight SLX shoe must be the most uncomfortable cycling shoe on the market, Giro put just as much emphasis on the shoe's fit and feel to achieve comfort that matches its engineering prowess. A soft polyester liner (too thick and it wouldn't hold your foot securely into the footbed) joins forces with a generously padded tongue to ensure that even during prolonged, intense pedaling, you won't develop hotspots or pressure points inside the shoe. At this price point, many athletes prefer to use their own insoles, so Giro asked Easton to provide a deep enough footbed to accommodate them and the wide variety of shapes and depths in which they come. Just in case you're not bringing your own insoles to the party, however, Giro includes two different ones with the Prolight shoes: the superlight and minimal EPP footbed, for those that don't need or want extra support, and the SuperNatural Fit Kit Insole, a thin EVA foam footbed with a three-level adjustable degree of arch support.
The Giro Prolight SLX comes in three colors: Black, White, and Black/highlight yellow. They're available in whole sizes from 39-48 and half sizes from 39.5 to 46.5. The sole is drilled for three-bolt cleats. There are pads underneath both the heel and toe for walking on slick surfaces. A travel bag is included with the shoes, and they weigh an incredibly light 410 grams for a size 42 pair.
6.5-millimeter thick carbon sole offers a low stack height for optimum comfort and power transfer
EC90 carbon is of the same quality as Easton's wheels
Toe and heel rubber makes coffee shop walking slightly less treacherous
Share your thoughts
What do you think of the
Giro
Prolight SLX Shoes
? Share a...