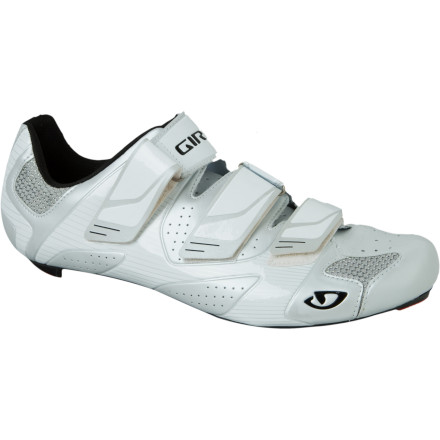 Detail Images

Videos
Description
Giving up weight and nothing else.
Someone once said, "If you can't explain it simply, you don't understand it well enough." Maybe it was Albert Einstein. We're too lazy to Google it right now. The point is, simplicity of approach is key, both to understanding something and, often, to achieving something. A glance at the remarkably good Giro Prolight SLX Shoe illuminates this idea - a design that achieves greatness by employing deceptively simple ideas.
Let's start with the most obvious detail: Lately, it seems the certain shoe manufacturers are in a competition to see who can concoct the most elaborate closure mechanisms. Sure, we're all for better function, but sometimes, these "innovations" end up as little more than marketing gimmicks that add needless complexity. To both save weight and save hassle without sacrificing adjustability, Giro fitted the Prolight SLX shoes with three Velcro straps across the top of the foot. Another reason? One of the brand's most prominent athletes, legend Levi Leipheimer, wanted a shoe with closure mechanisms that wouldn't break in the event of a crash. Wish granted.
The Prolight shoe earns its name with a plethora of outstandingly tough but lightweight materials, as well. Easton collaborated with fabric gurus Teijin to create the AG100 ultra-fine microfiber that comprises the shoe's upper. Tough and abrasion-resistant, but only 1.1mm thick and stretching zero percent under normal loads to maximize efficiency, AG100 ensures not just superior function, but lightweight feel. The shoe's sole is made by Giro's manufacturing partner, Easton, of the same top-shelf EC90SLX carbon that you'll find in their highest-end wheels and cockpit parts. Being so strong and stiff, the sole could be manufactured to an industry-low 6.5mm thick, keeping it light, and keeping stack height over the pedal spindle extremely low to maximize power transfer without giving up any of the stiffness that's critical to pedaling efficiency. Finally, the small D-shaped rings to pull the shoe on are made of titanium. That's serious attention to detail.
Lest you start to think the Prolight SLX shoe must be the most uncomfortable cycling shoe on the market, Giro put just as much emphasis on the shoe's fit and feel to achieve comfort that matches its engineering prowess. A soft polyester liner (too thick and it wouldn't hold your foot securely into the footbed) joins forces with a generously padded tongue to ensure that even during prolonged, intense pedaling, you won't develop hotspots or pressure points inside the shoe. At this price point, many athletes prefer to use their own insoles, so Giro asked Easton to provide a deep enough footbed to accommodate them and the wide variety of shapes and depths in which they come. Just in case you're not bringing your own insoles to the party, however, Giro includes two different ones with the Prolight shoes: the superlight and minimal EPP footbed, for those that don't need or want extra support, and the SuperNatural Fit Kit Insole, a thin EVA foam footbed with a three-level adjustable degree of arch support.
The Giro Prolight SLX comes in three colors: Black, White, and Black/highlight yellow. They're available in whole sizes from 39-48 and half sizes from 39.5 to 46.5. The sole is drilled for three-bolt cleats. There are pads underneath both the heel and toe for walking on slick surfaces. A travel bag is included with the shoes, and they weigh an incredibly light 410 grams for a size 42 pair.
6.5-millimeter thick carbon sole offers a low stack height for optimum comfort and power transfer
EC90 carbon is of the same quality as Easton's wheels
Toe and heel rubber makes coffee shop walking slightly less treacherous
Simply the most comfortable cycling shoe
Familiarity:

I've put it through the wringer
Simply the most comfortable cycling shoe I've ever owned, and I've owned plenty. I've gone through countless Sidi's, but the fit and light weight of the Prolight SLX takes the prize. The toe box is perfect (for me). I'm not sure how well they'll hold up though...we shall see.
Great shoes! Deja vu
Gender:

Male

Familiarity:

I've used it once or twice and have initial impressions
Just like Colarado Chris I take a size 42 in Sidi and got a 42 in black for these. When I took them out of the box they actually looked smaller but putting them on they fit perfectly, if not just touch wider than my Sidi's. So the size chart was accurate for me. The multiple inserts make finding the right comfort and arch support an adventure but hey, better to have more options than none. Quality of the shoe is great and they are very, very light. I think I prefer the Sidi Techno 3 closure system for an overall better fit but the velcro system does the job well. Only used them a couple of times so far so can't offer any comments on durability yet. Black will probably maintain a little better than white though.
Lightweight! Perfect fit! lots of scuff.
I have 42 size shoe. I have worn only Sidi for last 20 years. Tried other brands from time to time but never felt right; either to thick, too wide, too narrow, poor quality, etc. I thought Sidi were the best but after trying on Giro I don't think I will go back. First is the weight. WOW! I have never had a shoe this light and it really does make a difference. I felt like I could spin up faster almost instantly with the giro's. I am using Look Keo's. Second thing you will notice is that you will have to drop your seat post height if your running Sidi's. The stack height on the Giro is much shorter. I didn't really think it would make a difference but after one ride it was VERY noticeable. The first pair of Giros I had to send back to CC (they took them back without any problems) because of manufactures defect; one of the straps had the velcro in the wrong place and you couldn't get the strap to stay in place. Second pair I got were perfect. I wear Sidi 42 and also Giro 42 without problems. The inserts that come with shoe help in fitting the shoe based on your foot. Only problem I have is the toe material is very easily scuffed. Yes, its white but one rub on your front tire and it will have a permanent mark. Sidi was more durable in this toe area but again its just cosmetics. I don't see any tears in the material. Comfy feel to toe box and rest of shoe. No hot spots in the sole. I am not using any special soles. Just what came with the shoes.



get them for the drop in weight alone!
I recently bought a pair of these shoes...
I recently bought a pair of these shoes but noticed that the screws on my Look Keos were too long for the thin sole.

Where can I get screws that are short enough for these shoes?

Thanks!
L.
The look Keo comes with 10mm screws which are pretty short and work on low stack height shoes pretty well. If there are still too long try a thin washer from the hardware store, maybe find some old screws off a SPD or Crank Brothers cleat. You can find 8MM screws which will solve your problem but may be too short. Usually your local bike shop has a box of cleat screws you can try. or try these http://www.bikepartsexpress.com/mm5/merchant.mvc?Screen=PROD&Store_Code=BPE&Product_Code=PD4005&Category_Code=
Write your question here...I have a wide...
Write your question here...I have a wide foot and high arches that need support. Will this shoe work for me?
I have the same foot shape (high arch, wide, with a standard width heel). I found the Giro shoe to be quite narrow and similar feel to Mavic. If you are looking for a wider shoe try Northwave I have had great success with them.
Are the heel pads replaceable?
Are the heel pads replaceable?
No. Good news is that they are very thick and should last long time.
Unanswered Question
I?m not sure about sizing. I use Mavic...
I´m not sure about sizing.
I use Mavic Zxellium (VERY nice shoes) in 8.5
¿In giro what is the equivalent size?
I have a wide foot with a very high instep....
I have a wide foot with a very high instep. would this shoe work for me? can I return for for refund if I feel it doesn't work for me?
It is not a wide specific shoe so it may be a bit tight for you. As far as the return policy goes, you have 60 days from the time of receipt to return the shoes for a full refund if they don't work for you.
I am having persistent Achilles tendonitis...
I am having persistent Achilles tendonitis in my heel after riding. Are these shoes comfortable in the heel portion?
That only happens when your cleats are set too far forward toward your toes and your saddle height is too high. This is forcing you to keep your calf muscles in tension almost constantly, causing the achilles to get irritated from overuse trying to stabilize your foot. It isn't the shoes!
achillies heal problems can be caused if you like to drop your heal on the down stroke. If this is the case, raise your seat a little bit so that you limit the range of travel of the heal (below the front of your foot)
Could be the perfect shoe
For shoes I value lightness, stiffness, and a no fuss fitting system. These shoes equal or exceed all other shoes I have owned on the first two criteria (comparing with S-works, Octanes, and LGs ultralights). When it comes to fit this will be personal, but for me these are the most comfortable shoes I have owned, three quick velcro straps are secure with no pressure points. Definitely will be buying a second pair.
Unanswered Question
What is the toe-box width of a 44.5 Giro...
What is the toe-box width of a 44.5 Giro Prolight SLX shoe?