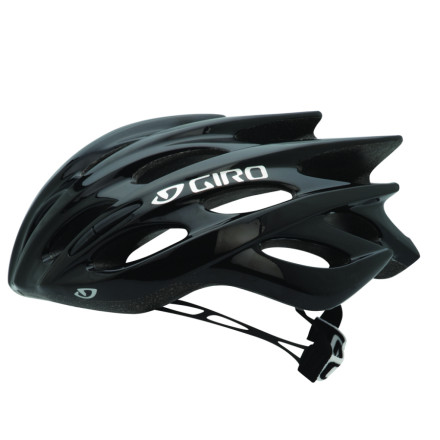 Detail Images

Community Images
Funny how what looked like a step back turned out to be a step up. Giro's new Prolight Helmet debuted on the stage to Arcalis in the 2009 Tour de France. It looked odd, as if Giro had given their riders a retro helmet for an important mountain stage. We were right and wrong at the same time. The Prolight shares a name with Giro's debut product, the Prolight, of 1985. But it represents all of Giro's knowledge in weight-saving helmet technology. The goal was to make a 200 gram helmet (and a medium weighs just that), a weight that is 2/3 of their marquee model, the Ionos. 200g is crazy light for a helmet. Even the old leather hairnets of the Merckx era would have trouble crossing this barrier.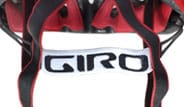 Giro did a lot of rethinking with this helmet. The changes aren't just the weight, though reducing grams was the point of just about every change. The Roc Loc SL, Giro's secondary retention system, is a completely new design. The obvious is that it saves 20g of weight savings compared to the Roc Loc 4. Elastic and non-elastic segments keep the helmet anchored to your head with a minimum of weight and fuss. There are three "snap baskets" at the forward ends of the Roc Loc SL that allow you to adjust how firmly it grabs your head.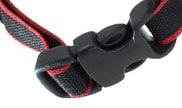 Giro also scrutinized the helmet straps. Their usual nylon strap material wasn't light enough, so they searched the world and found some thin Italian nylon strap material. It feels ribbon-thin, yet it's strong enough to survive impacts without ripping. The strap material saves 14g.
The adjusting "Tri-Loc" buckles where the helmet straps join were also eliminated. Too heavy. The buckles are now no longer buckles but fixed points. As in, they don't adjust. But this shouldn't result in any worry that the fixed points will result in a helmet position that won't fit with your head. They studied countless heads and determined a position that works with most.
Back to our memory of the Prolight. The vents were smaller. And the vents on the new Prolight are smaller than the Ionos vents. Yes, ventilation won't be the same. But the smaller vents are necessary for two features of the helmet. One is the lighter weight, which we've already detailed; the other is greater aerodynamics as a result of a smaller silhouette. For some people ventilation is everything. For others, weight comes first. Looking at the stages beyond Arcalis of the 2009 Tour, you saw some riders sticking with their older Ionos helmets while others kept on the new Prolight. Lance Armstrong preferred the Ionos while Alberto Contador stuck with the Prolight.
The smaller vents, which total 25, this being Giro, lead to generous internal channels, their Wind Tunnel tech, which move the air around the helmet and allow that air to vent in the back. So even with the smaller vents, your head is bathed in air as you move.
The Prolight also comes with anti-bacterial X-Static pads, which are light and comfy, resist odors, dry quickly, and wash easily. The helmet utilizes In-mold construction where the outer polycarbonate shell is fused to the EPS material to create a solid exoskeleton. The sizes available are: Small (182g), Medium (200g), Large (234g). Colors available are Black/Carbon, Blue/Black, Red/Black, and White/Silver.
Roc Loc SL features three horizontal belt positions for secure fit
Easy one-hand adjustment while in the saddle
25 Wind Tunnel vents force more fresh air onto your head than going bareheaded
Redesigned ribbon-thin straps feel like lambs while performing like lions
A lot of times I thought I forgot to wear helmet until I had to touch it to make sure. Venting very good too. The only dislike is the fitting system.
Super Light but lacks adjustment
As the title says this helmet was super light and essentially disappeared on my head. There was a decent amount of wind flow through it and the straps were very soft and unobtrusive. Also, my sunglasses *Oakley Radar's* worked well with it. HOWEVER, there is a limit to the adjustment with just 3 position holes. I found that I was between the middle and furthest back hole meaning the helmet was either too tight or too loose. There sadly wasn't a remedy for this unless a wore a cycling cap to make the largest hole fit however that compromised air flow and comfort
In comparison to my last two helmets, one of which was a Louis Garneau Carbon Titan and the other a Bell Alchera, this helmet is the king of helmets. Incredibly light. I forget it's there sometimes. It has a very low profile, which bothered me about my LG. It looked bulbous. This is is tiny.

I always found myself having to adjust my click-lock tightener throughout a single ride, and definitely if I chose to ride with a cycling cap or sweatband on, but the elastic stretch that they integrated got rid of all of that trouble. I haven't had to adjust it since the first ride. It's also very, very comfortable. It feels very secure.

X-Static pads are holding true to their word. Helmet smells great after approximately 800 miles put in on it in the Texas heat.

Don't have any trouble with ventilation. I feel like it has an adequate amount of vents.

I have a 53cm head, and the small fit like a dream.

Definitely plan to buy another if I crash this one.
most uncomfortable helmet I've ever tried
I think that like saddle fit, helmet fit is clearly a very individual thing.

This helmet, for me, is the most uncomfortable helmet I've ever tried. I have a 58cm noggin and the helmet is a size medium. For me, the foam at the front of the helmet instantly digs into my forehead and is instantly painful, even having it on for a few minutes leaves impressions in my forehead. It's not so much that the helmet is too small, I can stuff additional padding in there and it helps, but no extra padding is provided (what's there is very minimal ~1-2mm thick strips). I've tried contacting Giro to see if they have any extra padding kits etc or can offer suggestions but they did not reply. So a big thumbs down from me on this one.

I would recommend trying one first hand in a store before placing an order, if you have anyone in your area that stocks these. If your head has the same problem as mine does with this helmet you will know it instantly!
Elastic, or no elastic. That is the question.
Some people hate the elastic. Some people love it. I am in the latter group. I find the elastic to be way more comfortable than anything else. It may not last as long but I'd rather be comfortable. And yes, I do think the helmet's shape could be a little sleeker but that could be said for many of Giro's helmets. I have a larger head so the shape works well for me. I picked this up for $100 and upgraded from a cheap Bell, so maybe I am easy to please, but I love this helmet so far.
Excellent helmet! I can understand concerns about aesthetics and fit but personally I like the look and it fits perfectly on my noggin. I think this much-maligned helmet is a winner!! And the weight... Oh the weight... I knew it would be light but this is crazy. My other helmet is a Bell Volt and it too is a great helmet but the unorthodox comfot of the prolight gives it an edge in my book. At this price it's a real steal!
...feels like I'm not wearing a helmet at all. But on a hot day, that's perfect. Comfortable fit, great venting. Great for climbs, mellow XC trails, and other rides where I'm not planning on smashing my chin against a rock.
This was an upgrade from my Bell Ghisallo- and it's a huge upgrade. It's light to the point that I forget I have it on. Since these evidently aren't in production anymore, it's going to suck having to go back to a dial fit system in the future since the strap in the back is so much more comfortable. It's small, it's light, it looks good, and now it's dirt cheap- what's not to love?!?
I came here in a time machine, that you invented.
If you get that reference, than please remember the device that Doc Brown is wearing on his head when he Marty shows up at his door. This is the Giro Prolight helmet. This thing is way to round and enormous. I know people don't like to admit it, but cyclist/triathletes are insanely vain/visual people and this thing looks ridiculous. Way too big for my head. I would recommend going to a bike shop and trying this on before you buy it.
I was so excited for my helmet to arrive - the reviews were so favorable and the red and black with stripes looked so rad! However, when I took the helmet out of the box, I was dismayed to see that there is no adjustable nob in the back - there is only a cheap elastic band. Plus, the helmet didn't fit well and was flopping all over my head. The helmet certainly looked cool - but as far as functionality - I'm returning this and going with a different option.
Nice light helmet, but hurts top of the head
I have a 56cm head and just received my M size prolight helmet.
The shell itself is too large, the helmet feels loose on the sides and back.
Therefore, it hurts the top of my head when the straps are correctly tightened.
Just purchased a S size to check if has a more snug fit on the sides.
Anyway, it's really light and i liked the elastic strap system on the back - much more comfortable then the regular systems.
This helmet tickles my minimalist bone big time. It fits my rather large melon just right, and accommodates a cycling cap without fuss. I like the "throw it on & forget it" aspect, instead of messing around with clicking-this and adjustable-that. Style-wise, the silver graphics on the white are cheesy, but fortunately they are not visible except under close scrutiny. Not as sexy & svelte as the Aeon, but that's not why you buy the Prolight. You buy this helmet for two reasons: (1) psychological edge, and (2) less strain on the neck over the long haul. Yes, that's splitting hairs...but if you get it, you get it
Didn't notice wearing one. The only one thing I don't like is the elastic strap? Take longer to make adjustments from the under chin strap and not easy to do that on the ride.
How do you determine what size helmet you...
How do you determine what size helmet you need. Do you measure your head? Thanks.
I would go by the sizing given by this site. I used to hat size to helmet size table and ended up with a helmet that fit perfectly.
I am right at 59 cm for head size. I have...
I am right at 59 cm for head size. I have a giro atmos medium that is spec'd for 55-59cm that fits snug on my head with minimal padding. Should I expect the Prolight to fit the same?

Or should I bump up to a large and expect to use all the supplied padding?
I am also that size and just recieved my medium. The elastic strap for me was pretty tight on the back of my head. Even when i adjusted the medium to the largest size it still felt quite tight. I decided to go to a large and used the pads. Much happier with that option than being on the bike for 4 hours with a helmut that is too tight.
Just bought a large and my head is 59cm. It is a little loose only at the back in setting 2 of the straps. I feel I may have the same issue if changing to a medium as Josh, it being too tight, so taking his advice and adding the padding and keeping the large
Light and comfy + good looks
Got one for the wife and she loves it. Sizes are true to fit.
Unanswered Question
how do you size this
Feels like you're wearing nothing at all!
I've never been a big fan of helmets and consequently don't have much to compare this to, but this is a downright awesome helmet.

PROS
-very adjustable
-comfortable
-well ventilated
-unbelievably lightweight
-looks good (as far as helmets go)

CONS
-expensive (but well worth the cost)

I haven't crashed it yet and hopefully I never do but it does give me good piece-of-mind knowing I'll have some stylish protection on my noggin in the event of a crash. You should buy this.
Nice and Light, solid deal
Went from an older Giro Pneumo to the Prolight. Fit is similar, the Prolight seems a bit more bare-bones in construction, padding, straps, but perhaps in a good way. It is definitely lighter. I like the elastic properties of the head cradle system as opposed to the regular Giro brain lock (or whatever they call it).
After looking around at helmets at my LBS's that retailed for 200-250, I was pretty happy with this deal on Bonktown.
I've had several accidents which ended with the need to replace my helmet as they only can handle one accident each. I've had Specialized, Rudy Projects, Lazer, and now Giro. All the helmets fit and worked well for my commuting and group riding uses. I purchased this helmet in August due to the sale at the time and replacement need. It truly is the lightest helmet I have ever worn. The elastic strap in the back helps keep a nice snug fit. I often forget I'm wearing it as I did with all the other helmets I've worn in the past. It fits my needs, and the white/silver looks great. I would definitely recommend this product to my friends.