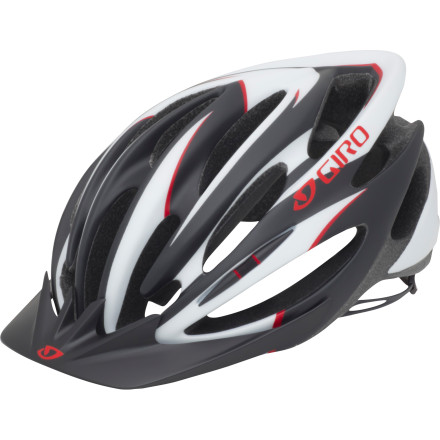 Videos
We can never get enough of versatility. Sure, there are some things that are better left dedicated, like time trial helmets, but this still doesn't dispel the excitement of using the same helmet on the road, trail, or commute to work. However, until the Giro Pneumo Helmet, this simply wasn't a possibility.
With the Pneumo, you receive technology straight from the top models, like the Roc Loc 5 --Giro's easiest to use and most comfortable retention system to date. Also used in Giro's top-of-the-line Aeon helmet, Roc Loc 5 adds more adjustability, while removing 40% of the weight from its prior iteration. So, what's different? For starters, the indexed Micro Dial on the back lets you adjust the tension to perfection with a two fingered twist. It's really that simple. Additionally, the Three Position Bracket allows 15mm of vertical adjustment in the retention basket -- enough to comfortably fit any head shape. But, what's comfort without ease of use? Giro facilitates quick donning of the Pneumo with clever strap management. The retention basket has strap holders to ensure that they'll be right where you want them by the time the helmet falls into place.
For protection, the Pneumo features an in-molded polycarbonate shell that, when combined with the expanded polystyrene liner, creates a structural skeleton that's abrasion-resistant for any high speed slides across the pavement. Giro has also ensured that it aids in the absorption of any direct high-speed impacts. And going a step even further, the Pneumo also has Giro's Roll Cage technology. Don't worry about looking for it -- you'll never see it. It's a net of tough nylon that's been molded into the foam liner of the helmet. Basically, this 'web' keeps the helmet from breaking apart like a rotten ice chest when you have a bad crash. The Pneumo has 19 Wind Tunnel vents to channel airflow directly to your head in order to keep you as cool as possible, regardless of high temperatures.
Giro has also given the Pneumo a few features that extend its versatility of use. For example, for use on the either the trail or your commute, the Pneumo makes use of Giro's Point of View visor technology. This visor anchors to the helmet with Giro's patented internal clutch mechanism. Why's this important? Well, the clutch eliminates rattle on harsh terrain, and it also allows for 15 degrees of tool-free vertical adjustment. So, as the light conditions change, so can your protection.
The Giro Pneumo Helmet is available in the sizes Small, Medium, and Large and in the colors Matte Black, Matte Black/red, and White/silver.
Share your thoughts
What do you think of the
Giro
Pneumo Helmet
? Share a...
I'm on at least my 4th Giro Pneumo helmet at this point, and I don't really have any complaints. It gets the job done without being too flashy, which I definitely appreciate.

It also fits my relatively oblong head pretty well. I find that rounder helmets such as the POC models are too round, but this one fits nicely.
light, comfy, sexy
Familiarity:

I've used it several times
Just bought this helmet on clearance last week, so maybe this review won't help a lot, but I really like this helmet. It's the first high-end road helmet I've used. I've had a cheaper Giro Encinal from probably 8 or 10 years ago that served me well, and have been using a Bern Macon for the last year or so on my commute to work, so that's my perspective.

I bought the helmet mainly for my daily commute to work in Atlanta, where it's hot. Ventilation is fantastic, especially coming from the mostly vent-less Bern helmet. Ridiculously light, I look over my shoulder for fun just so I can feel how light it is.

Comfort is great, the RocLoc really snugs it down on your head, and adjusting it while it's on your head is very easy. Padding is minimal, but sufficient, and it fits my head well with no pressure points or irritating spots.

I got matte black, it's a really nice-looking color, but not the most visible. Very understated and stealthy.

Compared to my Bern Macon, the sizing was a bit off. I have a medium in the Bern, which fits large on me, I probably actually need a small. So I compared measurements for the Giro, and the lined up. I initially ordered a small Giro Atmos, and it was far too small for my head. Medium is the perfect fit. So either Giro runs small, Bern runs large, or a combination of both.

Compared to the Atmos, I liked the Pneumo more. You get a visor which is a nice plus, but I like the shape, colors, and the Pneumo feels a little more sturdy in the materials used, like the chin strap, shell, etc. Both are great, but the Atmos is lighter, at the cost of durability of some materials.

yes, you can snap it on/off. it's a little flimsy.
Good Helmet
Familiarity:

I've used it once or twice and have initial impressions
Lightweight, fits well and the camo color keeps me hidden from other riders trying to find my secret trails. I'd buy another.
Doesn't Fit Like the Original Pneumo
Familiarity:

I returned this product before using it
I have a 10-year old Pneumo, and my wife has one from 2010; both of those (original-version) Pneumos fit beautifully. This "new" Pneumo doesn't: the internal shape is ever so slightly shallower (in side view) and rounder/less oval (in plan view). As a result, the top of my forehead rams uncomfortably into the front of the helmet in a way that didn't happen with the original Pneumo. Still, this is a great helmet if your head is not unusually long. (For reference, my head is 61cm (long oval), and the helmet I'm returning is size Large.)
I LOVE this helmet!!! The fit is perfect.....And I took a huge chance on the size. I just started riding seriously in the last 18 months. Every person in the bike shops has been telling me that I needed a medium. I bought 2 different brands in medium, but both made my head hurt after I had been riding a while. When I saw this helmet on sale in the yellow, I decided to take the plunge and get it in a large. What a fantastic fit! So perfect for me because I have lots of hair, even pulled back. I had also been wanting to try a Giro, but none of the shops in my area had the nicer ones. Thank you Back County for carrying this helmet. Now I know where to buy my next helmet.
nice and durable
Familiarity:

I've put it through the wringer
I have an older pneumo as it use to be the top dog yrs ago. Its still a great helmet and works well. Sizing is spot on.
GREAT HELMET!
Familiarity:

I've used it several times
Light, sturdy, and cool-looking. Comfortable to wear. Great value by GYRO.