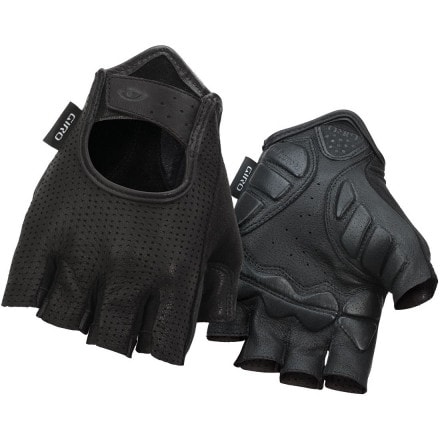 Description
You're not too fast for style.
If you are not ashamed of admitting to being a bit of a hipster, or you just want to defy the judgmental types and relive your netted-gloved youth, then you can't go wrong with the Giro LX Gloves. They're like a fine classic automobile with a gorgeous retro body, but has been completely over-hauled to modern standards on the inside.
Combining style and comfort like this is something of a Giro specialty. To start with the comfort, Giro included 3mm of their special Technogel padding in the palm. Technogel is a proprietary polyurethane cushioning that molds itself to the body to help to dissipate the pressure load. Not only that, but Technogel absorbs impact up to 30% more efficiently than typical glove gels. And, perhaps most importantly, it doesn't break down over time so you can count on the same level of cushioned protection for the life of the glove.
Gloves in the past -- especially gel-palmed gloves -- used to overload the padding as if we're riding the cobbles of Paris-Roubaix at lunch. The result was a feeling that we weren't in control of the bars. The immediacy of our reaction time was compromised by the feeling of riding with oven mitts on our hands. Giro recognized this and used their Three-Piece Palm construction to make sure there was sufficient padding for the weight-bearing points on the palm without over-padding the entire thing. Giro designed the LX palm to mirror the hands' features and articulated movements, improving grip while keeping the tender and heavily used spots cushioned.
You'll notice just how much better these gloves fit than that first incarnation of netted gloves you had as a kid. Gloves that bunch and start cutting off the circulation to the fingers are just about the worst for your hands. Giro uses their Super Fit Engineering process to develop the gloves in a way that guides the fit, design, and patterning of every Giro glove for the ultimate in comfort and performance. Essentially, they do this by tailoring the palm, fingers, and padding to conform to various shapes and sizes of hands.
Leather-palmed gloves were the height of chic back in the day. We loved our first pair with a passion seldom reserved for the hands. But after a month or two of heavy use, the leather palms would become so cracked and coarse that we simply laid them aside and mourned our loss. Giro combats this by using Pittards leather for the palms. Pittards uses Cabretta, or hairsheep, leather because it's so thin and durable. This is ideal for applications like mountain biking, where durability and tactile feel are so important.
The Giro LX Gloves fasten with a low profile Velcro closure. They come in sizes from Small to X-Large and are available in the colors White, Black, and Tan.