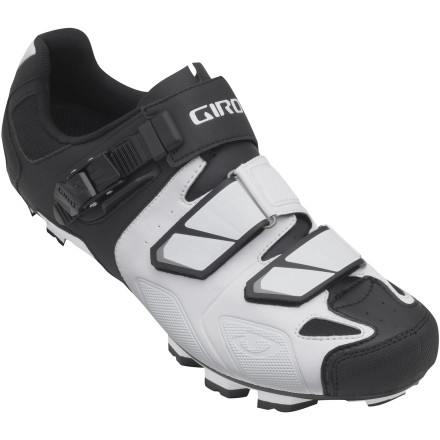 Detail Images

Videos
Description
All the bells and whistles.
Push your pedals with the high-performance Giro Gauge Shoe. Featuring a carbon sole for maximum efficiency, and a breathable, ergonomic upper designed to hug your foot, you'll cover miles quickly and comfortably.
Carbon composite sole offers rigidity for a direct connection to the pedal, optimal power transfer, and wind-cheating aerodynamics

Molded EVA footbeds with medium arch support mitigate fatigue and enhance comfort

Supple synthetic leather uppers are breathable to keep your feet from overheating

Aegis anti-microbial treatment prevents foul odors

comfy, stiff, and look great
Familiarity:

I've used it several times

Fit:

True to size
I bought these to use on my commuter with SPD cleats. This is the first pair of non-road shoes I've bought and my first time on SPD.

The shoes look great, they aren't crazy-looking, and material selection doesn't make them look cheap (i.e. matte materials instead of hyper-gloss).

Sizing feels true to size, but I'd size up if you're on the cusp. I typically wear a 7.5 or 8, but like my athletic shoes to fit a bit more snug. I went with the 40.5 (=7.5 US), and they are definitely snug at first. After about 50 miles, they loosened up a tad, but not much at all. I wish I would have ordered a 41, but it works.

Also make sure to use the included arch size pads. Giro includes 3, they stick seamlessly to the bottom of the insole with some velcro. It comes stock with the Medium installed, which was a bit uncomfortable. When I swapped to the Small (low arch), it immediately changed the comfort on these, they are really nice.

Takes a bit to break in the seams and padding inside the shoe to get it formed to your foot, but after that, really nice looking, stiff, comfortable shoe. Would recommend.
How do these compare in size to a specialized...
How do these compare in size to a specialized comp mtb size 45?

Should I get a giro 44 to be of equal fit?
I had to buy these a half size larger than my Sidi shoes, if that helps.
Great Shoe!
Familiarity:

I've put it through the wringer

Fit:

Runs small
I bought these shoes for my boyfriend. This is his second pair. They are a very good MTN bike shoe. They are great for narrow feet. If you have really wide feet, They are not the shoe you are looking for. He wears between a 10.5 and 11 US shoe and I bought the 45.5 and they fit great. The only issue he has had is that, over time, the plastic mount, where the pedal clips in, wears down and it gets a little bit of play. Also, if you are walking a lot up hill off your

bike you will peel off the material on the toe. It doesn't affect the function of the shoe, it just looks bad. Ride on!!!!
Love the Giro Fit and Feel
Familiarity:

I've put it through the wringer

Fit:

True to size
I was originally given a pair of these by a friend and fell in love with them. The size was slightly off so I finally decided to order a pair that fit me perfectly. I love the fit and comfort these shoes offer and they perform very well- very durable and an overall solid shoe option.
Oh snap, nice kicks!
Familiarity:

I've used it several times
Ordered these for my new MTB, figured I'd be doing more XC/trail riding and didn't figure I'd have to hike it too much and since I wasn't going to use platform pedals. They've got the great Giro fit as usual, comes with all the goodies to adjust your arch, I was impressed with the style, weight, fit and stiffness. Great shoe, really delivers power to the pedals.



Only gripe I have with these:

I've had to to hike a bit more than I had anticipated, and doing so has lead to tons of wear beneath the shoes. Since it's my first pair of off-road cycling shoes, I can't honestly say if they wear well or not, but I would've expected the tread below to not wear out so quick after about 9 rides. My hikes have been over rocks, gravel and sand, and I've noticed tons of scratches below, screw for spikes went missing on first ride, and the yellow hard plastic tread is wearing out. I've slipped on a few rocks too. I was expecting that Giro had a hard rubber below and not plastic (at least it seems like plastic) but so far they've been great. Top shoe material is still holding up great, carbon is all scratched up, but that's no biggie.



They work great over dirt compared to gravel/sand/rocks.
Solid shoe
Familiarity:

I've put it through the wringer

Fit:

True to size
This shoe is great for me, I have medium wide feet and these don't fit too tightly or too loosely. They are easy on, easy off shoes and comfortable throughout my rides. These shoes have lasted for a long time and continue to perform well.
Worth it
Gender:

Male

Familiarity:

I've put it through the wringer
i love these shoes. my only complaint is that my foot is too wide for them, but now that they're making a high-volume version, i'd recommend these to everyone.



they're really stiff, breathe well enough, and don't stink. they used to come with multiple footbeds, but i used the medium and thought it was great, so i'm psyched that's what they still come with.



really good traction for hike-a-bikes except on rocks.
An easy choice
Gender:

Male

Familiarity:

I've used it several times
Working at a bicycle store, Giro's shoes always impress me because 90% of people who try one on love it and buy it. And what's not to love? They are the most comfortable, best looking, and user-friendly shoes on the market in my opinion.

You get basically the same caliber shoe as the Code in a cheaper package. Same customizable fit and darn good looks, and as the other reviewer said, the EC70 carbon is great and stiff. My heel never slips in these, you can really feel the arch support, and the tread lugs are big and durable.

Some mtb shoes look like space-age rockets. The gauge rocks a badass style that might even outweigh its tech specs!
Best Shoes I have Ever Owned
After having Sidi Dominator 5's, Shimano 315 and 240L's, and various other Time and Northwave shoes over the last 10 years, I can easily say that these are the best. My Sidi's weren't stiff enough, and the Shimano's lacked in traction and buckle quality.



I have a regular to wide size, 9.5 and these fit very true to size. Don't go with the High Volume model unless you have E+ width feet, the regular model has plenty of room in the toe box. The fit kit is pretty nice too. I run the high arch in the left, and low in the right, and they feel custom to my messed up feet.



I tried these head to head with the Code's, and I see no reason to get Codes. The Gauge is lighter, all leather, and doesn't have the cheap looking plastic parts. They are very plain in all black, but that is my style. I can't comment on the grey. Also, even though they have different EC70 and EC90 soles, I can't feel the difference, and neither can you. I walked and rode them blind, and pushed in my hands, and both will not bend. They are both ungodly stiff. I also tried the Privateer and Carbine, and they lack the "Board" stiffness of the carbon Giro models.



The price is what you would expect for a top of the line XC/Race shoe, and way lower than some other models.



I couldn't be happier. After 2 months and 1000 real offroad miles, they are hardly showing wear. I'll add a pic later.
I bought Specialized comp and I have to returned it. To narrow, to firm and "body geometry" not for me.
Giro Gauge is different class at least for me. Moore expensive, true. Bud my foot is now like in cotton wool :-)
Huh I am glad that the shop was really good to me and let mi exchange the Specialized for Giro Gauge. It was worth to pay
$75 moore.
What is the weight of these shoes? The...
What is the weight of these shoes? The other Gauge claims 345g/pair which seems extremely light.
that's not far off. these are quite light. about 400 grams I'd say
I tried size 41 and the weight was 330 g for left shoe and 336 for right shoe. They are were nice and virtually the same weight as the giro code, only a few grams heavier. I didn't ride with them but the EC70 sole seems pretty stiff which is good. I think the difference between EC90 and EC70 supposes to be only weight but I think the diff is insignificant, not sure if one is really stiffer than the other one, EC90 is pure carbon and EC70 is carbon with fiber glass. At the end I got the code only because the size I was trying fit better and I liked a tad more the inner lining and the looks but that is very personal, the code are a little more flashy.