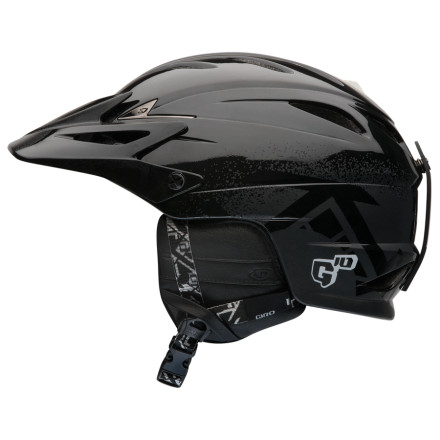 Community Images
With its distinctive visored profile, the Giro G10 MX Helmet has become the signature headwear of the backcountry stormtrooper. Slip it on, dial in the In Form fit system, and send it 'til your ears bleed. A lightweight EPS hard foam liner protects rapid-firing neurons from inconveniently-placed trees, rocks, and other immovable objects, while the hard polycarbonate shell brushes off the everyday wear inflicted by the bed of your pickup. The removable moto-style visor keeps both sun and fast-moving branches from reaching your face, and 14 adjustable vents keep your cranial temperature regulated. Giro's Goggle Notch channel keeps your goggles in place, and you can add the TuneUps audio system (sold separately) to bring Jerry and Page along for the ride.
Egg-Head
Gender:

Male

Familiarity:

I've put it through the wringer
This helmet is great. Of all the helmet lines the Giro feels the warmest and most comfortable to me, but whatever fits your head. The MX visor adds a good touch of style, but really doesn't do all that much to block the sun or storms, it's a little high.



Venting is fantasic, and earflaps are removable for when it's really warm.

The form-fit system fits well, and gives a good secure feeling underneath that bone on the lower-back part of your skull.

I've never crashed my helmet, but the ASTM and CE CN Certifications give a good secure feeling if an accident were to happen.



4-Stars as I wish they would cut out some of the bulk. It's really an egghead helmet compared to some of the lower-profile lids on the market.
Loved it
Gender:

Male

Familiarity:

I've put it through the wringer
I've had this helmet for several years. Its been very well used and has stood up to everything I've thrown at it. I bought it with the Skullcandy audio. Great sound, not to mention doing business on my phone while listening to music and having fresh powder in front of me was common!
Does the job
Gender:

Male

Familiarity:

I've put it through the wringer
This helmet does the trick when it comes to adjustable venting and has the option to add audio, though my speakers died after about 1 season. The helmet is lightweight, but bulkier than a lot of the other models out there. I should note that my helmet did crack after a nasty crash, whereas I have never had this happen with any other helmet. No concussion so it does the job. The fit adjustment works great. Not the warmest helmet on the market.
So far so good. My husband has tried this helmet on several times just to make sure he still likes it! The fit is good, the style is very nice and he says its very comfortable. Now we're just waiting on the snow!
I'm a little confused. Is this a ski helmet...
I'm a little confused. Is this a ski helmet or a bike helmet? Can the piece that fits over the ear be removed?
It is a ski helmet, the ear pads can be removed but that also removes the chin strap
Is this helmet conpadible with the skull...
Is this helmet conpadible with the skull candy audio system
I've heard it is compatible but I haven't tried it. I would give it a shot of I were you. The Skullcandy audio system and the Giro Tune Ups are close enough to the same size and that it should work.
The helmet is great, stylish, comfortable, protective and it's accommodating to the demands of skiing. I highly recommend it!
So if i by this helmet right now, will it...
So if i by this helmet right now, will it come with the audio system built in and ready to go.
neagtive. you will have to get it seperatly
Got a previous model, 09 or something, but cant see any differences beyond colours. Smith audio (single tip) fits in nicely, comfortable chin strap, perfectly snug on the head and makes me feel hardcore just wearing it around home. Haven't crashed in it yet but expect it'll do the job just fine.