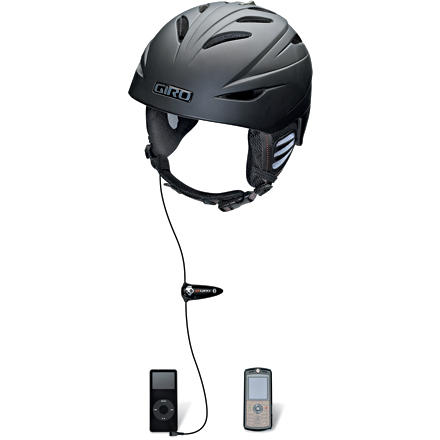 Unanswered Question
What type of cord does it use? is it like...
What type of cord does it use? is it like an auxiliary cord or something?
Unanswered Question
Do you hear the incoming call through your...
Do you hear the incoming call through your headphones? Can you use the Ipod conection and bluetooth at the same time?
Helmet is fine except the vent mechanism sticks and is hard to move. I hooked my bluetooth up to iphone and that part worked OK although you can't ski and talk due to the wind noise. The feed through for music from the iphone is piss poor and unacceptable. Luckily I don't care about that. I do care about the lack of battery power since its been shutting off after 1 hour. I think Skullcandy did a crappy job on this and doubt whether I will ever buy their product again. If they co branded a piece of crap then that's their problem.
I lost the wire from the G10 helmet to the...
I lost the wire from the G10 helmet to the Ipod, while skiing, I am trying to find one but to no avail. I have called the company and they say they are on back order, that was 3 months ago. Do you know of any place to get this wire only?
Best Answer
I had the same issue with my Bad Lt. helmet from Giro...and they came back with the same reply...eventually I just went to a local shop and asked for one - I think I paid them like $10 for it...but it was totally worth it in the end
Bluetooth is Horrible, Intermittent Sound
I sent mine back shortly after buying it (thanks Backcountry for your great return policy). One of the speakers had intermittent static problems. My friend bought the same item and had the exact same problem - I see other reviews with this problem as well.

In addition, while my phone supports stereo bluetooth, the headphones don't. The only way I got decent sound was to plug an ipod directly into the headphones, then use the bluetooth only for answering the phone. Kind of silly for a "wireless" helmet.
Day 1 Test, Spring Day ... Keystone, CO
Here comes my long review:
Pros:
Well priced.
This helmet is durable and will protect your dome-piece.
It has a nice liner, and the bluetooth seems to be durable. The sound from speakers is really good.
Cons:
The earpieces/speakers crush the cartilage in your ears... After 3 hours of wear, you'll want to take it off (which can really suck if it's 8 degrees out). I have a normal shaped-head (7 and 1/4 ball-cap) with normal ears... I mean, no one ever said to me "man, you have big/odd ears" (I would have taken note)...
The eyelet on the ear piece (that lines the headphone jack) will definitely need to be re-glued at some point.

I might have to return it, due to the ear pain...
Great Helmet, Horrible Bluetooth
The helmet is everything I was looking for, easy venting, warm in below zero degrees and comfortable. The speakers actually provide great sound for what they are. I wasn't expecting a Boss surround sound. The bluetooth piece on the other hand is a piece of junk. Not only did people tell me I sounded like I was in a cave and they couldn't understand what I was saying but it worked for about 2 days prior to the connection from the ipod to the bluetooth failing and resulting in sound in only one ear. Backcountry sent me a new one, it worked for 30 minutes failed in the same manner. Backcountry wanted to send me another one but I gave up and went straight to the wire with no phone functions and it has worked great since. To sum up; Helmet, great; Backcountry customer support, great; blue tooth device, a piece of junk.
how to get the Bluetooth to connect with...
how to get the Bluetooth to connect with my razr V3m. The phone searches and says it can't find the bluetooth. I do not see the Bluetooth emblem anywhere on the tuneups or the helmet so I don't know if it even came with one and it had no instructions on how to hook it up.
looks like this helmet is a dud with razrs, did you buy it here? cuz they got an awesome reurn policy
do you have a G10 Audio in pewter/S and...
do you have a G10 Audio in pewter/S and what are the lowest shipping costs to UK?
Unanswered Question
hi, we would like to know where is microphone...
hi, we would like to know where is microphone when I make a phone call?
this helmet is very comfortable and the sound of the built-in speakers is pretty decent. i agree with other reviewers that the bluetooth operation is a little funky, but i didnt' really get it for that feature. i actually find it more convenient not to use the bluetooth piece at all. took a crash landing last weekend and it kept my head nice and safe, which in the end is what matters most.
Similar problems to Maxells'
This helmet is extremely comfortable and warm, however, I was unable to get my bluetooth to work for incoming sound with my Motorola Razor.

I also made several calls to Giro where I was sent to Skullcandy's technical service. Nothing ever came of any of my time and efforts. I finally sent an email expressing my disappointment to Giro and they are supposedly sending me a pick up slip for the helmet. However, it has not yet materialized. Giro customer service is remarkably poor.

It's shocking to me that Giro would advertise bluetooth capabilities for a helmet that can't even pair with one of the most common cell phones on the market.

Perhaps Maxwell and my experiences are the exception rather than the rule, and I sincerely hope that's the case.
Helmet is awesome. I like the fact that it is adjustable, and will conform to most head shape sizes. Extremely comfortable and lightweight. I wore it for 5 straight days of skiing in Vail. It was my first time ever to wear a helmet and I barely noticed it was there!
The reason I gave it a 3 was because the skull candy headphone system wouldnt work right. The left year of mine doesnt play sound. When I wiggle the connections it will fade in and out. Unfortunately I am overseas for the next three months so Im not sure what my choices are for returning it...I doubt it, but its not this site's fault...to be honest this site has an awesome return policy and the reason why I keep shopping here!