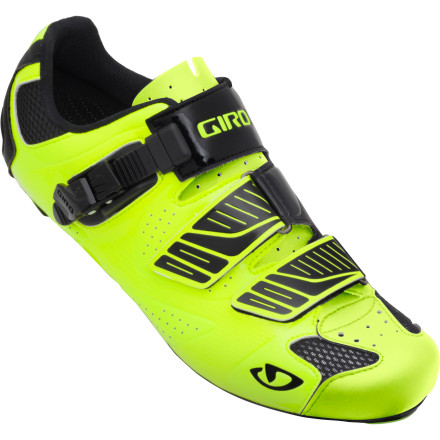 Detail Images

Videos

Community Images
Flash is an elusive quality. It makes something stand out, yet too much is, simply, too much. Pro gear is typically flashy, both as an advertisement for the producer as well as the rider. If it errs on the side of excess, that's ok, as it just makes the product even more noteworthy. The Factor is Giro's flashiest road shoe and the second one in the lineup. It's one that might even be preferred over the Prolight SLX.
It's hard not to notice the red-and-white model. We don't know if it's the pinstripes or the striking contrast between the high-gloss Red and high-gloss White, but this is a color scheme that puts Sidi on notice. If you made it to the technical details, you'll see that it has a buckle at the top of the shoe rather than the Velcro strap of the Prolight SLX. We'll admit, we're like most folks, and we love the control and security of buckle systems.
After the buckle, there are more subtle differences between the Prolight and this. The Factor Shoes use the slightly heavier Easton EC90 carbon-fiber sole. Though it's not quite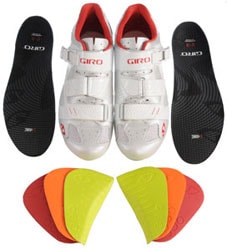 as light as the EC90SLX sole of the Prolight, it's equally thin at 6.5mm. Overall, the shoe is still pretty feathery at a claimed 255g for a size 42. The upper is slightly-thicker Teijin microfiber, 1.4mm thick, with an equally rich finish. It's not leather, but it feels really plush in the hand and looks great. The threaded inserts and buckles are steel.
Otherwise, the design of the shoe is largely the same as the Prolight. Very few panels, smooth interior, padded and vented tongue with a notch for your tendons. Giro went through 16 different lasts before arriving on a shape that they felt would be optimum for fitting most folk's feet. They decided when they plunged into shoe design that getting the last right was their first task, as once the last is created, the cobbler is pretty much stuck with that shape forever; it's the last.
Part of this fastidiousness is seen in the placement of the top strap. They slaved to find the right length so the sweet spot of the strap was really comfortable and fit just about everybody. One way to do this is design the buckle anchor so it has two positions, an upper and lower. Giro did this; the two positions are different by 1cm.
A big thing to know about the upper shape is that it was designed with the idea that people can install their own after-market or custom insoles. This means minimal construction around the heel cup and a neutral, flat (as opposed to canted or bathtub style) sole in order to better accommodate different insoles and a larger range of foot widths.
Giro also includes their SuperNatural Fit Kit with the Factor Shoes. This is their aftermarket insole solution. They made them as thin as possible at the heel and ball of the feet so you don't feel like you're foot is being lifted out of the shoe by the insole. The base material is EVA foam, so you'll crush the insole where your foot pushes against it, or "set" it if you want to get technical, over the course of several rides. The top is finished with a thin layer of X-Static material for its wicking and anti-microbial qualities. But what makes the SuperNatural Fit Kit a big deal is that the insoles come with three different height arches that allow you to customize the arch fit.
The Giro Factor comes in three colors -- Black, Red/White, and White. The buckle is replaceable. The sole is drilled for three-bolt cleats. There are pads underneath both the heel and toe for walking on slick surfaces. They're available in whole sizes from 39-48 and half sizes from 39.5 to 46.5.
Hook and loop and micro-buckle combination let you dial in a precise fit
Sole vents ensure cool, comfortable feet
Rubber pieces at the toe and heel make coffee shop stops a little less treacherous
Offset D-rings reduce hot spots and improve fit
Super Natural fit kit allows you to dial in your arch support
My Favorite Shoe!
Familiarity:

I've put it through the wringer
This is now my go to as well in mountain biking with the Code. I previously wore Specialized S-Works, but now cannot as they have changed their sizing to 11.75 or 12.25 but no even sizing, this is a big fit issue for me as I am exactly a 46 Euro. Great material, fit, comfort, light weight and good medium foot fit(a little snug when new but brake in and become super comfy). Soles are very stiff and very thin. Buckle and straps are wide and very secure. I will keep using until better comes along!
The most balanced road shoe I own!
Familiarity:

I've put it through the wringer

Fit:

True to size
Great fit, fashion, & function! The fit is good in all ways for my narrow, flat foot. The white leather has been more then durable over the last two seasons and looks like pro kit to boot! The buckles and straps have worked without issue. Plenty stiff as well.
Light, comfortable, grips your foot without hotspots or slippage.

Been using these for one year and they are holding up very well
Awesome
Familiarity:

I've put it through the wringer
I ordered these after many many years of hot spots with my Sidis. My first ride out was like a new beginning. After switching the road shoes I swapped my mtb shoes too. Giro makes a fantastic product for half the price. Save your money and buy the Giros
Great fit and performance
Gender:

Male

Familiarity:

I've put it through the wringer
If you have a typical Italian foot (meaning narrow, and you fit in Sidis well) this is a great shoe. It has a stiff sole for power transfer, it's light, and comfortable for a race shoe. I liked the insole with the adjustable arch support; it makes it easy to fine tune the fit. Ventilation is excellent, but note you'll be wearing shoe covers earlier in the fall.



Downsides: These might be a tad below the quality of construction of the top Sidis, but then they are far better priced. The heel pads are too thin and the carbon sole wears on the pavement from walking. I had to glue on a thicker heel pad to prevent the carbon sole from being ruined at the heel, and I rarely walk more than a few yards at a time. The white looks great but don't expect it to stay pristine for more than a couple of thousand miles. Not that anyone can see at 90 rpm anyway, and if you're posing at Starbucks rather than riding you're doing it wrong.



Overall, excellent shoe and an excellent value.



Me: 25 year rider, former Cat 1 road/track, lots of miles and shoes.
Unanswered Question
I am interested in getting one. Can you...
I am interested in getting one. Can you please give me the inside dimension of the inner sole for size 44 in cm? Sizing chart is a but confusing. Thanks
Giro Factor in yellow
Familiarity:

I've put it through the wringer
Supple comfortable shoe with adjustable insoles included that assist with proper fit. Light supple feel with just the right amount of fluorescent yellow for visibility reasons and safety. It is true that heel support is skimpy, and after few uses on hard pavement appear to have thinned prematurely, but also makes the shoe a soft comfortable walk. Hard to find a shoe made in safety yellow that is not too ostentatious, but this shoe appears to meet that need.
Great shoe, but not for everyone
Familiarity:

I've put it through the wringer

Fit:

True to size
I first purchased these shoes after hearing numerous recommendations from teammates on my cycling team. Initially they fit well, and I found that the the instep was very accommodating to my low instep. However, after racing and training in them for about 1000 miles I find that the toe box is too narrow for my foot. The outside of my foot would really hurt after any serious climbing. I can say that they were fairly stiff but not overly so and looked crazy cool in highlighter yellow.
Giro Factor Shoes - Men's
I have a mid-narrow width flat foot and find the Factor just about perfect in every fit. Plenty of adjustability, great buckle, great straps, very nice insole with 3 different thinkness arch supports, and very supple leather uppers. The fit is perfect for me with thin cycling socks the venting is very good on 90's and 100's throughout the summer. I wear the white with red version and they look absolutely gorgeous with my white Orbea Orca as well as with my matte black Scott Foil. I ride them with Speedplay pedal, which I find to be flatout the best road pedals on the market, and the cleats work very well on the Easton carbon sole.

A few things to note: the heel cup feels looser then the Shimano, Pearl Izumi, or Mavic shoes I have riden in seasons past. My heels have never slipped, but the other brands make your heel feel locked into the shoe while the Factor feels looser and is comfortable.



Overall, a very nice high end road shoe that fits my feet very well!
I ordered a pair of these and the construction and look is top notch. Giro did a great a job on these shoes. Unfortunately I had to send them back because of the really narrow width. I normally use Northwave but these Giro shoes are too narrow for my foot (both the toe box and around the ball of my foot). I'd say they fit real close to Mavic's in width.

Giro, you need to make a wide model if you are going to make narrow shoes!!!
Excellent shoes
Gender:

Male

Familiarity:

I've used it several times
I purchased these shoes a several weeks ago and I'm extremely happy with them. They have an excellent adjustable insole that you can customize. I've been riding for 26 years and these are the first pair of shoes, that right out of the box, had me smiling because my feet were happy. A very good choice is you're a serious cyclist/racer.
This shoe fit perfect right out of the box. Shoes are true to size when compared to other shoes. Ive tried Specialized, Northwave, SIDI and am finding the Giros to be very comfortable and with sufficient room in the toebox to wiggle my toes on longer rides. The shoe seems to be quite stiff and very light. As I only have had them out on a few rides I cant yet speak to the durability, but fit wise they may be the most comfortable shoe Ive tried without having to spend $500.00
Good Fit, Stiff Sole, but weak quality
The shoe's have a very nice foot hugging fit, quite comfortable and easy to forget they are on. Also, the sole is very stiff and quite thin which really makes it feel like your transferring all of your power to the pedals. However, the build quality/strength of the shoes is poor. The material on the outside of the toe is very easy to tear/damage and the lack of replaceable heel pads is a downer. Basically, these shoes are fragile, these look more worn in a month than my 3 year old Sidi's.
i want to love them, but...
these are probably the best fitting (for my foot shape) and most comfortable cycling shoes i have owned (various sidi, northwave, and specialized). but, they are severely lacking in durability.

as others have mentioned, the heel pads are very small, not replaceable, and wear out rather quickly.

the microfibre taijin upper is supple and holds your foot well, but easily scuffs/rubs away with surprisingly little friction, leaving your rather pricey shoes looking cheap and abused. (a bit of clear chainstay protector strategically placed on the toe/heel might help)

for those riding the red or white versions, the mesh inserts in the toe box hold dirt well and are hard to really get clean.

if i find them on sale for under $200, i would consider buying them again; otherwise, for a bit more money upfront, i am going back to sidi (which will last years, versus a single season with these).
Take my word , you've never slipped into a more comfortable bike shoe.
Snug,secure & comfortable , what more can you ask for.
I am interested in the Giro Factor road...
I am interested in the Giro Factor road shoes, but my understanding is that the heal pads are quite small and not replaceable. Is this true? Is this seen as a significant shortcoming?

Thx
I have been pleased with my Giro Factor shoes. However, at this price point, replaceable heel pads should be incorporated into next generation design. My right heel pads have fallen off and the left heel pads have worn down to nothing. Sidi Genius 5 is a comparable shoe with replaceable heel pads. tpc