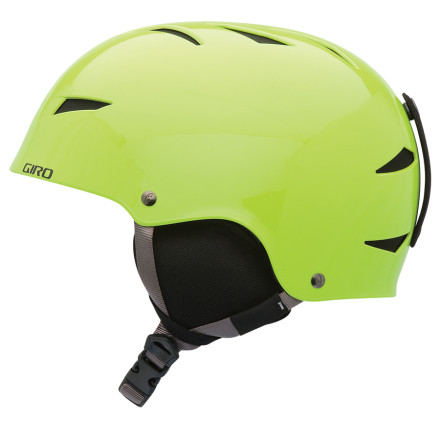 Community Images
Pull out another 360 performance off your favorite booter and rest assured that your head won't crack like an egg if you over rotate. The Giro Encore 2 Helmet uses a high-impact ABS plastic shell to keep your head intact. The thirteen optimally shaped vents that make up Giro's Super Cool vent system pull in cool air and kick out the heat to keep your brain from boiling. Mix and match different pads from the Fit Kit Pad system to adjust the fit of your Encore 2 to your heart's delight.
This is a good helmet for my 12-year-old son. He would have liked to have removable ear flaps, though.
Is it Oakley splice compatible
Is it Oakley splice compatible
I like this helmet, good value. If it's really chilly I'll wear my buff underneat, but it's pretty well padded and insulated. It looks like it's got Velcro closing pockets in the ears if you want to put Tune Ups in it, but I haven't done that yet.
My sons are very hard on their gear. They actually broke the front snap (plastic) when they hit the ice along with the ski goggle holders in the back. I called the service dept and they replaced it immediately. The helmet is holding together great and backcountry is good on their word and products!
I wore the Giro Encore 2 Helmet during four days of skiing this January. It fit well (sized accurately), had decent padding, good ventilation, and was comfortably warm in 20-30 degrees F with no additional headwear. I returned this item today, however, because the rear snap for goggles broke. The helmet was not abused during skiing; I believe this is just a weak component. Otherwise, a good helmet for a good price. I purchased the Giro Revolver, to take the place of the Encore 2. I am not excited for the velcro-attached padding, but am hoping the non-adjustable plastic snap on the Revolver will last.
Unanswered Question
Is this helmet compatible with all TuneUps...
Is this helmet compatible with all TuneUps systems?
I switched to this from the Giro Fuse mostly so that I would have a nice smooth place to mount my GoPro Hero 2. It is a nice helmet and it fits well. The vents are not adjustable, but other than that it is a great helmet.
Does this helmet have bulilt in earphones...
Does this helmet have bulilt in earphones for playing music?
It does not come with it standard; however, skullcandy makes an audio kit that allows you to swap the ear muffs with their headphone/earmuffs. Its costs $15 and works great. I love my helmet and the audio kit. Its an awesome helmet. that keeps my head cool and the snow out. thanks to the mesh lined vents.
If you dont want to spend a bunch of money on features you never use then this is a great helmet. Works for snow and skate so you dont need 2 helmets for winter/summer.