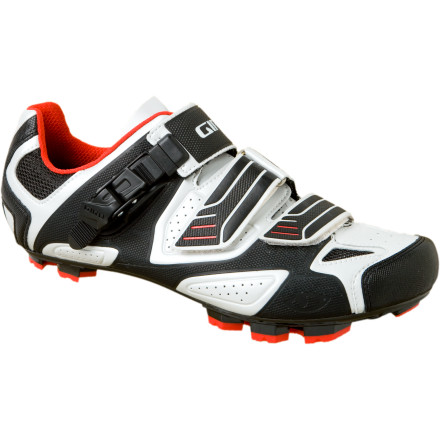 Detail Images

Videos

Community Images
Description
Ultimate fit for hammering singletrack.
The code is key. Get the code and you can unlock the secret of performance, a pursuit of many a cyclist. Is it a cipher or a shoe? In this case, the Code is the Giro shoe that Levi Leipheimer, sometimes known as a pro roadie who has finished on the podium of a few Grand Tours, literally took out of the box and on his first ride in them won the Leadville 100 mountain bike race, setting the course record and beating the reigning national mountain bike champ in the process. Pretty impressive performance.
And the Code is an impressive shoe, whether or not a Giro-sponsored rider fresh off the Tour de France can destroy a field of pro mountain bikers on his virgin ride with their mountain bike shoes. The first big thing about Giro shoes is that they fit great regardless of who wears them. Like their road shoes, Giro went through 16 iterations before they found the last, aka foot form, they wanted to use to design the shoe around. This last has to accommodate for a wide range of feet, accounting for variations in volume, heel width, arch height, toe length, and so on. Shoe makers pretty much have one shot at designing a good last, the first one is what they'll be stuck with pretty much forever, so it needs to be good.
Nailing the last is a great first, but any shoe also has to allow for the upper to be adjusted; the material and the straps have to account for differences small and large from foot to foot to foot. Here, too, Giro has done a stellar job. You can see it from the deep, but not too constructed, heel cup. You can see it in the shape of the top strap and two-position buckle. You can see it in the middle strap that goes across the mid-foot to keep it from moving, eliminating pressure on the metatarsal bones by pulling equally from a large swath of fabric on the inside of the foot; when you pull on the Velcro, the entire panel becomes the strap. The bottom strap takes up any loose space in the forefoot and the toe box design means that there is a wide range of adjustment and it's nearly impossible to get that aesthetically-displeasing pucker that some one-piece toes can get when at the far edges of their adjustment range.
A big thing to know about the upper shape is that it was designed with the idea that people can install their own after-market insoles. This means it has a good shape but minimal construction around the heel cup and a neutral, flat (as opposed to canted) sole that better accommodates wide feet or oversized insoles.
The upper, in addition to the shape, is a work of smart materials design. It's made of Teijin microfiber and reinforced with high-frequency welded polyurethane in areas where your foot is likely to bash rocks or get bashed. Take a look at the pictured shoe; it's the matte Black stuff. The polyurethane makes the upper feel a bit stiffer than it would if it were 100% Teijin microfiber, but as you ride, the poly will soften a bit and conform to your foot a lot.
The sole has been designed with the help of the carbon-fiber engineers at Easton. They call it the EC90, which means it is made of unidirectional carbon-fiber. It's thin, roughly 7.25mm over the cleat (a bit more or less, depending on cleat placement), and stiff, but not quite as stiff as the road version of the same sole. The mountain sole doesn't have the same exterior structure, lacking the bracing power of the I-beam construction found in the road shoe. The result is a shoe with a bit more give for those times you have to do some bike hiking.
Epoxied onto the sole is a dual-durometer tread. The harder durometer gives the tread structure and support and is between the shoe bottom and the tread you walk on. The walking tread is a much softer durometer, tackier if you will, that strikes a balance between stickiness and durability. The open design of the tread pattern makes it hard for dirt to stay packed between the lugs. In between the front treads and rear treads is a mid-foot scuff-guard. Cyclocrossers will particularly appreciate this feature, but really all cyclists should like having a little material covering the carbon-fiber sole mid-foot to make it easier to stand on the pedals unclipped and protect the sole from impacts with sharp objects.
Giro also includes their SuperNatural Fit Kit with the Code. This is their aftermarket insole solution. They made the insole as thin as possible at the heel and ball of the feet so you don't feel like you're foot is being lifted out of the shoe by the insole. The base material is EVA foam, so you'll crush the insole where your foot pushes against it, or "set" it if you want to get technical, over the course of several rides. The top is finished with a thin layer of X-Static material for its wicking and anti-microbial qualities. But what makes the SuperNatural Fit Kit a big deal is that the insoles come with three different height arch inserts to allow you to customize the insoles for everything from flat feet (no insert) to high arches (thick insert).
The Giro Code Shoes come in Magnesium/Black and White/Black. The buckle is replaceable and has two positions for further adjustability. The sole is drilled for two-bolt cleats. The toe area of the sole is threaded to accept spikes and the shoes come with both spikes and plugs for the times you want to go spike-free. The Code is available in whole sizes from 39-48 and half sizes from 39.5 to 46.5.
Welded scuff guards boost the upper's durability and structured feel
Optimized Easton EC90 unidirectional carbon sole is ultra-stiff for increased efficiency and optimum power transfer
Teijin lightweight microfiber shapes to your foot
Offset midfoot D-ring alleviates pressure points
X-Static antimicrobial fiber fights odor
Fantastic Shoe!
Familiarity:

I've put it through the wringer
I have too many brands shoes to list all, but as a sample Northwave, Specialized, Shimano, Diadora, LG, Sidi, and the list goes on. The best is one of the best shoes i have ever owned short of the top of the line Diadora and Specialized being the only two that even compare for me. The weight is on par with equal level shoes, the fit is superb right in the middle for fit, comfort is excellent, foot soles are very good(though I run Specialized BG Foot Beads which I think are the best in soles made ), and durability is great so far after a few thousand miles of use. They take about 500 mile to fully brake in, then they are fantastic. I would recommend these at their retail price with out hesitation, and for a sale GRAB EM!!!
well deserved...
Familiarity:

I've used it several times
The Giro Code has a well deserved excellent reputation. I have owned northwave, shimano, and sidi shoes, and the Giro has been the best in every regard. I am coming from Sidi Spider mesh shoes, and the Code kills them. It does so in the following ways: it is lighter, it is stiffer, the Velcro straps are more robust, the heal is deeper, the provided insoles are far superior, it is cheaper, and the cleats are better. The sidis have the edge in ventilation and replaceability of the cleats though. The sidis are also made in Italy, and the Giros are made in China if you care. Also, I will hazard a guess that the sidi toe protector is tougher than the Code's. I wear 40.5 in sidi and 41 in giro, so yes, the giros do run a little small.



I would guess that if there is one company that has eaten into Sidi's market share, it is Giro!
Great bang for the buck
Familiarity:

I've put it through the wringer

Fit:

True to size
I'm a huge fan.



These shoes are a great fit, true to size.

They are more durable than other similar shoes I've tried

They are not overly ventilated, so they don't freeze in the cold, nor let tons of water in in wet conditions.

Plenty stiff, but still walkable/runable and great for cx

Tread is durable and long lasting, but not slippery like Sidi
Used previously shoes from Shimano and was in general satisfied with them. Decided (just out of pure interest) to try Code shoe from Giro (plus the price was very nice, less than a half of retail price). Purchased same size as all my previous Shimano shoes (EU45). First impression: Giro runs half size smaller (Shimano has 28,4 cm for EU45, Giro 28,0 cm for EU45). I have difference in 0,4 cm between my feet (28,0 for right foot and 28,4 cm for left foot). Therefore my right foot felt better in Giro Code and for left foot Code shoe was a bit to small, but after second ride it was ok (shoe stretched couple of mm and it was enough for me).

One more issue: Giro is more narrow, which is good for my narrow feet.

The shoes are really light and you feel it on your foot. Stiffness of the soleplate is also significant. Pedaling is more efficient, on the other hand walking is definitely less efficient and you have to use to it during off-bike activities.

In general I am really satisfied with Giro Code shoe. Shoe has really great support and is very comfortable. Has very nice tight fit and low profile. Can not say anything bad about durability. After 800 km they look good, no scratches, cuts etc. Retched strap is also in perfect shape.

As bottom line I can say that Giro has made very good entrance to the shoe market and will definitely find its customers.


Amazing
Familiarity:

I've put it through the wringer

Fit:

True to size
I have two pairs and they are outstanding. The first time I put them on I did 40ish miles without a hitch. Look great, fit perfect, and hold up better than Sidi. Save you money and buy Giro.
Great shoe
Familiarity:

I've used it several times

Fit:

Runs small
I love these shoes. I was reluctant to buy based on what I've heard about the durability but I have not found any issues so far and I've put them through a half a dozen rides that include some hike-a-bike. That said, I tend to be easy on my gear as things are expensive these days....



I had to size up as these run small but the fit is great once I got the correct size. The insoles have 3 options for low/med/high instep that are easily changed....the insoles are decent enough not to immediately swap to a Superfeet type insole.



The enclosure system works great and holds your feet in the shoe perfectly.



I bought the "white/black" and the white is really "pearl"...an unexpected surprise as that keeps the dirt at bay somewhat.



All in all...great shoe, expensive but worth it.
Great Performance, Poor Durability
I rode with these shoes last season. They performed great, but were completely destroyed after the season. I expect shoes to wear out, but not in a single season. My last specialized shoes lasted 4.
Great fit options.
Gender:

Male

Familiarity:

I've put it through the wringer
Picked these up because of my high arches and the supernatural fit kit included. My high arch eneded up meaning the volume was a bit low in this shoe with the proper insole so that was kind of a bust and I ended up riding the show very comfortable with the thinnest insole setting.



Aside from fit the shoe was very stiff and didn't create any awkward pressure points like other race worthy soles.



My only practical complaint would be the toe protection lacks in durability. The fabric wore and started looking chewed up after a couple hike-a-bike sections.
Been looking at different shoes for months, decided on either the Sidi Dominator 5 or theses Codes. I was hesitant on the Sidi's because sounds like they just aren't made like they use to be. Could be happier with the code's after my first ride. Traction is pretty code, inserts for archs nice, and extremely light. I wear a 10.5 in asics running shoes and got a 44.5 for a perfect fit. I thought I had wide fit so I was concerned about these, but I also like a little snug shoes.
Good for the first 50 miles
Nice shoes but after 50 miles extremely painful on the "6th toe." Never needed a wide shoe with any other brand.
Giro Code MTN BIKE shoes.
Out of the box awesome. I tried these shoes on and they felt great. I bought them and took them straight to a cyclocross race. Put the cleats on and my first ride in them was a race (I know bad idea). To my delight they felt amazing. Stiff soles aid in power transfer and the straps did not have one hot spot. The heel straps kept my heel anchored in the shoe where it needs to be. The foot beds come with three different inserts to adjust arch support. Although, I kept the factory installed orange or medium arch support in them. Great shoes that rival any other big names.