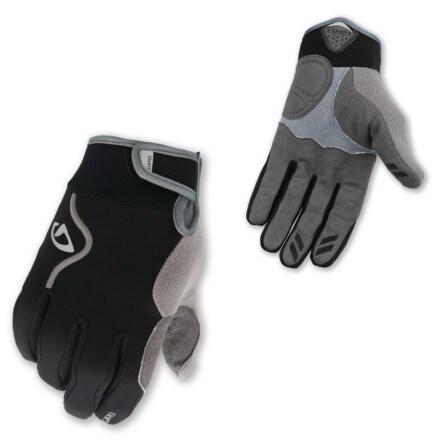 Detail Images
Description
Keep your hands warm and dry during winter rides
Cold weather riding gloves are a necessity for winter. Though now and again you might find yourself inside, riding the trainer and watching highlights of the 2012 Giro Donne, the Giro Women's Candela Gloves will keep your comfortable and dry when your wintertime training takes you outside.
The designers at Giro created the Candela's around women's hand shapes, most noticeably in the construction of the fingers, which uses a box construction for a better fit. The tops of the gloves are made with a breathable, three-layer softshell that retains warmth and allows moisture to escape. A wind and water resistant membrane layer keeps the elements from getting to your hands. The insides of the gloves are lined with fleece woven with X-Static, which serves two purposes— warmth and an anti-microbial layer. Unlike a treatment, which wears off, the X-Static silver fibers are woven into the fleece so the lining helps regulate your temperature and smells fresh for the life time of the gloves. Both thumbs are finished with a microfiber over the top so you can wipe moisture away from your face and glasses without scratching them.
Durable Clarino synthetic leather is used on the palms of the gloves and cut into Giro's Super Fit three panel design to eliminate bunching when you grip your bars. Three millimeters of EVA padding is sewn over the median nerve on the palm to prevent numbness in your hands on long rides. Silicone screening on the index and middle fingers improve the contact between your gloves and shifters to prevent them from slipping when you reach for your levers.
The Candela gloves sit slightly higher on the wrist than summer gloves and use insulation in the cuff so there is no gap in protection between your sleeves and gloves. Giro also added moisture-wicking material to the inside of the cuffs so your wrists stay dry if you start to heat up on fast paced ride.
The Giro Women's Candela Gloves work for cold weather rides down to about 40 degrees F and come in Black. They are available in three sizes, Small through Large.