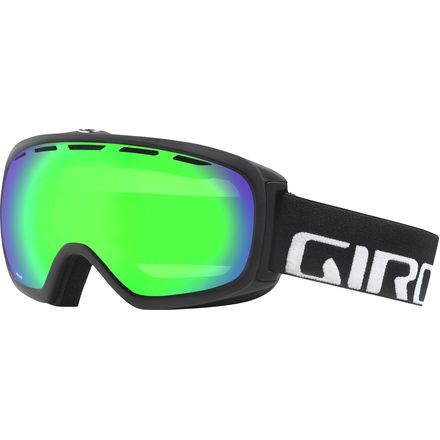 Colors

Detail Images
Description
Make this goggle the Basis for your vision on the hill.
The Giro Basis goggle features a clean, Super Fit™ engineered full-size frame that delivers lavish comfort, wide-open field of view and amazing helmet compatibility. The Carl Zeiss optimized spherical dual lens is a crisp, clear window that is complemented by the frame's massive interior volume to virtually eliminate chances of fogging.
Good quality goggle with a nice lens
Overall the Giro is a good goggle, ordered with the Amber Scarlet lens for bright sun to partly cloudy out west and it did fine. This particular lens is NOT good for overcast flat light! Peripheral visibility is really good as well.



I have a narrow angular face, tried this in the store and thought it fit well. However after receiving it from backcountry at a very affordable price, I didn't think it fit as well. It seemed to be more curved than I remembered (narrow profile, doesn't stick out past the side of your face). My husband and I switched goggles and he likes their fit more than I do. His goggles are the Smith I/O and I prefer their fit much more - they seem to be a bit flatter across and sit high enough to not pinch my nose.



Overall for the price, these are good goggles.
Backcountry.com & Giro athlete Ingrid Backstrom reviews the Basis goggle
Basis goggle White Bokeh with green lens
I just got the Basis goggle White with the loden green lens, these things look and fit great. I like how tight the top of the goggle fits with my Giro Chapter helmet. Backcountry, thanks for helping me look good on the slopes.
my favorite goggles, hands down
These fit perfectly, and with the darkest lenses I almost never have to even change them out except for on a serious storm day. They are comfortable and have excellent lens quality and field of vision. I never have fogging issues at all, even if I am doing something dumb that would cause any goggle to fog, like hiking with them on, etc. I don't push it though and leave them wet in the car overnight or put them on my wet hat during a storm or stuff like that, because you should just NEVER do those kinds of things to your goggles anyways.
I've got the amber gold lens and I feel like the lens is great but the fit of the goggle is a bit off. The nose piece (for me) is a bit too narrow so these sit strangely on my face. Thankfully you can try them out if you buy them here and send them back if it doesn't work out, but I'd be sure to check the fit before relying on these. On the positive side, I haven't experience much fogging with this goggle.
Toss them if you get a scratch
Don't buy any Giro goggle if you plan to wear them outside. Replacement lenses are impossible to find. The Giro website lists all of the lens options and prices and gives you links to several companies that don't carry them
good goggle but if chillen and making a jump take them off or theyll fog but when your just riding there great