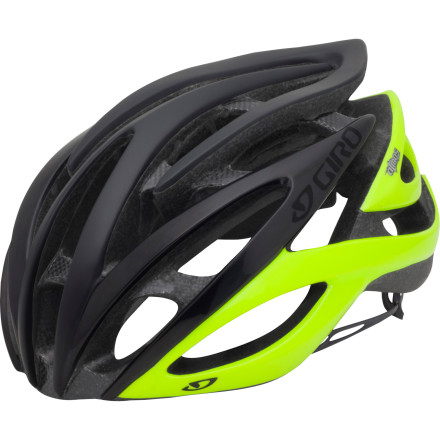 Videos

Community Images
Description
Our most popular helmet ever.
The Giro Atmos Helmet remains our top selling helmet of all time. Need we say more? The reasons are many, so yes, maybe we could throw a few more words your way.
Let's start with the design. Don't act like you don't look in the mirror when trying on a helmet. The Atmos's profile was radical when it debuted, and it's still progressive without being jarring or awkward on the eyes. The slight ducktail at the top of the back of the helmet is the termination of a smooth and beautiful arc that can be traced from the "fangs" that begin above the brow. We think it looks great, and the wide ventilation channels are sculpted to compliment the design.
Speaking of those vents, form and function certainly coexist here, but that function is what will win you over. Strategically placed to pull warmer air away from your head while maximizing the volume of fresh air that they pull in, the Atmos actually has more vents than Giro's top-dog Aeon helmet (although the Aeon is lighter and its total ventilation area is greater than that of the Atmos, their ventilation performance is very similar). The vents are in turn complimented by internal channels that pull the air all the way around your dome, ensuring total breathability. In short, The Atmos creates its own "atmos"phere, keeping you cool even on the hottest days.
Keeping you looking and feeling cool, however, isn't the purpose of a helmet, however. It's protection, and Giro saves its biggest engineering guns for this most vital of tasks. The Atmos utilizes Giro's In-Mold Composite reinforcement construction system, bonding the outer shell to the impact-absorbing EPS foam liner into what becomes a single piece that deflects and isolates impacts better than the sum of its parts. It also makes the helmet lighter, ringing in at a scant 256 grams for a size medium, thanks in part to the Roc Loc 5 fit system that allows micro adjustments and also weighs about 40% less than competing mechanisms.
The Giro Atmos Helmet is available in the sizes Small, Medium, and Large and in the colors Highlight Yellow/black, Matte Black/blue, MC Hesheer, Matte Black/white, Matte Titanium, Matte White/silver, and Red/black.