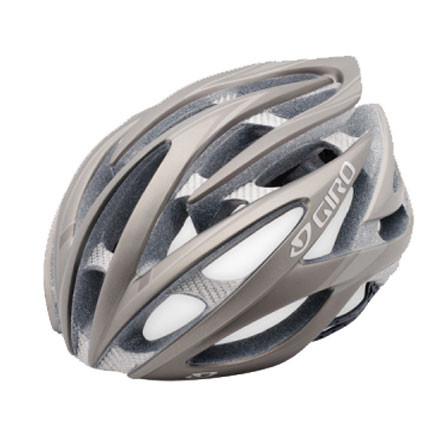 Colors

Detail Images

Community Images
Share your thoughts
What do you think of the
Giro
Atmos Cycling Helmet
? Share a...
Finally decided to stop wearing a baseball cap, so I went with the best and that's all I can say. Quality stuff. Buffalojoe
My son lives in NYC and bikes there. Of course as THE MOM, I want him to be as safe as possible. He chose this helmet and after reading reviews etc, I bought this for his birthday present. He really likes that it is light weight & allows air flow. I really like that his head is protected!
I had ordered the wrong size and had to send the helmet back and it got complicated with a different shipping address etc. Realcyclist made it easy and I talked with real humans who assured me that everything would turn out okay.....and it did.
Thanks RealCyclist for great service.
Best helmet I have ever owned.
I have been using the Giro Pneumo for the last couple years and upgraded to the Atmos just this past month. It fits better than any other helmet I have tried hands down. That being said, helmet selection is definitely a matter of actually trying it on to get the right fit. 200 dollar helmets in comparison to the Atmos did not fit me as well as this one did so I would highly recommend going to your local shop to try a couple for size, including various brands. Bell's also fit me well, but again, the Atmos was the winner for a couple reasons. Great ventilation, light as hell, and honestly feels like I have nothing on my head.
Bought it to replace my lance edition Pneumo that developed a crack over the last 7 years. 98 miles into a century, with a low psi back tire I crashed. This helmet saved me from what surely would've otherwise been at least a concussion, and better yet RealCyclist is replacing it for me! It's super comfortable and it fits so well, stayed in place perfectly while my sunglasses got tossed about 20 feet by the impact.
I got a full season of mountain bike racing out of this helmut.
Comfortable and lightweight.
I am on my 5th Atmos and I just love them (I have had a number of bad crashes). I think they are the most comfortable lightweight helmet I have ever worn. I have gone head first into the side of a car (not on purpose) while on my bike and I can't say that the rest of my body felt as fine as my protected head. It gets my crash test approval. I only wish they still made the silver and sky blue color combination I first bought as shown in the picture. I still get a lot of complements on my helmet from fellow riders. Well worth the money, especially if you ever need another one with Giro's great replacement plan. I also have a large head and it fits me the best.
I ordered and recieved this helmet about a month or two ago and i have worn it road biking and it felt great. I had the wind and i could get a great breeze to my head and it was extrememly comfertable. Better in every way than my old helmet. But i am also an inline speed skater and I have worn this helmet at every single practice and every single meet, I have taken three hard falls to the head while wearing this helmet i am afraid to say during speed skating and yet the helmet has not recieved even a scratch to it. So it has the comfert, the venting, but most importantly it has the safety that a helmet is really used for and what its main function is.
I love Giro and have worn them for many years. I ordered the same size Atmos as my older (2004 mens medium) Giro and this one was much smaller. I did use the size chart and was within the right range, although at the high end, so I would recommend that if you are at the high end of the sizing, go to the next size.
Love the Atmos ventilation and look. However on my head this helmet hurts. I did not notice the pressure on the very top of my head durring the try-on. After about 20 miles... paaaain. Becareful in your selection. I have had a great comfortable experience with the Giro Pneumo.
It took a little while to fine tune the straps, but once it fit right I couldn't be happier with this helmet.
I like it. Its light. Stylish. lots of vents. couldn't ask for anything else... except maybe the giro Ionos.
This is the first time I've spent money like this on a helmet. I've had cheap helmets in the past but I'm now a reformed cheapskate. Basically, the helmet is super comfortable and well vented. I don't really notice it while in the saddle. I use this helmet for both Road and Mountain (XC) and am super pleased with the purchase.