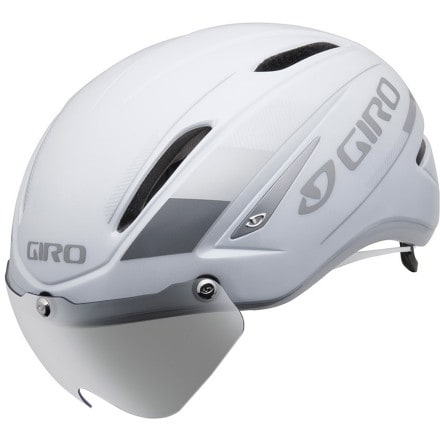 Detail Images

Videos

Community Images
Description
Legally aero.
Aerodynamic helmets are proven effective in taking time off of your race against the clock, and this end, it seems logical that you'd want to wear one for every event. But, a teardrop-shaped aero helmet is not legal in mass-start races. Giro looked at how air moves around different helmet shapes and mated the aerodynamic qualities of a teardrop design with the ventilation and compact fit afforded in a traditional helmet. The result is the new Air Attack Shield.
The general design of the Air Attack was based off of the frontal shape of Giro's Selector time trial helmet, while the tail portion has been removed. And while this seems to defeat the point of a wind-cheating helmet, though wind tunnel testing, Giro found that the air still moves around the helmet, from front to back, as if the tail still existed. It also found that the drag is only 11% more than a full teardrop shape. This instantly means that there is a weight savings. In this case, the weight of the Air Attack, without the shield, is 264grams versus the Selector's 430grams.
Without proper ventilation, the Air Attack wouldn't be the ideal choice for mass start events. To this end, Giro developed a testing device they nicknamed the "Therminator." It is essentially a mannequin head form heated to the temperature of the human body with 'thermo-couples' placed on the exterior. The information relayed from these couples allowed the engineers to map out where exactly the head stays warm and gets cool in the wind tunnel. In turn, vents were placed in the areas where the head benefits from maximum ventilation.
As for fit, while in the tunnel, Giro's engineers discovered that the forehead is subjected to increased pressure. In response to this, the Air Attack's new fit system, known as Roc Loc Air, suspends the helmet above the rider's head, ever so slightly. This permits air that enters in that front three millimeter portion of the helmet to flow over the top of the head and out the large, strategically placed back channels. The 11% increase in drag over the Selector is balanced by a 28% increase in ventilation.
For the included shield, Giro worked with Zeiss Optics (of camera lens fame) in order to create the polycarbonate design. This resulted in a wide lens that features durability as well as clarity. The frameless as well as curved design means a wider frame of vision than sunglasses. It is held in place my three magnets, making removal easy. It also may be turned upside-down to move it out of the way if desired.
The Giro Air Attack Shield Helmet is available in the sizes Small, Medium, and Large and in the colors Black/silver, Black/red, Blue/black, and White/silver.
Share your thoughts
What do you think of the
Giro
Air Attack Shield Helmet
? Share a...