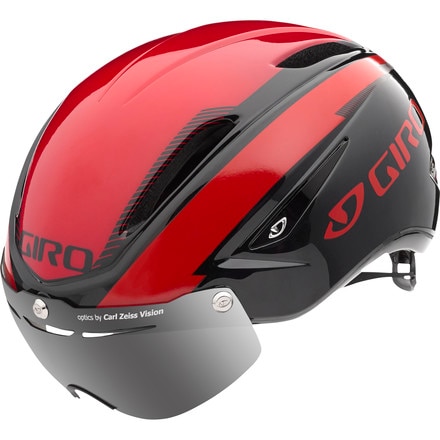 Detail Images
Description
The leader.
Aerodynamic road helmets became something of a trend over the last couple of years, with Giro's Air Attack Shield Helmet leading the way. It doesn't lead from the wind tunnel, though, which is where so many of these helmets get developed and tested. It leads from the velodrome, where the pros from BMC Racing recorded times that were 56 seconds faster over 40 kilometers. It leads from Kona atop Cave, the world champion from Great Britain. Now, it's leading into 2015 with the same design that makes it a favorite for pros across so many disciplines.
The helmet features the same front area as Giro's Selector time trial helmet, with the back — or rather, the lack thereof — really setting the Air Attack apart. Wind tunnel testing proved that passing air still "thinks" it's moving around a long tail, when, in fact, the excess material no longer exists. In addition to now having roughly the same minimal drag (only 11% more) than the Selector, the Air Attack provides a drastic increase in weight savings, 264g versus the Selector's 430g.
The low-vent design initially inspired fears of 100 degree Fahrenheit days with a stifling bowl on our heads. Giro researched solutions to this concern with something it calls the Therminator, a head-shaped object equipped with sensors. The Therminator went into the wind tunnel and data came out, showing Giro where vents work, where they don't, and providing a map for ideal ventilation with as few vents as possible.
Giro also found that as air hits the rider, there is a very high pressure zone right at the forehead. In response, the Air Attack's new fit system, known as Roc Loc Air, suspends the rider's head off of the EPS, allowing air entered in that front three millimeter portion of the helmet to flow over the top of the head and out the large, strategically placed back channels. Amazingly, the Air Attack boasts 97% of the cooling efficiency found in the barely-there minimalist Aeon helmet with an 11% boost in aerodynamics.
The polycarbonate shield is the result of a collaboration with the team at Zeiss Optics, who use their considerable wealth of lens knowledge to imbue the shield with high-levels of both durability and clarity. The lack of any framing means that the shield provides a wider field of coverage and view, and the magnetic attachments allow you to spin the shield around when you want nothing between your brow and the wind.