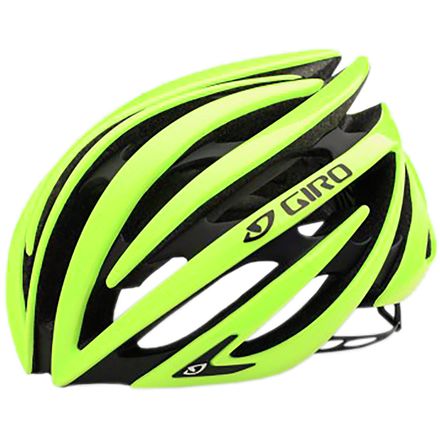 Detail Images

Videos

Community Images
Description
Light yet strong.
It always amazes us that helmets keep getting lighter but at the same time retain the same safety standards as their heavier siblings. At the same time, the lighter helmets also fit better and provide more ventilation as evidenced in the Giro Aeon.
Until the influx of the Aeon, the Prolight stood as Giro's lightweight helmet, weighing in at 200 grams. The compromise, however is that the Prolight featured minimal adjustability . The Roc Loc is elastic and non-adjustable as are the straps buckles beneath your ears. So unless your head was molded to fit the Prolight, you'll most likely be tugging and pulling at it at some point during your ride.
The Giro Aeon took the lightweight design of the Prolight to the next level of comfort. Looking to the Ionos for inspiration, Giro incorporated features that make the helmet fit the fussiest of heads while still retaining a lightweight 218grams (size Medium). For starters, the Roc Loc 5 retention system is used. This tunable system features a Micro dial that easily adjusts the tension of the fit with a simple twist. The retention basket features two strap holder that keeps the placement of the basket intact so that you won't need to readjust it each time you ride, after all, the basket has 15mm of vertical adjustment.
So with added adjustability how does Giro keep the weight of the Aeon so low? Well, using its in-mold construction, the foam liner is fused to the polycarbonate shell in the same manner as all of its other helmets. The difference is that a low-density EPS liner is used to absorb impact in the Aeon. The EPS is just as strong but 15% lighter than previously used foam. In addition, the Aeon does not use the composite reinforcement that was used on the Ionos. But not to worry, a thermo-formed SL Roll Cage was designed in its place.
Along with the redesign of the foam and roll cage, the Aeon also received 24 Wind Tunnel vents. The front and back vents work in conjunction with each other to move cool air into the helmet while pushing warm air out the back. This helps to keep moisture from building up which, in turn, helps to regulate body temperature.
The Giro Aeon is available in the sizes Small, Medium, and Large and in the colors Highlight Yellow/black, Matte Black, Matte Black/white, Matte Black/color fade, Matte Black/yellow Livestrong, Matte Blue/black texture, Matte Red/black, Matte Titanium, and Matte White/silver.
Roc Loc 5 adjustment system
SL Roll Cage maintains helmet's integrity in the event of a crash
24 Wind Tunnel vents move air in, through, and out of the helmet
lightweight and comfortable
Familiarity:

I've put it through the wringer

Fit:

True to size
Rode this helmet in the heat of the summer. Great fit, lightweight and nice adjustments.
On the road again...
Familiarity:

I've put it through the wringer
I've put this helmet through the wringer with Leadville and training for the event. My wife liked the bright color so she could see me from the feedzone. It fits as expected of a GIRO product, pressure points match up to my other Giro's through the years, so no issues with fit or sizing.
Survived a hard crash at 25mph
Familiarity:

I've put it through the wringer
Crashed at 25mph in HH100 this weekend. Landed on my head and shoulder. My immediate thought was no way I 'm not concussed. But after walking around and going thru some mental drills (3 prior concussions so I know the signs) I continued riding. The Aeon structure cracked and split on one of the ribs, but protected me from head damage. It's very light and airy. Not a perfect fit, but workable. I'll retire it now.
Light + cool + love
Familiarity:

I've put it through the wringer
When I first started cycling somewhat regularly, I balked at buying much more than the most basic helmet, as I didn't understand the value in having a very lightweight, well ventilated helmet. After a few thousand miles in the saddle, I got the joke and picked up the Aeon. The Giro helmets all fit my head shape quite well, and when I wear the Aeon, I feel like it is almost not even there. A top quality helmet is a worthy upgrade for anyone who puts in decent mileage on his or her machine.



Photo: telling my friend Brett to put his bike down (raising it over one's head is a serious roadie rule violation!) after a big ride through CT, NY, and MA. Sharon, CT
light and stylish
Familiarity:

I've put it through the wringer
The Aeon is my favorite Giro helmet. Its very light and breathes better than any of my other lids. I love the way it looks and I've never had an issue with the RocLoc. Tons of color options is nice too!
super lightweight and breathable
Familiarity:

I've put it through the wringer
Not really a fan of the latest helmet designs and styles so I hope that Giro will continue to produce this helmet for a long time. I have ridden this on 100F+ days in georgia and down into the 20's wearing this... No complaints. It is so lightweight that I have had to check with my hands a couple of times on cold days to make sure I had my helmet on...
What's with all the stars?
Familiarity:

I returned this product before using it
I see a LOT of road cyclists with this helmet so I thought I'd give it a shot. Don't see what all the hype is about. Looks okay but not great (I tried the black). Maybe one of the colored ones would look nice if it matched your kit. But in terms of breathability the mavic plasma or the catlike mixino both breathe better (hence only 3 stars). In terms of comfort I had no complaints.
The best for a reason
Familiarity:

I've put it through the wringer
I ordered a POC Octal to be quirky/cool/different and match my two Cervelos. I couldn't get over the mushroom vibe no matter how light it was so I returned it for the Giro Aeon. Also toiled over the Catlike, but couldn't be happier I went Giro.

I got it in fluorescent orange to stick with the high-viz theme and it definitely passes the test. Bright, light, most comfortable helmet I've ever owned.

It gets breeze to my scalp through my mop of hair and has no compatibility issues with my Oakley Radarlocks. It's a close fit but as long as everything is properly adjusted, you'll forget you're wearing shades or a helmet. Can't say enough good things about the Aeon!
Adjustment knob breaks off
Familiarity:

I've put it through the wringer
Overall a good helmet. However, I've owned three of these, and the adjustment knob has broken off each one within 3-4 months of use. I never adjust the fit while riding, and I am understandably cautious when I do turn the knob. Mechanics at my local bike shop say that manufacturers discount longevity in order to make low weight claims. Come on, people. A stronger knob might add 3-6 grams. It's worth the weight.
Giro fan forever...
Familiarity:

I've put it through the wringer
The Aeon saved my life, literally. I was t-boned during a ride... Before that, it was an extremely comfortable, super light weight, and excellent looking helmet! I would not hesitate to get another and in fact, I just did! Thanks Dan and Competitive Cyclist! Going for the orange one for visibility ;)
This is a nice lid. Was looking at Specialized helmets, but the Spec lids didn't fit my head quite right. However, the Giro lids fit comfortably, and are also stylish.
Does not hold sunglasses well
Familiarity:

I've used it several times
I just got this helmet a couple weeks ago. Very comfortable and light. I love the adjustment mechanism. The large size does not hold my oakleys at all. It might seem like a silly thing but i'm so used to putting my glasses in my helmet for the long climbs simply with one hand and easily reaching for them when I need them. I would think that would be a design consideration with a helmet of this level. I might return it but I do feel a little guilt about this as I've been using it for a couple weeks now. Really want to really like it.
Feels Good, Looks Good Too
Familiarity:

I've put it through the wringer
Love the design and look of this helmet, and all the great color schemes that it comes in. This along with its super lightweight and a perfect fit make this my favorite helmet from Giro, and my favorite helmet I've ever owned.
Great helmet but costly
Familiarity:

I've put it through the wringer
I've been riding with my Aeon for about 18 to 24 months. Without a doubt the lightest, most comfortable helmet I've ever used. Also the the best able to keep my melon cool. This is important as I live in South Florida and regularly ride in 90 degree temps. This helmet's only downfall is it's high cost. Easily 50 to 70 dollars more than several other high end helmets. Helmets wear out (the Roc loc on mine took a dump recently) and replacing it is a substantial cost. That said, if money isn't a problem you will have a difficult time finding a more comfortable helmet than the Giro Aeon.


I purchased my first Giro "Atmos" helmet over 12 years ago. It was one of the first modern, really good looking, highly-vented, in-mold composite/Kevlar reinforced bike helmets. Fast forward to today... Giro (based in Santa Cruz, CA) designs some of the best high-end helmets in the sport (atmos, aeon, and air attack).

The Giro "Aeon" helmet is a fantastic Summer helmet: extremely well-ventilated and -amazingly- light. The ultimate light-weight warm-weather helmet?

Note: Make sure any helmet fits your head shape (and size) correctly. This is very important and true with any company's bike helmet.
Light & Right
Familiarity:

I've used it once or twice and have initial impressions
Santa just brought me a new Aeon, and I've taken advantage of a couple of warm-ish days to ride with it. The first ride, I had to tap my head a couple of times to make sure I had a helmet on - it is that light and comfortable. I've been riding with Giro buckets for 10+ years and this is definitely their best effort. It adjusts very easily, and the straps are light and comfortable. Even with my 7 7/8ths head, I could fit a wool training beanie underneath. Fortunately, I've never had to test my Giro crashworthiness out it any serious way, but it's nice to know it's there. Take a look at one if you are thinking of a new helmet.
Great Helmet
Familiarity:

I've put it through the wringer
This is my 2nd purchase of the Aeon. My first safes my noggin (only slight concussion )and had a slight dent in it. This helmet is awesome. Very light weight and comfortable. When I saw it on sale on Backcounrty for an incredible price I grab it up ASAP. I previously purchased a pair of Sidi's and saved $100. Amazing ; Thanks Backcounrty for having the best on sale/ close outs.


Great support from Giro
Familiarity:

I've put it through the wringer
I won't reiterate what others have said. Light, adjustable, ..

What I would add is that Giro sent me a replacement RocLoc kit NQA when mine broke. Excellent support