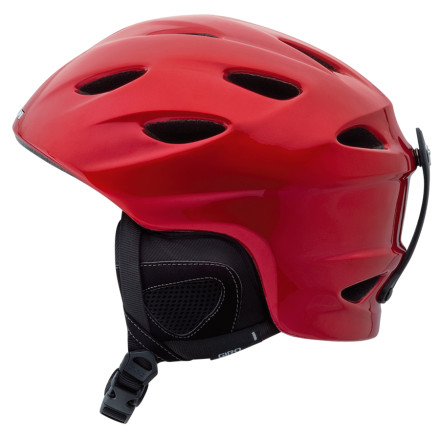 Detail Images

Community Images
How does this helmet fit with the Oakley...
How does this helmet fit with the Oakley Crowbar goggles?
Hi, I have used this helmet and the Giro Omen with Crowbar goggles without any issues... they seal up on the fore head and temples nicely!
Great Helmet at a Great Price
I bought this helmet before a snowboarding trip out to Colorado. I had tried on a few of my friend's helmets and the G9 fit much better at a lower price. The vent feature is great, especially on those warmer days.
Good helmet as Giro's always are. However no head vents in this one
No problems what-so-ever. Comfy, warm, cool looking. Very happy.
I've had my Giro G9 (my first helmet) since 01/2008 (label indicates mfg 06/2007) and have used it on the slopes ever since. I have the medium size and the In Form system is great for fine-tuning/snugging the helmet to your head. I'm not a fan of the matte colors, so I wound up choosing the shiny grey/titanium color. The color and shape make it understated which I prefer.

I sometimes wear a balaclava with the G9. A regular knit hat would not really fit under it. I'm just throwing that out there because I recently overheard a girl ask a salesperson if the cute ski hat she was buying would fit under a helmet. So you can still get that cute knit hat, but just save it for apres-ski!

The G9 keeps the your head warm, especially when using the enclosed Weatherstrip vent plugs. The downside of the vent plugs is that if you want the vent open, you have to pull out the vent plugs and store it in a place where you hopefully won't lose it. This is a minor inconvenience if you like to open and close the vents. I typically leave all the vents plugged, so this hasn't been a problem for me. If this is a breaking point for you, then I would recommend to go check out a higher Giro model that has the Thermostat ventilation control (open/close vents with a button).

You can easily pick up a G9 on sale, but the bottom line is that this is a great helmet. It's definitely worth it.
Unanswered Question
Where can I buy the inserts for the Giro...
Where can I buy the inserts for the Giro G9 helmet?
This is probably the warmest helmet I have ever had. Haven't had an accident with it, but the G10 saved my life...
Is this a good women's helmet?
Is this a good women's helmet?
Best Answer
This is a very good women's helmet..........I totally recommend the G9........My wife and two daughters (10 and 8) both wear the G9 and the fit and style are great..........plus they have the protection of a quality Giro product.
Can you tell me if you have any helmet...
Can you tell me if you have any helmet similar to the G9 audio helmet? I am trying to find one for my sons 40th birthday.
Buy the G9 (or Ember for ladies) and add the Audio. Giro Tuneups cost $30-200.
I used this helmet for a couple of years until too many hits forced me to upgrade to the G10 MX. The helmet saved me when I nailed my head on an ice covered mogul and then again the following year when the crash was so bad that I herniated a disc in my back(I was only eighteen at the time). After the latter of the two crashes I was seeing spots n was dizzy, but still managed to ski the rest of the day. Had it not been for this helmet my day would have ended with a ride down the mountain in a patrol sled. This helmet is definitely worth the reduction in hospital bills (and pain!).
Great fitting, light-weight helmet
I have only used this helmet for a week now, but I love it. It has a great, very universal fit - I hadn't even tried it on before I ordered it - and the fine adjustement adds to your safety. Talking of safety, this helmet was tested by a state-controlled institute in Germany and got a very good rating for its safety. It is light and comfortable and pleasantly warm. The venting system could be a bit easier to handle, but it's certainly no reason give it a lower rating.
We purchase two of the Giro G9 helmets for our daughters for Christmas presents since neither one had one. Both of them loved the comfort and style of the G9. Our oldest daughter who snow boards caught an edge the first day on the slopes with the new helmet and thankfully it worked as designed. She landed backward and slammed the back of her head hard against the icy slope. The helmet saved her a trip to the emergency room and possibly her life. Don't take a chance with your head...Get a helmet and save your skull bucket...this product works!
I used my new G9 helmet on the slopes at Breckenridge over the holiday. The fit was perfect and the weight was so light I didn't realize I was wearing a helmet. The added benefit was the warmth the helmet provided without the need of a sock hat. Temps were between 6 - 20 degrees F and my head and ears remained toasty all day.
I need an XL so options are limited! This is a very basic helmet, but keeps my head warm and adjusts easily in the back to get a snug fit. You can remove some parts of the liner to open up some venting in the Helmet, but I usually don't use this until spring time. I've been using the G9 for ~4 years now and just got a new one as the "snugging" mechanism on my old one broke. There are still some minor issues with the construction here, but I ski ~60 days/year so am probably pushing this a bit harder than average. My older G9 held up very well over 2+ years and I am a fan of the ever so slight redesign of this model (mainly the logo on the front).
I don't think there is really anything bad to say about this helmet. It's stylish in a modest, sleek sort of way. It's comfortable, the fit is great especially when you dial down the zip-adjuster. Even without a balaclava or headwarmer under it it's still plenty warm. I don't really find the need to change the vent plugs in & out, I just leave them out usually, but it's a cool feature regardless.
I own the previous year's Nine.9, though the helmet has changed very little over the years. It's a good helmet all-around, but there some things are left to be desired. First, the venting system can be a little awkward, you have to take off the helmet and remove one of the three vent plugs which then expose your dome directly to the wind (and don't lose those plugs!). Second, the fit is not perfect as the inside of the helmet consists only of some swatches of padding velcroed to the inner helmet foam (the newer G9 has more padding and a rear adjustable sling though). Third, the goggle integration could be improved as the slick plastic can cause goggles to slip down and create the dreaded "gaper gap." other than that it's a good helmet that will certainly look decent and last you several seasons (unless you take a gnarly spill, then replacement is a good idea). Just try it on in person first.
Unanswered Question
DOES ALL THE RED ABSTACTS COME WITH BLACK...
DOES ALL THE RED ABSTACTS COME WITH BLACK WHITE DECALS?
?
My two daughters both have the Giro G9 from 2008-2009 season. I was able to get BOTH helmets on Backcountry for the current price of this years (2009-2010) G9. If you can wait, wait until this helmet goes on sale....or wait until after the season to pick one up. It is a quality helmet....adjustable fit is great....nice style....low profile.....looks great with Oakley Aframes........but try not to pay full price for it if you don't have to.
I've been using the G9 for a couple of years - the design hasn't changed. It's a completely adequate helmet solution.

Some pros: fairly lightweight - you won't really notice it up there. Also keeps you nice & toasty on colder days. Vents work too, so you don't overheat.

Cons: it's a bit bulky, so it gives you that bobblehead look. It's also omnipresent on the slopes, so if you are looking to stand out from the herd, this is not the way.