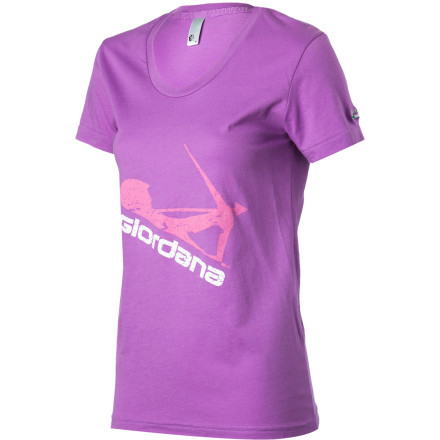 Detail Images
Cycling style is something that continues off the bike. Giordana celebrates the two-wheeled life with their Women's Trade Cotton T-Shirt, tops that can be worn pre-ride, post-ride, and even during the ride.
Giordana has made a great choice in procuring American Apparel T-Shirts for the task. The fashion manufacturer's cuts, sizing, and colors are all first-rate, and drape over cyclist bodies well. They use AA's 50% cotton 50% polyester tops for a soft hand and great durability.
There are two styles of Giordana Women's Trade Cotton T-Shirt. One is Pinarello Tour Tee, which is a Heather Black shirt with a screened design of the Eiffel Tower in front over a 9 with a Pinarello logo in back with a 9 over the Pinarello. The 9 stands for the nine Tour de France victories Pinarello has ridden. The other is Giordana Distressed Logo, which is exactly that: an Orchid Purple shirt with an oversized logo in White with Sagittarius in Pink. Sizes run from XSmall to XXLarge.