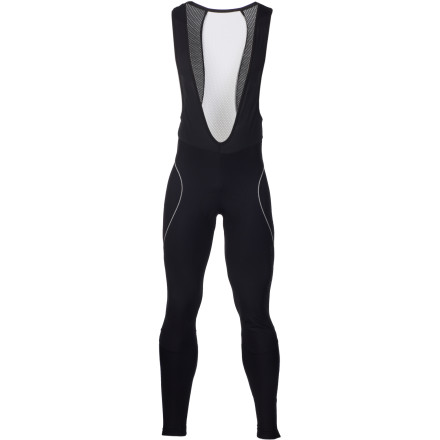 Detail Images
Description
Relief from the elements.
Giordana designed its Silverline winter apparel to offer much of the warmth and body-contouring fit of its top-end FormaRed Carbon line without the sticker shock. As such, Silverline clothes appeal to a wide range of riders--from amateur road racers dedicated to getting the jump on the competition to cyclocross fanatics. The Giordana Silverline Windfront Men's Bib Tights are the warmest tights in the Silverline family due to the added wind-blocking thigh panels in front, and they have plenty of features to ensure that you stay comfortable during the chilly months.
Giordana constructed the Silverline Windfront Bib Tights out of Super Roubaix and ThermoDream fabrics. Super Roubaix, used in the front of the tights, is a stretchy, muscle-compressing fabric that's smooth on the outside and brushed on the inside for insulation against the cold. ThermoDream makes up the rear panels of the tights; it's a similar insulating fabric that fits like nylon and spandex, but is heavier for cold-weather applications. WindTex panels cover the thighs, providing a barrier between you and the elements without negatively affecting breathability. The bib straps are made of two different mesh materials for proper temperature regulation.
Inside the Silverline Windfront Bib Tights you'll find Giordana's Nimbo O.F. chamois. This seamless, single-piece insert has foam padding of varying thicknesses and densities to ensure comfort while minimizing bulk. It's elastic, so it moves and stretches with you as you ride, and then returns to its original shape when you're done. The outer layer of the pad is perforated for excellent ventilation.
The Silverline Windfront Bib Tights are designed to fit best when you're on the bike; as such, they were constructed on a curve to support the natural riding position. The bib tights are secured at the ankles by silicone grippers. Additionally, the ankle cuffs have locking zips. Highly visible reflective accents provide safety when riding in low-light conditions. The The Giordana Silverline Windfront Men's Bib Tights come in sizes Small through 3X-Large and in Black.
These are not overly fancy, but they are extremely quality and will keep me warm down below freezing. Amazing chamois for the price, and the fit is great. My only complaint is that the zipper on the ankle isn't as long as it could be. Shrug, who cares with the other amazing ness!
I need really warm tights for riding in...
I need really warm tights for riding in windy condition below freezing. I need to be able to pee without removing any jackets, etc. Will these accommodate that necessity? Any other recommendations?
Best Answer
What you want are "Pearl Izumi Men's Elite Amfib Tights" ... but I'm not sure if BC sells em (I can't seem to find them on here). They come in pant (non bib) style, are super warm and breathable, and really move well.
The Silverline Windfront bibtights are perfect for freezing weather. The thick Roubaix material is great at insulating and the windproof outer layer adds perfect protection against freezing temperatures. I highly recommend these. brett@competitivecyclist.com
I prefer bibs, but it makes it very difficult to pee. Add winter layers and it's a big pain.
what are they cold rated at
what are they cold rated at
The Windfront bibtights are intended for freezing temperatures. I have ridden them comfortably in ranges of mid-20's to mid-30's. They can be a bit too warm for the 40's and 50's. brett@competitivecyclist.com
I'm 6'3" will these be long enough?
I'm 6'3" will these be long enough?
If you go directly to www.giordana.com/en you can look over all their men's offerings; then you can click on 'sizing'. They have an very exact sizing chart including weight/height, and ALL other torso/inseam/arm etc. measurements. Its all in cm., you'll have to convert the measurements.



I didn't see this particular bib, but they have many others, and the size charts seem to be the same for all.



You can't purchase from them, but you can get a closer look and maybe more details on the tech.



Hope this somehow helps.



I