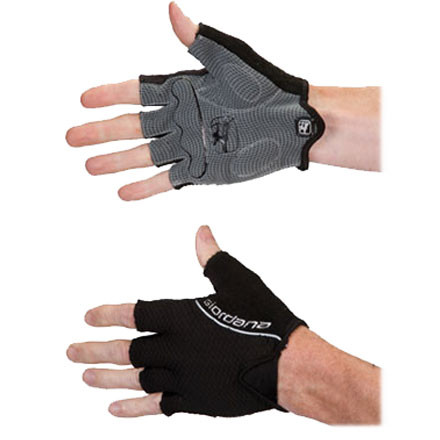 The Giordana Silverline Summer Glove's ultralight fingerless construction puts a smile on your face when you're riding on the hottest days of the year. A mesh back and perforated palm help your hands stay cool while still providing protection against your bike's grips. The Giordana Silverline Summer Glove is the choice for days when you don't even start with your jersey zipped closed.
I was hoping for a little more padding across the heel of the palm. I get wrist numbness. Otherwise good gloves, good price.
Summertime and the livin's easy.
Very nice glove, I greatly dislike Velcro straps on my bike gloves and these don't have 'em. Mesh back keeps your hands cool and the gel palms ease the commute. Fit true to size. Try them, you'll like them. Cheers.
Very comfortable glove, padded no gel, a plus for me. Lite but adaquate padding and no. Annoying Velcro closure at wrist. I'd like pull off tabs but at this price not a problem. Plus on my Gore gloves it's the tabs that pull off not the glove, that's worse than no tabs.
Snug fit, sleek, and provides good padding without bulk. Pretty cheap, too, and so replaceable without too much cost.
Good gloves. Not too heavy and keep your hands cool on the way.