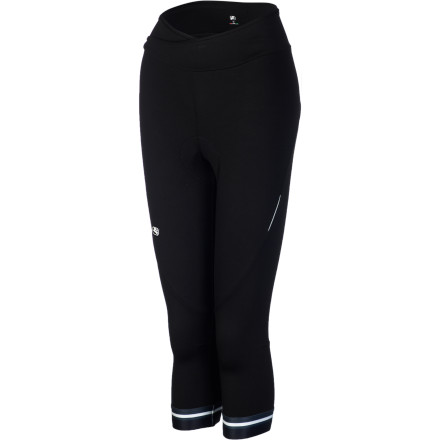 Detail Images
Description
The ultimate in waist-wrapping support.
Giordana overhauled its popular Silverline Women's Knickers in order to create a versatile piece for women to wear in a variety of cool weather riding conditions. Additionally, Giordana knows that not everyone prefers to wear bib straps, which is why it released the Silverline Knickers as a blend between its bibs and traditional knickers. Giordana accomplished this with its redesigned waist panel that now wraps the waist more comfortably and securely than before.
The Silverline Knickers were constructed from Giordana's Nair fabric. This lightweight material was chosen as the primary fabric for the knickers due to its smooth feel and texture. In fact, Nair is one of Giordana's softest fabrics, used for several next-to-skin pieces because of its super silky hand. It's composed of a 200g nylon/spandex blend, which means that its stretchable characteristics work to both support your muscles and to move with your body as you ride. Additionally, the fabric was also chosen for its ability to both breathe and to wick moisture away from your skin, which, in turn, helps you stay dry and comfortable.
For the fit of the knickers, Giordana developed a tall overlapping waist panel that tapers down slightly in the front. This soft roll top design allows you to adjust the height of the panel, creating a fully customizable wrap around your waist. Simply fold the band down on the hips for a low-rise feel, or leave it up for more coverage. Regardless, though, the stretch Nair fabric used for the waist and leg panels will gently hold your leg muscles without any sensations of being overly compressive or restrictive. The knickers reach down just past the knee, providing ample coverage for cool weather rides.
The insert of the knickers is Giordana's new Nimbo-W OF. As part of the OmniForm family, the Nimbo-W was created in response to consumer's requests for more substantial women's-specific padding in a chamois. The uppermost layer of the Nimbo utilizes a soft polyester microfiber that incorporates a subtle texture to aid in perspiration management. Below this is a layer of expanded memory foam, and then a thick section of perforated open cell padding that's been thermally bonded to the materials above. The bottom layer was cut to protect you at crucial points against the saddle, comfortably contouring to your anatomy. Independent glute panels finish off the chamois, providing maximum flexibility when the body is in motion.
Contrasting white piping lines the knickers' cuffs, where silicone-backed grippers keep everything perfectly in place.
The Giordana Silverline Women's Knickers are available in five sizes from X-Small to X-Large and in the color Black w/Black leg band.
what is the inseam length? I'm tall and...
what is the inseam length? I'm tall and prefer 20-21 inches.
Hi Nancy,



My 'XL' (which fits like a U.S. size 'L'), measures, without being stretched, 17" from the very edge of the side of the chamois. These are pretty stretchy, and can easily be 'pulled down' lower on the leg if desired. I am 5'6" and they go to ALMOST the tops of my calves; as I usually pull them down a bit for cooler rides. Likewise, you can also hike them up on the leg a bit if needed, to 'vent' a little. They have a nice fit, without a lot of compression, so you have lots more latitude.



Hope this Helps!
What is the inseam length??
What is the inseam length??
'XL' Measurement from the 'middle' of the chamois is: 20" (not stretched).
I am a UK size 12 I am 5ft 4' and I weigh...
I am a UK size 12 I am 5ft 4' and I weigh 140 lbs. Should I buy the M or L ?
Hey,



If you are a UK size 12 then you are probably a US size 10 which will be about an XL. However, please double check your measurements, the XL is designed to fit a 75 -79 cm waist and 102-107 cm hips.
Thanks, an XL seems like it would be too big, since in other makes I only wear a small, but I have measured myself and I am 72cm waist and 103cm hips. I am definitely a pear shape. If only I could find a shop that stocks them to try them on. Bus since most people order online these days the shops have almost no selection. I guess I will need to keep looking
*UP-DATE: Did some research on gitabike.com, and found out there are some authorized dealers in various state here, and probable overseas as well. Check that site out...see if there's a dealer nearby, try on your selection, and then you can always order here (where items are usually less expensive)!



Anyway, if you're a U.S. size '10' or '12'; or, a size '31' or '32' in 7's, J Brand, Current Elliot, Paige, or Joe's, you'll want that 'XL' in these.



Hope this Helps!
thanks Debbie, I am in Australia, I have a Skirt from the US it's a size 8 and fits nice. I guess I am going to order a Large and if they are too small I have a friend who is smaller than me who said she would buy them. I will definitely post some info when I get them and let all you curvy figure girls know how they fit. The shops here in Australia are useless too.


You know what? I was curious to find out what the size conversion really is for you, so I went on the following sites: www.saks.com, www.nordstrom.com, and finally, www.neimanmarcus.com...who should know if they don't, right! So, they all agree: a UK size '12' equates to a U.S. size '8'!

Use that as a "tool" for size conversions for whatever else you may be unsure of which size clothing to buy (whether or not bike related), as the charts they show have ALL the conversions for France, Italy, U.K., U.S.! (There's also a different Asian sizing, too, but I haven't seen too many clothes here dealing with their sizing. I'm sure if you come across it, there will be yet another sizing conversion for you!).



And, so it seems, that the 'L' just might be the size that will fit you; and you're lucky to have a friend who'll buy them if it doesn't, so you'll wont have the hassle of shipping back & forth!



Let us know how it all works out for you, and best wishes!
ok ladies, sorry for the late reply, the Large was too big so I have now got them in a medium and they fit ok but I could have got a small, go figure, I bought a pair of Yeti liner shorts in a large and they just fit. seems there is no consistency with sizing. But thank you Debbie I am definitely a size US 8. also these are very nice tights well made but I wish the chamois was a little thicker.
Buying on-line can be such a pain! Glad you finally found your size (in the Silverline anyway). You're absolutely right-on about sizing inconsistencies...even among the same brand: Giordana's F.R.C. line runs even smaller because of the compression it has built in to support muscles.



You might also like Gore's Xenon; very similar, with a thicker chamois, and the shorts are a tad longer than some others.



Happy Trails!
Comfortable Hybrid
Gender:

Female

Familiarity:

I've put it through the wringer
C.C. offered these first, so I had already ordered from them; anyway, they are very, very soft & comfortable on. I'm not sure if pro-riders would appriciate them as much as they are not all that 'compressive', as some other garmets. I'm not too wild about this new waist line for cycling, feel somewhat 'exposed'; keep tugging at top to pull down and cover up,and conversely pulling up on waistline, even with the appropriate long bike jersey (but that's just me)...You fit-n-trim ladies will probably have no problems (I'm a size 10, and working on it!). The chamois is comfortable and not diaper-like. The leg bands are not restrictive, and the overall length is very good; plus these are so stretchy, you can tweak them a bit longer, or even hike them up a bit with no pinching. I would say these are probably best for novice/intermediate riders mostly (the FR-C line is still way better, but also way more $).

Wouldn't personally wear these in winter, the fabric just isn't winter-worthy, but spring/fall is fine . All-n-all they are worth it (as usuall for Giordana). And because these are so comfortable, I've decided to go for the matching shorts as well: can't wait till they, and Spring get here, AND STAYS! I think you all will like these very much!