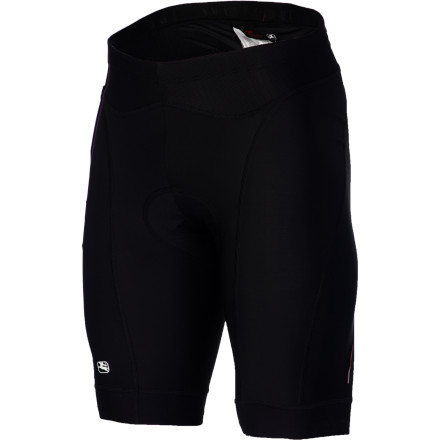 Detail Images
While many riders feel more "pro" wearing bib shorts, the truth is that it's often easier, especially when nature calls, to wear bibless shorts. Whereas many bibless shorts sit at the low end of the clothing line, however, Giordana's Laser Men's Compression Shorts feature all the fabric technologies of the bib version and are some of the most comfortable shorts around.
The majority of the panels of Giordana's Laser shorts are sewn from its Moovix fabric. Moovix is knit to have omnidirectional stretch, which means it will move in any direction you do. The inside of the legs and the seat panel receive the Zaffiro fabric. This is a Power Lycra with Giordana's SUPER 40 construction technology, which is a denser weave. While it maintains all of the same features as the Moovix, it does so with a greater resistance to snagging and abrasions in the saddle region. To ensure comfort at your waist, Ametista fabric is used. This weave knits in carbon to support the honeycomb knit Lycra, giving it multi-way stretch that ensures comfort at your waist when you are in the riding position. This is enhanced in the contoured cut the panels are given, before they are sewn. This eliminates excessive fabric and bunching in all the wrong places. The shorts are kept in place with LoPro 45 leg cuffs that use a wide band as opposed to a skinny elastic strip.
Finally, the insert is the Cirro Omniform. This chamois has aloe vera particles infused into the threads. Not only is it a natural bacteria fighter, it also cools the skin. The Cirro features a waffle-textured memory foam with a covering of open-cell padding for all-day comfort.
Moovix main panels
Zaffiro at inner thighs and seat
Ametista waistband
Cirro Omniform insert