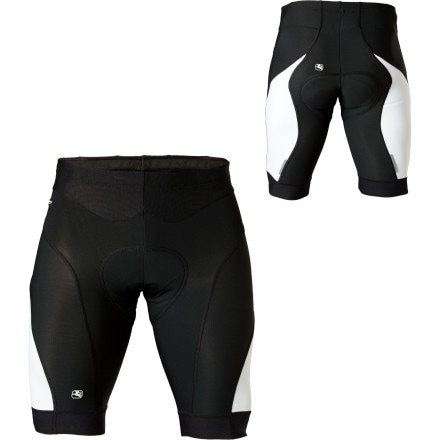 Detail Images
Description
Epic spando.
If you want high-quality shorts, but dislike riding with bib straps, then these Giordana Laser Shorts are what you've been longing for. They have all the wonderful properties of their bibbed twin, but without the straps. They are cut perfectly -- higher in the back and stay in position regardless of how hard you hammer.
Giordana uses Moovix fabric which gives them an omni-directional elasticity that micro-massages your muscles with each pedal stroke to naturally promote blood flow. Remember, the more blood you can move around to your muscles, the better your performance and recovery will be. The knit of the Moovix fabric has been designed to promote moisture transfer as well, so you'll stay cooler and more comfortable.
Just like the FormaRed shorts, carbon is used here to help control the stretch of the material and to reinforce it for durability. Carbon has the added benefit of reducing electrical interference from cell phone towers and power lines that can negatively affect performance. Everything is held together with four needle flat-stitched seams which help to control stretch as well as isolate muscle groups. A soft elastic band at the cuffs has silicone dots on the inside to hold the bottoms securely in place while you ride.
Let us not forget the all-important chamois. The Laser Shorts offer the same top of the line chamois as the FormaRed shorts. The three layer Cirro OmniForm pad has a special nylon microfiber cover, infused with Aloe Vera that won't ever wash out of the fabric. Aloe cools, protects, and even heals the skin while you're in the saddle. In addition, Aloe Vera is a natural defender against bacteria. The middle layer is a waffled memory foam which helps with the moisture management by circulating any dampness to the outside of the shorts so they dry easily. The foam is bonded on the bottom with an ultra-fine protective liner. To ensure that seams never come in contact with the rider's body, all stitches are completely concealed in recessed channels. The Cirro O.F. insert stretches like elastic and conforms to all your movements on the bike, then returns to its original shape after your ride.
The Giordana Laser Shorts are all Black and come in five sizes from Small through XX-Large. Reflective elements add visibility for safety.
Moovix Lycra blend omni-directional stretch fabric and high compression rate produces a massaging effect to stimulate blood flow to muscles for reduced fatigue and enhanced performance
Brushed back feels good against your skin and wicks moisture away to keep you cool and dry
Carbon fiber threads in the uppers and perforated leg panels with a laser pattern aids with ventilation for reduced swamp crotch
Supple T-Select Omni Form chamois contours to your body for optimum comfort
Anti-bacterial treatment throughout inhibits the growth of odor-causing bacteria
Soft elastic band with silicone dots keeps your shorts in place