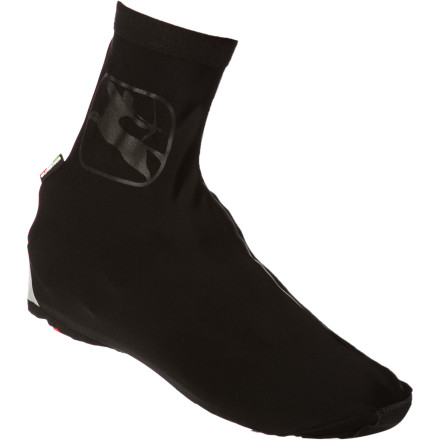 Detail Images
You've followed the sage advice of wearing a winter cap or balaclava under your helmet to keep your feet warm, but it's not enough. Some days are just too wet and too cold to go without added foot protection. The Giordana G Shield Shoe Covers keep your pedal-pushers from going numb amid chilling road spray, relentless downpours, and brutal wind.
Giordana's designers gave the G Shield Shoe Covers Super Roubaix AZ (Acqua-Zero) fabric. Super Roubaix AZ looks like normal Roubaix fabric, with a smooth outer surface and soft, fleeced inner layer for insulation. However, the most advantageous function of this fabric isn't visible. Acqua-Zero refers to a treatment that is infused into the microfibers of the fabric during the manufacturing process. This treatment increases water repellency and keeps the fabric from becoming waterlogged, which would lessen its ability to insulate. Unlike treatments that are applied post-production, the Acqua-Zero treatment is extremely durable and semi-permanent, so it will withstand repeated uses and laundering.
Another way the G Shield Shoe Covers provide total protection from the elements is by having a limited number of panels. Of course, this limits the number of seams, and seams are always the weakest points of a garment where weatherproofing is concerned. Additionally, the seams of the G Shield Shoe Covers have a silicone application that fills the needle punctures from stitching, forming a watertight seal. What does this all add up to? Superior foul-weather protection for your hard-working feet. The Giordana G Shield Shoe Covers come in sizes Small through X-Large and in Black.