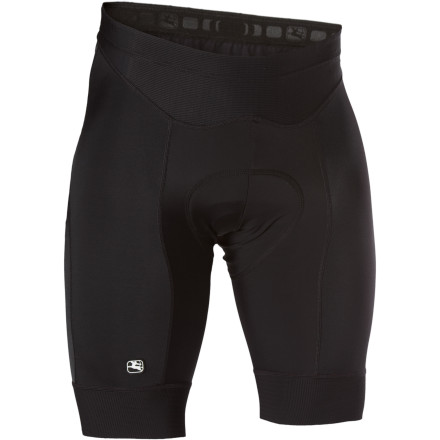 Detail Images
Bib skeptics rejoice! Giordana has, with their FormaRed Carbon Flex Shorts, designed a waist that is as advanced and comfortable as the rest of their winning FormaRed Carbon Flex shorts. Waists can be hard to make comfortable; bibs make fitting them easy, which is part of the reason bibs are popular with manufacturers. Of course, plenty of people prefer traditional waists, half-shorts to some, and manufacturers are forever looking for better ways to secure the shorts to a waist.
Giordana's solution is several features working at once. The result is comfort. How they get there is by using Ametista, directional-stretch spandex, stitched into several panels. The panels wrap around the waist, but the biggest deal is in front, where the panels are scalloped to meet the challenge of following a compressing body without uncomfortable bunching. Ametista offers another advantage; because is interlaced with carbon thread, which has anti-bacterial and anti-static properties, it helps protect your internal organs from electrical interference. At the top of the waist panels is a flat jacquard gripper with silicone that locks the rest of the bottoms in place. You'll notice that there's an extra spandex panel that runs from the bottom of the glutes to the bottom of the shorts on both the right and left leg. These are Xspansion Channels. The directional spandex (Ametista again) expands to accommodate legs of all thicknesses, especially the larger-legged among us. These panels first started appearing in the legs of US Postal team skinsuits, then Team Discovery clothing, and in 2011, you could see the red panels in the back of Team Radio Shack's black shorts. The Flex shorts are a bit longer than their FR-C brothers to better accommodate long legs.
You might be wondering why you'd need more stretch. It's because these shorts use highly compressive spandex, known as HC-44, that doesn't merely stretch around your legs, but hugs them in a tight embrace. The material has 44 threads per centimeter, making the material very thin and light and tight. Compression is part of the next wave of legal performance enhancements, with some evidence that it can help you go farther faster. Even if you're skeptical, the shorts keep the chamois in place like nobody's business. The 5cm-wide comfort cuffs feature Ametista material on the outside and Antigua on the inside to help with wicking and sticking. To finish it off, there are reflective tabs on the backs of the legs for safety in low-light conditions.
These Flex bibs come with Giordana's top-of-the-line Cirro Omniform insert. It's a variable thickness (4-14mm) stretch pad, with a waffle top for comfort and wicking, and the microfiber's threads are infused with aloe vera for a little extra skin softness and protection.
The Giordana FormaRed Carbon Flex Shorts come in Black. Sizes run from Small to XXLarge.
Cirro OmniForm chamois features Aloe to cool, heal, and prevent bacteria—it's added during the manufacturing process and won't wash out
The Cirro pad uses highly ventilated, stretchy, and ergonomically shaped padding to protect and support on long-rides
FRC shorts utilize HC-44 high-compression fabric for precise fit, incredible performance and maximum comfort
Ametista fabric features threads of carbon woven into it to control stretch while reinforcing for lightweight durability
Four-needle flat stitched seams control stretch and isolate muscle groups for independent support
Wide, stretchy, and breathable, the Aerofix waistband comfortably holds the shorts in place
Aerofix Gripper System prevents migration from pedaling
Reflective elements for low-light safety
What do you think about this product?
Have questions about this product?
Unanswered Question
Will these be re-stocked in a Men's 'L'...
Will these be re-stocked in a Men's 'L' Black soon?
In what country are they made??
In what country are they made??
All Giordana clothing is manufactured in Bonferraro, Italy.