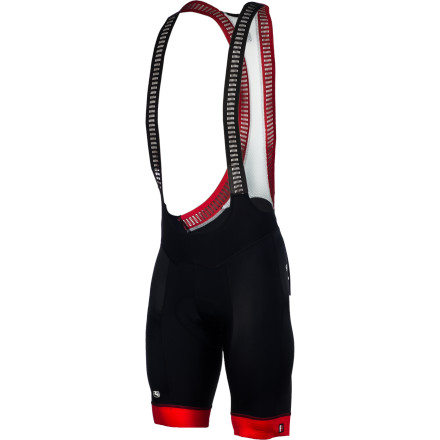 Detail Images
If you asked us the last time that we'd seen a pair of bib shorts which featured six separate fabrics in their construction, you'd be looking at our blank stares. However, the Giordana FormaRed Carbon Bib Shorts are made with just that amount. But, don't think that Giordana is simply adding fabric for fabric's sake. Instead, the materials are specifically placed in order to continue the FormaRed Carbon's dominance as one of the best feeling, and certainly best fitting, bib shorts ever created.
Starting with the bulk of the shorts' construction, Giordana went with its compressive HC-44 fabric. With a nylon/Lycra composition weight of 180g/m2, the FormaRed Carbon (FRC) bib shorts take on a nearly medical compression level (240g/m2). And while dissecting the fabric title, we find that 'HC' designates 'high-compression,' while '44' stands for the material's threads per centimeter (TPC). As Giordana puts it, the highest prior thread count hovered around 36 TPC. This means that, compared to most competition, the HC-44 is softer, more conforming, and has a higher level of wicking capability. And remarkably, HC-44 achieves this at a lighter weight than most Lycra blends. Why is this important? Well, if you've worn compressive fabrics, you'll have noticed that they're heavy in comparison to traditional Lycra. HC-44 encompasses their key traits, like inhibiting muscle oscillation and promoting a positive circulation, without the detriment of a weighty, poorly-breathing composition.
Moving to the inner legs and seat panel, Giordana placed an even stronger fabric called Zaffiro. This material is a certified Power Lycra with a composition weight of 200g/m2. But, unlike HC-44, Zaffiro features a purposefully denser weave with Giordana's SUPER 40 construction technology. This guarantees a continuation of HC-44's aforementioned characteristics, only with a higher level of durability and friction-reduction at the highest points of saddle abrasion. Around the area of the core, the FRC utilizes Kite mesh panels in order to effectively regulate your core temperature. Additionally, Giordana placed its new Ametista fabric around the waist as part of its Core Contour System. Again, we see a return of 200g/m2 Lycra, only now, Ametista is characterized by its woven-in carbon threads -- thus, the 'Carbon' in 'FormaRed Carbon.' With the carbon filament, material stretch is controlled, but not just in the supportive sense. Basically, the carbon reinforces the honeycomb-knit Lycra, making it lighter, yet stronger, and allowing it universally stretch in all directions, not just four-way. Additionally, the carbon fiber blocks out static and rogue atmospheric electrical interference for an increased anaerobic output and a delayed onset of fatigue.
As for the fit, the FRC benefits from Giordana's innovative contoured cut. Essentially, the bib shorts are created on a curve in order to clone your body in the cycling position. By doing this, abrasion is minimized, and fabric bunching and pinching is eliminated. To secure this position, Giordana incorporated its MicroQuad bib straps and AeroLite leg cuffs. MicroQuad features a differentiated stretch that anatomically regulates flexibility and movement. Additionally, this microfiber is highly-breathable and an efficient transporter of moisture. At the cuffs, the new AeroLite design uses a low-profile, seamless cuff that holds strong while maintaining an aerodynamic presence. And for further comfort, the entirety of the bib shorts have been constructed with four-needle flatlock stitched seams.
The bib shorts' chamois is one that Giordana touts as being the most advanced in the industry -- the Cirro O.F.. We don't deal in absolutes, but we can say that it's the first chamois we've heard of with Aloe Vera particles directly infused into the threads of the microfiber. Aloe is not only a natural bacteria fighter, but its implementation in the fiber provides a cooling effect that protects and heals during activity. Below the skin layer, the Cirro has a 4mm-thick pad of waffled-texture expanding memory foam. The texture aids in ventilation by moving moisture to the perimeter of the chamois where accelerated evaporation can occur. The final layer of the chamois is a thick section of hand-sewn open cell padding with recessed channels for pressure relief. These technologies amount to a chamois that won't get wet and nasty 100 miles into a ride, let alone 20.
The Giordana FormaRed Carbon Bib Shorts are available in five sizes from Small to XX-Large and in the colors Black/red and Black/black.
Should Have Listened!!!!
Familiarity:

I returned this product before using it
I'm 5'9" 163 and muscular build. I wear large in Giordana Silverline so I ordered medium in the FormaRed based on negative reviews here. I have fairly thick thighs and the Medium are too loose at the bottom. The material waves in the breeze instead of gripping. How can one company make a large that fits and a medium that's too big???? I paid $50 duty to get these shipped to Canada. What a waste of money and now it's my dime to return them. The sales rep assured me the online reviews were not something he has ever heard and in fact he heard they fit perfectly. I'm not happy about being mislead



UPDATE: The same in Large was not as loose as the medium. Upon closer inspection I see the tag is quite damaged on the M and the leg grippers (Red in photo) are floppy. It's obvious to me these were known to be defective and previously returned to CP who then shipped them to me.



BEN in customer service took care of the situation.
Disappointed, legs were loose!
Familiarity:

I returned this product before using it
OK, I'm really frustrated trying to find a decent pair of bib shorts.



I just plopped down $250 for the Giordana FormaRed Carbon (size Large) only to be extremely disappointed that the "improvements" that Giordana made in 2013 are a huge step backwards in fit and quality. I bought from the same line of FormaRed Carbon (aka FR-C or FRC) shorts back in 2012 and absolutely loved those shorts. Fit was perfect, chamois was perfect, when I put them on I could just forget about them and ride forever. The new version of these shorts has a very thin layer of spandex at the bottom of the leg (much thinner than even a light jersey) with some squares of silicone to act as grippers. They are loose at the bottom of the leg! The 2012 Giordanas had a wide elastic band at the bottom with some sort of soft red perforated material on the inside of the band. They fit perfect around the leg and felt awesome. You can see an illustration of what I'm talking about in this review. And there are several other reviews from others have similar sizing issues compared to past versions of these shorts.



This is a size large which is what I had bought before in 2012 and my size according to the sizing chart and guidelines that Giordana provides. I'm 5' 10.5" tall, about 155 pounds. My "natural waist" around my belly button is about 32". My quads are about 20" (left) and 20.5" (right). My legs a few inches about the knee (where the bottom of the shorts would fall) are about 16". I certainly don't have tree trunks, but I don't think my legs are that skinny for my body build.
First set of high performance bibs
Familiarity:

I've used it several times
Great fit, comfy
I haven't had the same problems as the other reviewers. I ordered a large due to being 6'3" and the straps are perfect. I also have fairly big legs and I really appreciate the way the leg bands fit. Very comfortable.



That being said, they put the tag on these in the worst place imaginable, right in the ol' coin slot. Just move it up an inch, or put it pretty much anywhere else. I loved the bibs but hated the way they rubbed so I removed the tag. Should you go to the same effort please don't be like me, use a scissors. Don't rip it out. I now have extra ventilation where the tag used to be and I've had to avoid wearing these in public to keep my modesty.



That being said, they are always under my mtb baggies because they are so, so comfortable. The chamois in these is brilliant. The've also made some appearances in basement trainer sessions where the extra ventilation can be kind of nice.
Not good enough
Familiarity:

I returned this product before using it
I had high expectation with this product, having read specialized reviews, so I was massively disappointed with these bib shorts.

I have several Giordana shorts (silverline) which are cheaper than these and are very nice, so for the price I was expecting to be amazed by these.

However, these just don't feel good, always scratching and the straps are always digging into you. Didn't even ride them, just return promptly
New Version a Definite Downgrade
I have several 2011 and 2012 versions of this bib short and absolutely love them. But the 2013 version is a definite downgrade while staying at the same high price point. They are still made in Italy, and the overall shell and chamois are the same quality construction and material, but the changes that were made drop it down a whole quality level and eliminated the very things that made it exceptional.



Gone is the wonderful red interliner of a bonded foam-like perforated material that provided exceptional stability while allowing venting... this is most noticeable in the straps that are now simply perforated themselves. I'm sure they convinced themselves this was an improvement for the sake of weight and ventilation, but it is not. The straps have lost much of their substance and now undermine that wonderful feel that no matter how long the ride, your bib short is not going to slip even a fraction of an inch.



The biggest disappointment is the new thigh band material. While still wide and available in red, the bands now feel thin and flimsy, and just like the straps, now lack the moxy to really stabilize the bib short. The weakened straps and weakened thigh bands work together to completely undermine the once great feel and performance of this bib short.
Major Disappointment
Gender:

Male

Familiarity:

I've used it several times
I purchased a FRC Giordana Bib a couple of years ago and love the garment. Have worn it multiple times and it's still in great shape and giving good service. Unfortunately Giordana changed the garment this year. I ordered the new version in June and it's a dramatic step down from the previous version. The first of the new bibs I received had a twisted shoulder strap that was rotated 180 degrees before being stitched to the front. The strap would not lay flat and I returned for a replacement. The new version has a simpler construction than the previous version and the quality of construction is not as high. I've worn the new bib less than a dozen times and there are places where the chamois stitching is beginning to separate. Not so for the old FRC bib. The problem reported by two previous reviewers for the lower leg compression strap is one I have also encountered. The bottom stretches out so easily that after just a few wearings it flairs out and doesn't grip the leg. This after only cold water wash and air dry. Giordana clearly changed the fabric for this portion of the short to a cheaper and less durable fabric and eliminated the wedge insert to cheapen construction costs (see photo, old version on left, new on right). I have bibs costing less than half the price of the new FRC bib that are better built and give superior performance. Loved the old version, but the new version discourages me from trying other Giordana products.
Best Feel!
Familiarity:

I've put it through the wringer
Ive been wearing the FRC bibs for the last couple of years and they are my favorite. The compression of the shorts instantly gives your body a great feel and they do really help with muscle fatigue. My favorite part about these is the chamois. Not too bulky and infused with aloe so no need for chamois creme.They are also Italian made so the construction is what you would expect from a high end garment. Highly recommended.
FormaRed Carbon Bib Shorts
I have pair of these from 2012. Great Bib Shorts, very comfortable, 5 stars!!! They fit small, so I bought a large for a 32 waist and they fit perfect.

I bought another pair (2013) but the large is too big, in fact the red band around the leg was so baggy I returned them for a medium. Even the red band on the medium isn't tight on my leg. Quality control issue??