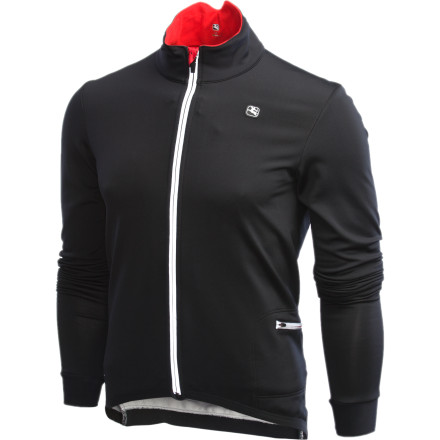 Detail Images
When you were a kid, how often did you visualize yourself riding through a snow storm? Maybe sometimes after you watched Hinault winning his one and only Paris-Roubaix. Maybe. Probably most of us were most often imagining ourselves on super hot, super sunny days hammering it up Alp d' Huez. But cycling is not a fair-weather sport alone, and we all grew to realize and accept that to excel in the sport, we have to be willing to go out on our bikes in all sorts of weather. The Giordana FormaRed Zero Jacket is designed to make your winter training not only more comfortable, but more possible even during the coldest days.
The FormaRed Zero jacket has been made to provide ultimate warmth without the typical bulk of multiple layers, and even borrows from aerospace technology to redefine the possibilities of insulation in cycling clothing. Just in case you are wondering, the "zero" in the product name of the FR-Zero was chosen to communicate that this jacket -- and every product within the FormaRed Zero collection - is among the warmest Giordana makes. In general Giordana stays away from applying temperature ranges for their items simply because they have found it to be very much a question of individual comfort. So instead of providing ranges, they have chosen to designate a warm-warmer-warmest scale. Having said that, the FR-Zero jacket will certainly keep the wearer warm in temperatures well below zero degrees Fahrenheit -- and they do mean Fahrenheit.
The FR-Zero Jacket has both a shell and a removable insulating vest that zips in. You'll notice immediately both how lightweight and incredibly warm both pieces are.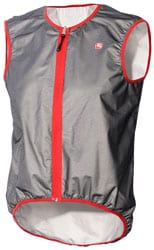 The inner removable vest is made from a Sympatex Relfexion fabric which has a thin aluminum layer bonded to its membrane that is claimed to reflect back 75% of body heat. The inherent heat-reflecting properties result in up to 3.6 degrees Celsius less heat loss through the jacket. Instead of ventilating by punching little holes in the material, Giordana has developed a lightweight non-porous polyester membrane to work in tandem with the Reflexion fabric to ventilate while insulating. The membrane is wind and water resistant, highly breathable, and laminated between the lining and the outer surface. This unique solution allows excess moisture to escape, keeping you dry without sacrificing any of the insulating strengths of the fabric. The vest can be worn layered under the shell for those coldest days, or on its own as high-tech protection against the wind and cold, while still remaining super compact and stowable.
The protective outer shell is made from an innovative three-layer material called HD44. The coded name stands for High Density material with a 44 thread per square centimeter count. It is a smooth, aerodynamic surface with a super compact weave that increases the speed of moisture wicking. In addition to that, the surface is treated to repel water. The middle-layer of the shell is made from an ultra-fine and elastic WindTex membrane which externally blocks the elements, but allows excess vapors to escape from within. The innermost layer is a soft, breathable polypropylene pile that traps body heat while maintaining a constant body temperature. This unusually thin layer conducts moisture rapidly away from the body to the intermediate layers for evaporation.
You might be thinking, yada-yada, these days every company has some sort of wonder-jacket with futuristic fabrics to protect in the cold weather. What will amaze you about the Giordana FR-Zero incarnation is just how un-jackety it feels. Its compact, lightweight design hardly feels heavier than something intended for the late spring. Contoured paneling creates a fit that mirrors every muscle movement during exercise.
The reversed CamLock full front zipper is reflective on the outside and protected by an inner flap of Aerofix AV that rolls over at the neck to prevent any snags. The CamLock zipper allows for easy adjustment on the bike. It locks when the zipper pull is in the down position. By flipping the pull up, the zipper can be opened easily with one hand by pulling on either side of the garment. The locking mechanism prevents the zipper from inadvertently coming open at the neck, exposing the rider to the elements. The Aerofix AV flap on the inside of the zipper keeps cold air from entering at this vulnerable spot. Aerofix AV has an internal wind-blocking membrane, so the flap blocks any air that might seep past the zipper teeth. Further sealing out the elements is a fully-lined extended collar at the back of the neck, a jacquard elastic gripper at the hem, and soft Super Roubaix cuffs at the wrists. Three rear pockets with a fourth zippered compartment provide loads of cargo space. There are two vertical side vents for easy temperature regulation on the bike. A detached hood made of Reflexion just like the inner vest, has also been included and features comfortable Super Roubaix ear flaps, durable four needle flat stitching and a Velcro closure at the chin.
The Giordana FormaRed Zero Jacket has rear reflective elements to help Increase your visibility when the sun starts to go down. It comes in Black/Red and is available in sizes Small through XXX-Large.
Worth the money
Familiarity:

I've put it through the wringer
After the sticker shock, I am very pleased with the jacket. When it arrived, I doubted the jacket would keep me warm considering it is very lightweight. I was very wrong. I wear the jacket in the winter on my road bike and also on my snow bike. I have worn it during a challenging snow bike race and I didn't have that gross build up of clammy sweat. It works well in warmer temperatures also by unzipping a little bit. (That seems obvious but I have had other jackets where overheating was still a problem even unzipped.) Sometimes I wear a jersey underneath or a long sleeve winter base layer. The jacket fits tight and can still accommodate two layers underneath.
Great Jacket for Late Fall Early Winter
Familiarity:

I've used it several times

Fit:

Runs small
I bought this jacket to extend my riding season and I am very happy to report it delivered. In November in Maine we had temperatures in the low 40's going down into the high 30's. In the 40's you can get away with a good base layer and the Giordana Forma Red Zero Jacket. In the high 30's I wore a Patagonia long sleave base layer, the jacket and for more wind protection, I also added as my final layer the Louis Garneau Course Race Jacket http://www.backcountry.com/Store/catalog/search.jsp?q=Louis+Garneau+Course+Race+Jacket&s=u For the price at $129 the Course Race Jacket offers great permeability, fits and contours well to the body plus has very good breathability. I actually at times was a little hot when cranking up the hills but on the flats and going down the hills I am glad I had it on.

Remarkably with this jacket and the layers I described above, my core always stayed warm even when I made a few stops along the way.



Size: All Giordana clothing I have purchased tends to run a size small (learned the hardway). I usually wear a medium for jerseys, bibs and jackets but with Giordana you really need to go up by one size. So being a medium I ordered a large. A perfect fit! For the Race Course Jacket a medium was perfect.
Has Anyone Out There have any feedback on...
Has Anyone Out There have any feedback on this jacket, yet?

I have the 'regular' (though there's nothing regular about it!) FR-C women's jacket from this past winter; but would like a even warmer jacket for even colder rides.



So, is there really that much difference between the two (besides $)?

How's the fit, similar to the 'reg.' FR-C ?

At this price, should be able to cycle in Antarctica (have to put chains on the tires, though!)!



Thanks All for any Insight!
Hi Debbie,



I actually just got the jacket and have not worn it yet. It is 36 degrees out currently. I plan to go out for an hour ride today so will give you feed back shortly as to how it performed i.e. (too hot, toasty warm (just right), warm or too cold for in the 30's.
Hi Debbie,



To follow-up from my last comment. I just came back from a 10 mile bike ride. The temperature was 35 degrees F and the wind was blowing out of the west at 19mph. I was averaging 15mph. So calculating the overall wind chill factor the temperature felt more like 21 degrees F. Here is a link to a windchill calculator. http://www.springfrog.com/weather/wind-chill.htm



I wore a thin base layer with long sleeves from Patagonia and wore the Giordana Forma Red Zero Jacket on top. Remarkably my core stayed warm the whole time even when I made a few stops. I never felt cold. So I tested it down to much lower temperatures than probably most would ride in. I would rate this a 5 star jacket. One comment: I would recommend in colder temperatures to wear arm warmers. This would make this jacket perfect!
Thank You so much for your helpful review! Did you use a balaclava to protect your face; if so, what brand? Ditto the arm warmers?



Thanks again, I'll check back.
Best Answer
Hi Debbie,



I am glad that helped!



For my face I actually bought this item:



http://www.competitivecyclist.com/giordana-windtex-hannibal-face-mask?ti=U2VhcmNoIFJlc3VsdHM6Z2lvcmRhbmEgZmFjZSBtYXNrOjE6MTpnaW9yZGFuYSBmYWNlIG1hc2s



It works great in terms of breathing warm air through the mask. Your lungs are really protected from the direct cold air. It also protects the cheeks and goes down around the neck slightly which offers some protection there as well. It is attached via velcro so is adjustable. It doesn't really cover the ears but this is solved by wearing an ear band to solve that problem. One last comment, I did experience a slight problem in that when I breathed out through the masks it would tend to fog up my road glasses. This was very annoying. So I would suggest glasses that really have good vents to prevent fogging.



Happy winter rides!
Thanks again, brave soul!
No problem Debbie. To go along with the Giordana Windtex Hannibal Face Mask, I thought you might also like to add tear protection to your outside arsenal. Looks like this item is temporarily out of stock but you could inquire to see when it would be available.



Louis Garneau Ear Covers

http://www.competitivecyclist.com/louis-garneau-ear-cover



My head circumference is 59CM and I chose the large size and it was perfect. There is no size chart for this item so hopefully this info might be helpful. Take care and ride well!