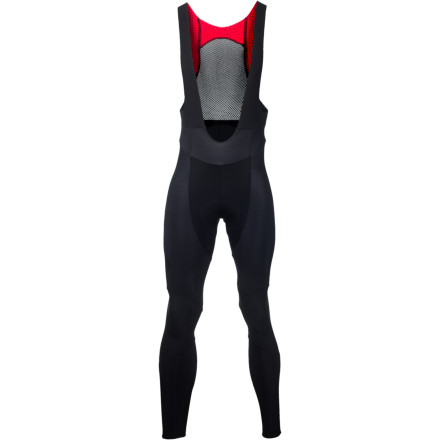 Detail Images
Description
Welcome to cold weather comfort in the saddle
You've probably ridden in winter tights that are plenty warm, yet completely awkward in the fit department. Don't worry, this is boilerplate in cycling apparel. All too often, you're forced to compromise between warmth and comfort. And knowing this, Giordana has shattered the mold of winter apparel, and thereby ending the argument on why you're still hanging on to your old winter tights. The FormaRed Carbon Bib Tights are made to fit like a second skin, while still retaining heat during rides of any duration. Basically, these tights are the pinnacle of Giordana's 30 plus years of making apparel.
Giordana's FormaRed Carbon bib tights are constructed from a sophisticated blend of fabrics that share in the single purpose of keeping you warm. Starting at the seat panels, the SuperRoubaix AZ material has been incorporated to keep you protected from wheel-spray. FormaRed uses this thick, stretchy, and breathable material for its water-repellent qualities. Covering the quads is Giordana's bread-and-butter winter-weight fabric, SuperRoubaix. This material uses an interlocking, microfiber knit construction that creates a highly breathable and warming loft. But, Giordana didn't only place it on the quads for warmth, SuperRoubaix is highly stretchable and also provides a slight compression that dissipates lactic acid buildup. Rounding out the tights' construction, the knees and calves are made from the brand new SuperRoubaix Carbon. Sharing the same interlocking knit as SuperRoubaix, SR Carbon controls the stretch of the knit in order to isolate muscles for a resistance to early fatigue. Additionally, the carbon fiber blocks out static and rogue atmospheric electrical interference for an increased anaerobic output. Altogether, the materials work in harmony to keep you insulated, protected from the elements, and riding at your best.

The FormaRed Carbon bib tights use a curved, multi-panel design, that when combined with the malleable fabrics, anatomically conforms to your body's contours while providing a complete freedom of movement. However, to preserve the fit while in movement, Giordana has included a silicone gripper at the cuffs. You'll also find Camlock zippers at the ankles for both security and adjustability. Ultimately, though, the bib straps are the most prone to abrasion and moisture accumulation. Knowing this, FormaRed uses the warming, soft, and breathable AeroFix fabric. For ventilation, the 'rear window' over the small of the back is constructed from the Naxos Mesh material. With the FormaRed uppers, security doesn't come at the cost of abrasion and sweat.
The bib tights' chamois is one that Giordana touts as being the most advanced in the industry -- the Cirro O.F.. We don't deal in absolutes, but we can say that it's the first chamois we've heard of with Aloe Vera particles directly infused into the threads of the microfiber. Aloe is not only a natural bacteria fighter, but its implementation in the fiber provides a cooling effect that protects and heals during activity. Below the skin layer, the Cirro has a 4mm-thick pad of waffled-texture expanding memory foam. The texture aids in ventilation by moving moisture to the perimeter of the chamois where accelerated evaporation can occur. The final layer of the chamois is a thick section of hand-sewn open cell padding with recessed channels for pressure relief. These technologies amount to a chamois that won't get wet and nasty 100 miles into a ride, let alone 20.
The Giordana FormaRed Carbon Bib Tights are available in the color Black and in five sizes from Small to XX-Large.
Super Comfortable
Familiarity:

I've put it through the wringer

Fit:

Runs small
I actually got these by mistake after ordering the knicker version but was sent tights.

Pros: I love the fabric. Very high quality and comfortable. I've worn them on cold foggy days in the upper 30s and was plenty warm. Outstanding fit.

Cons: Be warned that the chamois is really thick. So thick that if you wash your tights and hang them to dry, there's a good chance they won't be dry by morning. Even when they are turned inside out. Seriously. It can take more than 14 hours for the chamois to dry completely.
Good tights for the price
Familiarity:

I've put it through the wringer
im 6'0" 165lbs Size Large is a perfect fit for me, 40-45 degrees is the ideal range in my opinion
When windstopper is too much
Familiarity:

I've used it several times
My GORE Xenon windstopper bibs were too warm for 40 degrees or warmer so I bought these. These are great for temps in the high 30's to the low 50's. The fabric is thick enough to block most of the wind, but not so thick that sweat builds up, which was my problem with windstopper bibs. I'm 5'11" with 32" inseam, & 31 waist and the mediums fit well; snug but not too tight. I wear a medium in other brands so they fit "normal". The pad is comfortable for at least 3 hour rides but I haven't ridden longer yet.



Im marking these as 5 stars, but 4.5 stars is more accurate because of 2 minor complaints. The ankle zippers do not stay locked shut. Perhaps stirrups is the only cure for that, but I find that stirrups are cumbersome to put on. Also, I wish these had a zipper on the front like my Gore bibs do. It makes the mid-ride leak a little easier.
Almost Perfect
Familiarity:

I've put it through the wringer
Sizing: I'm 6'4 with a 33 inch waist and 36 inseam. I went with XL and its almost perfect, I could use another inch at the bottom. I typically wear L in most brands, so I would highly recommend sizing up. I have worn these in temps as low as 20 F up to the 50s and in dry, rain, and snowing conditions.



Whre these bibs excel: feel, look, comfort, chamois, and generally warmth and breathability. Dry temps between 35-50 F.



Where they fail: crotch thermals. I made the mistake of taking my first ride in these in the low 30s and by the end of my 2 hour ride, my junk was frozen, like painfully. Lesson learned. Anything below 35 I throw an old skull cap (the lycra bike kind) in my pants. This isn't an issue above 35, but it seems like a pretty big oversight to me. Then again, I have yet to own a pair of bib tights that adequately protects my junk when its cold. Also, these are billed as "Water-repellant." That is a joke. These are about as water repellant as my 90$ Mavic bibs who have no water repelling capabilities. I bought these vs. the silverline because of this feature, as far as I can tell, its either non-existent or their engineers need to go back to the drawing board. DONT buy these if you ride in rain all the time.



Bottom line: These are fantastic bib tights and I highly recommend them despite their shortcomings. They look and feel great plus have all kind of fancy features that I don't know if I benefit from, but hey, they look cool. The crotch thermals and water repellent stuff are a bit annoying given the price tag.
Things to know about these bib tights
Familiarity:

I've used it once or twice and have initial impressions
The Giordana FormaRed Carbon Men's Bib Tights run on the small size so if you are normally a medium I would suggest going up one size to a large. I am a 32 waist and a 38 chest and the medium worked but going to the large was perfect.



On my first ride using these bib tights the temperature was 35 degrees F with no sun. The wind was coming out of the west at 19mph. With my average speed down to 14mph due to strong head winds, I later calculated with the wind chill that it felt more like in the low 20's. Honestly my legs were not cold but at times they felt a little cool. A few times during the ride the sun came out and my legs got warmer. My conclusion is that on a sunny day with little to no wind with the temperature even in the mid 20's you would be pretty happy just wearing the bib tights. If not, I would suggest an extra layer to keep your legs a lot warmer.



Here is a link: to Louis Garneau Plasma Pants.

http://www.competitivecyclist.com/louis-garneau-plasma-pants-mens



I have used these pants for the last two seasons and you will love them. They do not hinder your riding in the least, the material is of real high quality and they offer that extra insulation and warmth needed if you are a fanatic like me who needs to keep riding until the snow flies.
I am a 32" x 32" inseam...so, what is a...
I am a 32" x 32" inseam...so, what is a better fit Med or Lg?
Victor, I'm a 32x 32 and I wear a medium but they are snug as they should be. If you are a larger 32 you might consider going with a large. Really, you could probably make both work well.
I am 31" waist x 32" inseam, slim build - the mediums fit me perfectly.
Are these bibs a good choice in steady...
Are these bibs a good choice in steady rain?
Chris,



If you get caught in the occasional mist these might be okay, but steady rain will be a bit much. Below is a link to our wet weather collection. The Castelli Nanoflex and the Pearl Izumi Amfib are favorites for the wet.



http://www.competitivecyclist.com/competitivecyclist/Wet-Weather-Apparel/cat100203837/promo.html?INT_ID=IB13375
Great Giordana cold winter bib tights
Used these during a very cold morning, 28 degrees and worked perfectly, kept the cold out and the warm in. Very impressed with the entire Giordana Forma Red Carbon line, all quality made, with ultra thin material but high tech such that it keeps out the cold.