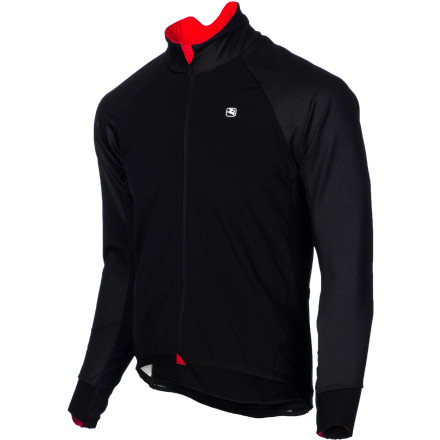 Detail Images
Description
Your lightest option for winter protection.
If you think that your ski jacket is suitable for winter rides, give it a shot for 40 miles and get back to us. You need protection that's both lightweight and breathable. Basically, you need the Giordana FormaRed Carbon Lightweight Jacket.
Giordana's FormaRed Carbon Lightweight jacket is made from a host of sophisticated fabrics, strategically located to provide a flexible and breathable protection from the elements. Comprising the bulk of the construction is Giordana's HD44 Light material. Utilizing three very different layers, HD44 Light works in symbiosis to block out the rain, wind, and cold, all the while retaining a light weight design that releases excess heat and moisture. How does it do this? Well, it's easier to explain than to perform. To start, the outer-layer has been grandfathered in from the days of Body Clone technology. This HD44 fabric plays host to multiple functions, foremost being its aerodynamics. The 44 in HD44 refers to the number of threads per square centimeter in the material. Needless to say, this is an extremely compact weave, and while this deflects exterior elements and increases smooth airflow, it also promotes a rapid transfer of moisture away from the skin. To further its level of protection, Giordana gave it a DWR treatment at every point of the jacket.
Residing just underneath HD44 is a windproof and water-resistant WindTex membrane. This semi-permeable membrane works to keep the water off and to push the sweat out. It also regulates the internal temperature, allowing excess heat to escape. This is possible only because it's so effective at blocking the wind and rain. Essentially, in the pseudo-scientific sense, the space between your skin and the fabric becomes a vacuum-like micro climate that's easier to control. Now, to round out the third element in Giordana's trifecta of protection is the HD22 material. This fabric lays on the skin, and for good reason. Being the softest and smoothest of the three materials, HD22 is a heavy wicker that's free from abrasion. On top of this, Giordana has given HD22 an antibacterial treatment that will keep the stink away.
Now, HD44 Light is used almost everywhere, but what about the back of the jacket? Well, the back, pockets, upper side panels and the extended collar use Giordana's new Dual Fit Strong fabric. Using a dual weave construction, this material makes use of what Giordana calls its Reduced Point of Contact technology. This is where the spiral shaped weave process minimizes the points of contact between the skin and the fabric. Essentially, this generates a micro-circulation that keeps you dry and ventilated. On top of this, Dual Fit Strong is extremely malleable and durable. That's why it's been used at points of the construction that require stretch and elasticity.
So, we realize that the massive cast of fabrics sound bulky and heavy, but this jacket is called the Lightweight for a reason. As a unit, the jacket is light and airy. And when you total in the freedom of movement that the multiple panels and natural stretch provide, it becomes obvious that Giordana has truly outdone itself.
For storage, Giordana covered all of the bases. The Lightweight comes equipped with three rear cargo pockets and a zippered security pocket. There's also a hidden pocket for your media device. For on-the-fly ventilation, the jacket has a full-length, reverse camlock zipper. And to protect you from cold air infiltration, the jacket uses Aerofix at the tall collar and cuffs.
To heighten your visibility in low-light conditions, Giordana has included reflective accents throughout the jacket.
The Giordana FormaRed Carbon Lightweight Jacket is available in six sizes from Small to XXX-Large and in the colors Black/black and Red/black.
Update to below
Gender:

Male

Familiarity:

I've put it through the wringer

Fit:

Runs small
Now that I've put some miles on it. This is a real keeper.

I recently was out in high thirties wearing under armour level 2 (mid-level) base & appropriate tights gloves and booties & I was fine.

I suspect if you live in a warmer climate and are on a budget, just buy this jacket and get a ranked set of base layers and you should be good to go. I didnt have good luck with ranking for Patagonia capalien. UA works well. I haven't compared icebreaker.

Grabbing under arm pits goes away when you start riding--no probs.

Haven't had time to experiment with top end temps...I just use my Gore Xenon soft shell.
Conclusion: its the placing of the panels, perfect cut, and stretch in wind proof panels allowing bulky bases, that make it so versatile
You'll be surprised!
Familiarity:

I've put it through the wringer
I can only guess that my Assos 851 Winter Jacket (which is great) feels like a jilted lover when I reach past it in the closet to grab the Giordana. True to it's name, it's very lightweight...almost jersey-like. Initially, it was hard to believe that such a light jacket could be so effective in cold/wintry conditions. Stretchable and form fitting as well as being breathable and great with it's wind protection. The construction is top notch...haven't experienced any problems with either stitching or it's zipper. The three pockets are adequate, though the Assos gets the nod in this department since I think they're roomier than most AND they wrap around your sides more than any other pockets I've seen, making them more accessible. Not necessarily a knock against the Giordana, just high praise for the Assos. I've had no problem taking this jacket out on rides in the low 30's or high 20's, of course proper layering is part of that equation. If a friend were asking me to recommend a winter jacket, I'd suggest this one.
So far, really nice
Gender:

Male

Familiarity:

I gave it as a gift but have feedback to share
Haven't ridden it yet!!! Too warm, thankfully.



But this thing looks so good I thought I'd put up a quick post as a heads up. Description: On red model, the wind-proof stuff is black, and red panels at front are wind proof. Red panels under arms and at arm-pits are jersey. Material is all light weight w/little or no insulation. Soft jersy panels are like a standard light to mid-weight spring/fall jersey. Fabric weight identical to my gore xenon softshell jersey (both jersey and wind proof fabrics), critical diff being a lot more wind proof coverage on Giordana...just put a nice base under any wind proof breathable & you're golden. My guess for temp range: s/b high 50's (if not 60) to poss mid/low-30's w/right base. 6'3" 44" chest & 2xl seems fine (arm pits notwithstanding)--room for a mid-base even w/my fat old-man belly. Arm pits dont seem to affected by base. WIndtex is a lot stretchier than gore windstopper.



con: stitching qual is a bit disappointing for price, same as my old siverline jersey, but seems OK. Fits fantastic, but grabs at armpits except in only one narrow on-bike position--but s/b be just fine & adding base doesn't seem to exacerbate prob.



pro: winter gear is all about the panel placement--panels appear perfectly placed to maximize temp range (note how nobody on the phone has ever actually put their hand on the garment so u can ask just which panels are which).



Pairs well w/ my gore xenon soft shell jersey (w/winstopper) jersey. Weight/insulation of both wind proof panels as well as jersey material is identical, That jersey has smaller panels so range is higher. See my review. On colder side, should transition well to castelli Motorolo which has same windproof coverage pattern, only A LOT more fleece behind wind proof & a bit more thickness to soft/jersy panels.



will try and post after ive ridden it...maybe at beginning of summer after fall/ spring is done
Fantastic dry winter jacket
Familiarity:

I've put it through the wringer
Don't let the 'lightweight' name of this jacket fool you, it will definitely keep you warm well into the mid 30's. I've had this jacket for two winters and every time I wear it I am suprised at just how warm it is. If you plan on wearing it in 40-50 degree weather, you'll need a tank top under it. Yeah, it is that warm. Water resistance is great(it really isn't made to be waterproof) and the wind resistance is purrrrfect. I wore this jacket on a cold, rainy-ish day riding up Empire Pass and found it to be adequate for the job, with just a summer baselayer under it. I've worn it on days in the 20's with a winter jersey under it and still found it to be incredibly warm and comfortable. Get your body in this jacket, you will love it.