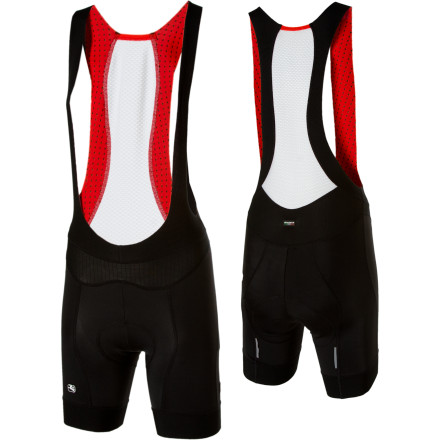 Detail Images
If you've made do for years with buying small and extra small sizes in men's bib shorts, the Giordana FormaRed Carbon Women's Bib Shorts will change your life. These bib shorts have been designed for hard, long hours in the saddle with small, though significant modifications to fit a lady's build. The shapes of the panels are determined by the Giordana Women's Contour Fit system. The result is a snug ergonomic fit that's optimized for your position on the bike.
The FormaRed Carbon Bibs make use of the HC-44 high compression fabric to facilitate this precise fit as well as aid in your performance while giving you maximum comfort. To translate, the HC refers to the fabric's high compression rate, while 44 designates the number of threads per centimeter in the knitting process. This tight weave makes you feel like your muscles are being gently held-in place. Carbon reinforced Ametista fabric is added along the very top of the shorts, at the cuffs, and in the bib straps to provide additional support and eliminate excessive stretch. Antigua fabric is the internal, red semi-perforated material that lays against the skin, allowing it to ...designed to be comfortable for long days on the bike... breathe. This fabric also holds the bibs perfectly in place without causing any irritation or indentations in the skin.
While staying up and staying put are the benefits of bib shorts with suspenders, there are possible complications -- two of them, in fact. If you've been reluctant to experiment with bib shorts because you were afraid that the straps would be far too bothersome, know this. The FormaRed Women's Bib Shorts have suspender straps that lie toward the outside of your torso, and a minimum number of seams allows free and comfortable movement. Giordana uses a four-needle flat stitch for all the seams which makes them discrete and durable. Reflective elements have been added to make you more visible and consequently safer on the roads near dawn or dusk.
The ALTA O.F. represents the highest level of technology available in women's specific chamois. Giordana has translated its Women's Contour Fit process to develop a pad that provides the appropriate protection for lady cyclists. The modified and streamlined silhouette of the pad is narrower which contours better to the female form on the bike. As a result, the ALTA is considerably less bulky, yet retains the protective qualities that will keep you comfy even over the course of three to four hour rides. The insert is elastic and conforms to the body in motion, but returns every time to its original shape after activity.
The Giordana FormaRed Carbon Women's Bib Shorts are available in Black/black and come in X-Small through X-Large.
Aerofix Gripper System in the upper and cuffs, which consists of Ametista backed with stretchy, breathable Antigua fabric, holds the bibs in place
Seamless straps offer a barely-there feel
Core Contour bib waist panels eliminate bunching when you?re in the riding position, and the Ametista fabric?s carbon protects your internal organs
Lower-profile Alta OmniForm chamois, Giordana?s top-of-the-line insert, provides streamlined comfort, protection and support
Micromesh back panel wicks and breathes to keep you dry and cool
Reflective elements enhance low-light visibility
Share your thoughts
What do you think of the
Giordana
FormaRed Carbon Women's Bib Shorts
? Share a...
Chamois is great!
Familiarity:

I've used it once or twice and have initial impressions

Fit:

True to size
The tags are definitely annoying but love the material. So comfortable. I did a 50 mile ride and my butt was very happy with the chamois.
Wish the tags were placed elsewhere!
Familiarity:

I returned this product before using it
There are two places on the website to write reviews of this product so I am reviewing in both places. I wish I would have seen these reviews because the tag placement at the base of your spine is terribly uncomfortable. I am afraid to cut the tag as suggested because there is so much stitching. ( The tag is on both the inside and the outside of the shorts). I think it may compromise the seam or the extra stitching will continue to rub. On the plus side, the chamois is great on these shorts (I don't like thick chamois) and the fabric is comfortable, but I did find a bit of a sausage leg effect since the non elastic bottom band is so thick.
Did not stay in place
Familiarity:

I've used it several times
I prefer to ride in bids but these did not work for me. I spend a lot of time on the bike and was looking for some new bibs. These are well made and really comfortable for the first 5 minutes. Then (since there are no silicone in the grippers) the shorts rolled up on me. Now they have a 2in inseam are really unwearable. Bummer, I really wanted to like these shorts.
I'm new to biking, I didn't know!
Familiarity:

I've used it several times

Fit:

True to size
I've been biking about a year now. Three months ago I never heard of bib shorts. I saw them on "other" bikers. [not sure I'd be considered a biker yet, but I'm getting there.] I didn't know what they were called. I thought only men wore them. I thought they were just for speed racers or people on teams. I bought the FormaRed Carbon bib shorts to look cuter; that's all. I think I do look cuter, although I haven't knock anyone off their bike! All this is preliminary to: these bib shorts are so much more comfortable than the biking shorts. The padding is just right; the wide comfort band on the legs are, well, a comfort. But most of all, it's the waistband; it is oh so comfortable; first time out, I could not believe how much more comfortable the bib shorts overall were than shorts, but especially so in the waistband. With my shorts, the band cut into my waist, was really uncomfortable halfway through my ride [of 27 miles]. And, maybe you'll know that I mean, the tightness kept me from holding stomach in; that is, using my core. In sum, forget about the cuteness, the bib shorts are way more comfortable and make a ride more so too.
These shorts are extremely comfortable, and I have to say that I love the fact that the chamois isn't too thick. Some of the shorts I have are too padded and that actually causes more pain and numbness, in my opinion. The fabric is incredible, they're not too long. They're very fitted, so I sized up and it was perfect. I love that there's no sausage leg and the rise is high enough that there's no spillage over the top. My only complaint is that there's a few tags sewn into the lower back. Funny how something so small can be so annoying! I really do not understand why Giordana would sew tags into their shorts. Other than that, they look great and feel great.
Bad fit and weird chamois
I bought these bibs based on reviews below and a recommendation from the online help person. Unfortunately the fit was terrible and I could not send them back soon enough. I have a short torso but found these bibs to be short in the torso and the chamois was the weirdest one I have ever come across. I can't imagine it would offer any padding, protection or comfort on the bike. I was disappointed as Giordana makes great quality clothing. The fit and chamois simply did not work for me.
HUGE fan of these bib shorts
These FR-C bib shorts are perfect in every way. I only wear bibs now as these have convinced me to change over. I have bought my second pair of these as I ride a lot, and now I am thinking to buy their full length bib tights. I don't feel them on me, the seams are truly seamless feeling, and I don't feel the shoulder straps. The chamois is small, but placed perfectly. I love it... no big diaper butt, no sausage leg, and so long as I use my chamois cream, I don't think about my crotch on century rides as I have with other shorts. The waist rise is perfect and it does not pinch me off at the gut to create any nasty ride bloat / gas issues. No riding up or shifting of material in any way. Put them on, they stay put, and you don't think about them. I am a huge fan of these bib shorts, and only wish Giordana would just make their jerseys slightly longer in the front. Until they do, I go with Capo or whatever, for the jersey. I am 5' 7-1/2" and weigh 130-135 and I wear a Medium size. If ANY taller, I would recommend the Large size.
These bibs fit amazing. The narrow chamois eliminates excess bulk which most other shorts seem to have. I was worried about the minimal chamois since my regular rides are 60 miles or so. Turns out to offer ample support without getting in the way or shifting around. Finding a good fitting pair of shorts/bibs is not easy and what works for one may not work for another. But if you have narrow hips and have trouble finding shorts that fit, the XS might work for you, as it did for me. I couldn't be happier and ended up getting two of these bibs. I read reviews of the previous versions of the FR Red Carbon bibs and the common complaint was that they dip low in the belly. The 2011 model does NOT have this problem. In fact, the rise is slightly higher than on the Forma Custom bibs (with the pink leg cuffs). I usually have problems with my quads being choked by the awful narrow leg grippers on most shorts but didn't have that problem with these bibs. These shorts are bit shorter than most bibs so take note if you are very tall or prefer longer shorts that offer more compression. I'm short (5'3'') so the length didn't affect me much. Some ladies might even prefer the shorter length to avoid low tan lines on their thighs.

And last, just a general statement about bibs- if you are curious about bibs and wonder what all the fuss is, give them a try. I never wore bibs before and now, I am a convert!
Luving my bib shorts.....
No more shorts for me and only bibs....especially Giordana! Very comfortable....for a minute i thought i they were custom made lolol.

~ ;)
I had to exchange a get the next size up (medium was too small for my quads of immense power.) I'd recommend buying a size up. I guess they're European sizing? I've only worn them a couple of times, and so far, very comfortable, particularly the chamois. Material is soft and lovely.
What is the "best" women's bib for ultra...
What is the "best" women's bib for ultra distance riders
The FR-C line. Also, Assos*, Garneau Supper Coursa/Supperleggera line up.
Please excuse my terrible spelling! "Super", not supper!