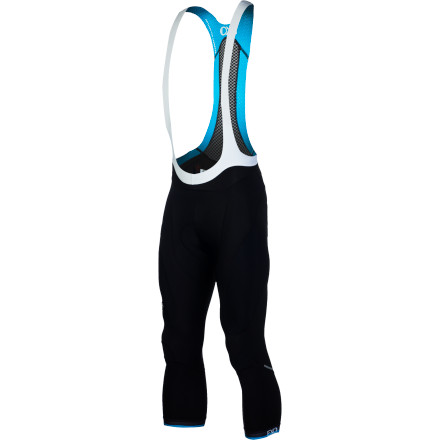 Detail Images

Community Images
Description
In a league of its own.
The Giordana EXO Bib Knickers represent the progression of the storied Italian company's envelope-pushing ethos, incorporating strategic compression along major muscle groups to reduce fatigue, maximize blood flow, and eliminate sore knees commonly experienced by long-distance cyclists. And though it may sound rather strange, these knickers are intended for warm-weather use, thanks to their oh-so-light AeroFix Pro bib uppers and Mesh Xpansion knee panels, which enhance thermo-regulation on the hottest summer rides.
Using every ounce of knowledge gained from years of research and design, Giordana engineered the EXO Bib Knickers with strategic support along the tendons connecting the patella to surrounding muscle groups. A higher level of support along the knees virtually eliminates the pain experienced by cyclists pushing their limits on leg-crushing climbs, also facilitating uniform pedal stroke for maximum efficiency. Moovix Lycra paneling along the leg panels increases blood flow to reduce fatigue on spirited training rides and long-distance hauls. Moreover, you'll find similar compressive fabrics from the lower knee to the calf, and along the lower legs.
Another impressive feature with the EXO Bib Knickers is the aloe-infused Cirro OF chamois. Not content with a simple aloe treatment, Giordana actually infused particles of aloe vera directly into the chamois' threads. This prevents the aloe particles from washing away after a few uses, but more importantly, it protects and heals the skin during punishing rides and races.
Moovix focused leg compression panels
Zaffiro at inner thigh and seat panels
Mesh Xpansion panels behind knees
AeroFix Pro bib uppers
Cirro OF chamois with infused aloe vera
Four needle flat-stitched seams
Reflective accents
Italian made fits correctly ...
Familiarity:

I've used it once or twice and have initial impressions
Quality gear. Stitching great. Perfect compression. You won't go wrong. Pad could have been better compared to Assos FL13 or Body Paint II for the price.
most excellent kit!
Familiarity:

I've used it once or twice and have initial impressions
Excellent fit, and one of the best pads I've used including Rapha or Castelli X2.
Used during a 72 degree day, fairly brisk ride and was not excessively warm. Nice compression feeling as well. I'm 5'8" 150, fairly muscular, medium was perfect.
OUI!
Familiarity:

I've used it once or twice and have initial impressions
I own ( and love) some of the older FRC, and when I saw these, along with the positive reviews, I decided to give them a go. Yes, they are expensive. But oh boy - they are superb.
In the great white north, I really only wear bib knickers when it dips below the mid 30's F, however these bib knickers are definitely not designed for cold weather. The airy construction and UV protection make them very comfortable in warmer temps, I've now used them on a couple of mid distance rides (40 miles) in mid 70 weather, and they were excellent. So onto the details. By way of comparison, my other high end gear that I would set them alongside would be Assos (FI 13 S_5, size S), Rapha (Pro bibs, size XS) and my older FRC gear (size S). I am 5'8''. 130, athletic. My preferences for cycling bibs are towards the compression end of the spectrum.
Compression-wise, the EXO is medium, as compared to the Rapha. This may well be because of sizing, and cut. Nonetheless, on my medium-length rides it was superbly comfortable. Longer rides will tell me if they do indeed reduce fatigue or not.
The chamois is really good. Certainly better than my old FRC, and possibly edging out the Assos. But for me, the Rapha Cytech pad is more comfortable. Of all the three, I liked the bib straps the most on the EXO! They simply vanish when riding. I completely forgot they were there, until I got off the bike. Compression on the mid section is good, and not at all restrictive, and as someone else mentioned, the lower cut is great (and convenient)
I like these a LOT. Enough to think about picking up a second pair, and I am considering the bib shorts as well. Zero regrets about the cost - it is well worth it!
Um, yes!
Gender:

Male

Familiarity:

I've used it once or twice and have initial impressions
I know they're $325 but they feel like a million bucks! I paired these bibs with the matching white jersey and compression socks and powered through a 98 mile ride! Now, I can't totally credit the EXO system but it definitely helped. The compression on the bibs was just enough to prevent my knees from getting that pulsing/bulging they're-about-to-explode feeling (the ride included 6500 ft. of climbing) and felt luxurious against my skin. The chamois was also very comfortable but for a ten hour ride I did find the last couple hours I was shifting to get comfortable again, but for shorter rides, up to 70 miles, these will probably keep your buns very happy. Also, a reviewer on Youtube said Giordana suggested not using chamois cream with these bibs as it would degrade the aloe vera treatment and to ride in them sans any lubrication, but I have not fact-checked that yet. Also, the knicker part, which I thought was kind of long, is meant to cover the entire calf, so when worn with the matching compression socks only an inch or so of skin show. They stayed very cool, but if you need more ventilation maybe pair with shorter socks. All in all, have worn once, loved them the first, washed them immediately, and definitely itching to use them on the very next ride!
EXO Bib Knickers
Familiarity:

I've used it several times

Fit:

True to size
Product description is spot on in every sense. These are by far the best cold weather cycling pants I have ever used. If you are able to consider one of the upper end cold weather cycle pant being they all come with a somewhat sticker shock price, you would be well served to drop another few dollars for these which stand at the upper end of not only quality but price. On the natural you will be able to sustain speed of 1-2 MPH faster over long distances and leg fatigue is practicality eliminated. I was more than pleasantly surprised. Also run true to size so whatever size you wear in a short of bib order same.
I just picked up a pair of these and I'm very impressed! I didn't think Giordana could do better than the FRC but they somehow managed. I have 5 rides on them now and its my go to short for anything from 50 to 90 degrees. The Compressions is noticeable and keeps the muscles happy on the longest of rides.



I hate to say it, but my Assos shorts may now be set aside for trainer rides.