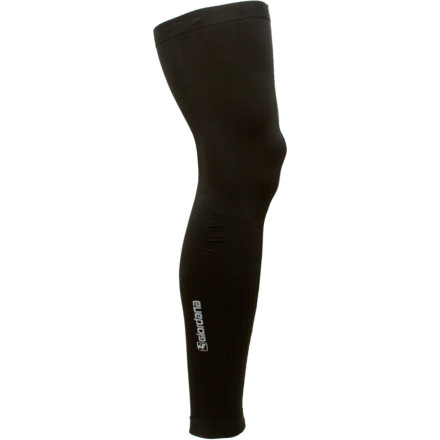 Detail Images
When was the last time you took your leg warmers off during a ride? Back before the advent of knee warmers, we practiced taking our leggings off while riding knowing that we'd have an occasion to do so while racing, like sometime between kilometer zero and the first sector of cobbles a few hours down the road. Giordana's Body Clone Dryarn Leg Warmers were not designed with that in mind. They were designed for the way the rest of us wear them.
Most of us use knee warmers to extend the seasons on our favorite bibs. The zipper isn't doing much other than making it a bit easier to get the warmers over our ankles. Since these warmers are stretchier than Roubaix, the zipper isn't necessary.
The big thing is that these do not have the same knit all the way through. The sock loom on which these are fabricated is able to change the stitching pattern over the length of the warmers, so that it's thinner in some places, thicker in others. And it stretches a bit more vertically in some places, and more horizontally in others. Because of all this complexity, there's a seam, a small one running vertically in the warmer.
Giordana designed these warmers with the idea that you don't need all that material in all places, and that your knee is constantly bending and straightening when you're riding a bike. Some places get a little scrunched, dense knitting, like the crook of the knee. They've also made it a bit thicker in places to give the muscles better support. They change the direction of the stretch in places like the outside of the knee so your leg moves better and the warmer stays put. Also helping things stay but are the rolled over cuffs at the top and bottom and soft elastic inside them.
The price of all this fancy stitching is a simple one. There is a proper way to wear these warmers. There is a right and a left, and an outside and an inside, and an up and down. All you need to know in putting them on is that the Giordana logo, stitched into the material goes on the outside of each knee, with the logo oriented so it's on the side of the tibia.