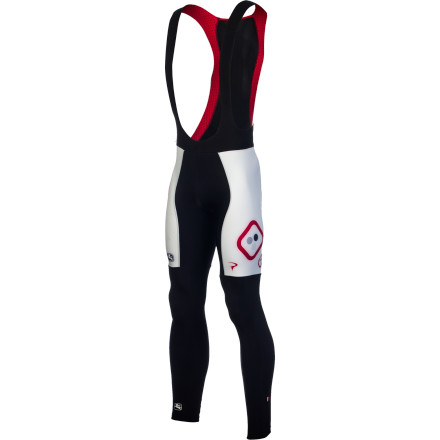 Detail Images
Although our team was technically an American one, there was no subsiding our infatuation for all things European. This was reflected in their helmets, bikes, and of course, apparel. And when it came time for our boys to head off to their winter training camp, we couldn't help but send them away in the Giordana Competitive Cyclist Team Bib Tights.
For the construction of the bib tights, Giordana used its bread-and-butter winter-weight fabric, Super Roubaix. This material uses an interlocking, microfiber knit construction that creates a highly breathable and warming loft. But, Giordana didn't only use this material for warmth. In fact, Super Roubaix is highly stretchable and also provides a slight compression that dissipates fatigue by supporting the muscle groups of the legs.
The Team bib tights use a curved, multi-panel design that, when combined with the malleable fabric, anatomically conforms to your body's contours, while also providing a complete freedom of movement. However, to preserve the fit while in movement, Giordana has included a silicone gripper at the cuffs. You'll also find Camlock zippers at the ankles for both security and adjustability. Ultimately, though, the bib straps are the most prone to abrasion and moisture accumulation. Knowing this, the Team bib tights use the warming, soft, and breathable AeroFix fabric. For ventilation, the 'rear window' over the small of the back is constructed from the Naxos Mesh material. With these uppers, security doesn't come at the cost of abrasion and sweat.
Now, this is where we would normally describe the chamois to you, however, the Team bib tights don't feature one. Now, before you ask, what's the deal? Let us explain. These tights are meant to be worn in conjunction with your favorite pair of bib shorts. This is the preferred system for professional cyclists around the world, as the long pull range of bib tights tend to misplace a built-in chamois. So, with this system, your chamois will rest in its intended position, providing far more comfort over long base miles.
The Giordana Competitive Cyclist Team Bib Tights are available in the Competitive Cyclist team colorway and in five sizes from Small to XX-Large. Please note, in case you simply skipped to the bottom of the page, that these bib tights do not come equipped with a chamois.