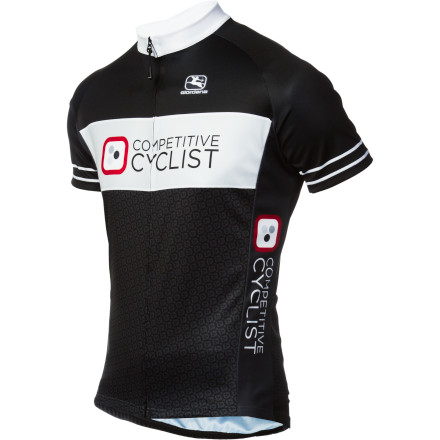 Detail Images

Community Images
If you're looking for something that our pro-team doesn't even have, you're in the right place. The Competitive Cyclist Men's Jersey is now available in a Black design and at a more budget-friendly price. Designed to be a jersey that we'd wear, and we certainly do, the Competitive Cyclist jersey exceeds even our expectations. With a lightweight construction, clean aesthetics, and the Giordana brand name to stand behind, the Competitive jersey makes Paco and the boys envious, but we'll leave them in White for now and reserve Black for you.
Whether you love the site, love the team, or simply appreciate a quality design, the Competitive Cyclist jersey will cover all of the bases. In designing the jersey, our interest was never to make you a pedaling advertisement. Instead, we opted for minimal branding and a top-shelf jersey to host it. So, we printed it on the Michron-constructed Giordana Euro Fit jersey. The Michron fabric is a professional-grade material that wicks and breathes at a level that will tame the summer. As an added bonus, Giordana designed Michron to be highly-resistant to color fading. This treatment ensures that you'll be flying the Competitive colors for years to come.
And while the jersey's material selection is more than comfortable, fit played the primary role in the Euro Fit's selection. The cut falls somewhere between gran fondo and race, and the lack of elastic arm cuffs provide a non-constricting comfort during a century in the saddle. Meanwhile, the light-elastic waistband secures the fit when you're in the drops, and it also keeps the jersey in place when its three rear pockets are loaded with your ride essentials.
The Competitive Cyclist Men's Jersey is available in the color Black and in six sizes from X-Small to XX-Large.
Competitive Cyclist Racing Jersey
great product and great service from backcountry.com. thanks.
Adequate jersey for the job
Coming from a Capo kit, this fits similarly. I'm a solid XL in the euro brands and this fits just like the rest of them. Sleeves are well shaped and not too tight, plus, they don't have tight elastic around the bottom. Bonus.



I refuse to buy a jersey without a full zipper and this one operates well.



Two concerns - the fabric doesn't seem as breathable as some other fabrics and the side seams are itchy. An undershirt will cover that problem.
This is a lightweight, soft, and extremely comfortable jersey. It?s stylish but not too flashy. The cut is tight which is how I like it. I bought a size medium although I also tried on a size large which was okay but I like the tighter fit of the medium better. The length of the medium jersey is also perfect whereas the large was a little long. I?m 5?9? and 150 lbs. This is the second Giordana jersey I own and you really do get what you pay for. Everything about it screams quality and a full length zipper is great. Once you start wearing Giordana it?s hard to wear cheaper jerseys. However, I got this jersey for cheap. I only paid $50 for it. At that price it?s a steal and I?m tempted to buy a second one as a backup. I also bought the bibs which are great too. However, for those I had to get a large because that?s all that was available. The large fits great so I have no complaints.
I like the fit. I had to return the first one I bought because the size I usually buy didn't fit as snugly as I would like. I exchanged for one size smaller. Good quality. Can't complain. I'll be purchasing another when I need another jersey.