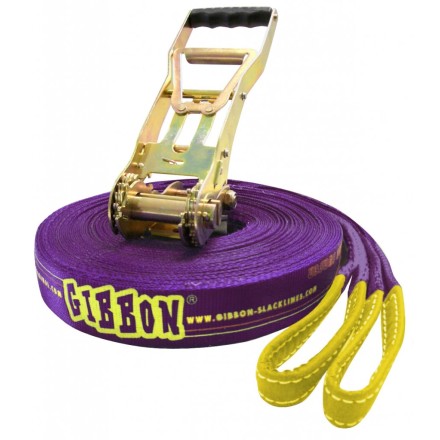 Detail Images

Community Images
Gibbon Slacklines made the Surfline with plenty of kick and power, and with a 30-meter length, it's the next challenge for you to step up to. (Or step onto ... whatever.) A long-lever ratchet lets you adjust tension, and the two-part set assembles and disassembles quickly. The included instruction manual offers guidelines and ideas.
Slackline+frisbee+friends = Hours of fun
Familiarity:

I've put it through the wringer
Challenging slackline. Definitely upping the ante above the classic slackline. Recommended if you want a little more bounce and if the classic just isn't as fun as it used to be.
Lots of fun, challenging.
Familiarity:

I gave it as a gift but have feedback to share
I bought this as a gift after the classic had been pretty well mastered. So far its definitely been more challenging and they love it.
Buy it!!
Familiarity:

I've put it through the wringer
This is one of the coolest slacklines out there, my friends and I will set it up almost fully extended and try all sorts of stuff! Truly a pleasure to surf as well as walk. Always a good time!!
Best purchase you could make
Familiarity:

I've put it through the wringer
This was my third slackline I bought, I had previously gotten the classic 15 m and then bumped up to the classic 30m. This is much more bouncy and worth all the money you could spend but it is at a wonderful price. It has the sticky side which helps your feet grab the line!
Purple Slackline Power
Familiarity:

I've put it through the wringer
I have had the original Gibbon slackline, the jib line and I finally settled on this slackline (surfline). I loved moving to the jibline from the original because it adds a trampoline like bounce to the line that not only increases what you can do on the line but also I find more comfortable.

Next, I needed more of a challenging kick to slacklining and found that the Surfline was the perfect combination which took the jibline and made it longer. Now I have 30 meters or 98 feet of surfing in front of me with the ability to still commit to tricks. Surfline kills it.

Today I checked out the 1 inch and im getting excited to start that challenge. The Andy Lewis Trickline also caught my eye but is at a steep price. Maybe I will let my friends get that. All in all the surfline does it for me.
Great for tricks!
Familiarity:

I've put it through the wringer
I had a Classic, then graduated up to this Surfline. It's got a very thin webbing designed for tricks and bounces, so it's perfect for what I'm looking for! The ratchet is super heavy-duty, and like twice the size of the Classic ratchet, so it's alot easier to tension, especially when I set it up really long. Would recommend!
what is the difference between the gibbon...
what is the difference between the gibbon slack line surf line and the gibbon slack line classic besides distance? What else is different between them?
This line is ideal for tricks in motion like shown in this video:

http://www.youtube.com/watch?v=b-GBj8zUels&feature=player_embedded
This is the longest line you can buy for a kit and its definitely good for surfing, tricks and even letting your newbie friends try it out if u crank it nice and tight. People complain about the durability of it since the advertised way to de-tension it is to just release the ratchet but I have found that i like to pull the ratchet back and slowly de-tension it by pulling the flip thing back and slowly going down notch by notch. Basically if you are ready to take slacklining to a new level or just want to get really into I would recommend this line. I have some edits with the surfline it on my blog at www.noreastfilms.blogspot.com if you want to see a little bit of this thing in action.