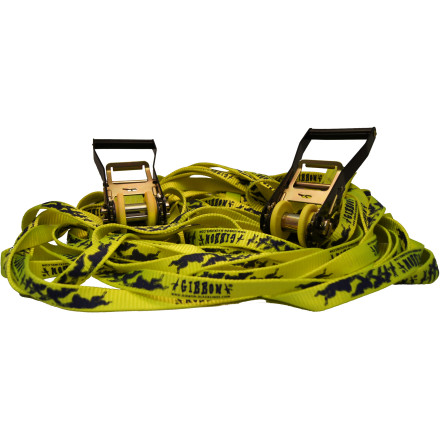 Take your skills to the next level with the Gibbon Flow Line Kit with Ratchets. This one-inch wide webbing slackline is ideal for longer setups.
Flowline is half the width of standard slacklines and features limited stretch (8-10%) for longer set-ups
Included double ratchet system and spacers make it easy to rig lines up to 60 feet long
Rubber-coated print on line gives you extra grip
After recieving the Gibbon Flowline for Christmas I immediatley set it up. While cranking the slackline tight the line came off from the ratchet(luckily I was not on the line when this happened). I went to look closer and saw that the supporting pins had come off from the ratchet. Next I checked the other ratchet and the saw the same thing had happened. I am now in the process of contacting Gibbon but have got nowhere due to their slow customer service. I hope Gibbon will send me a new one due to a serouis saftey flaw. Now I am without a slackline.
How much does the whole setup weigh?
How much does the whole setup weigh?
Shipping weight is listed at 2.5 pounds.
Setup is super easy with this line, a major step up in ease over the old school carabiner 3-1 method. It's very easy to get this line as tight as you want it with one person.



As for the line itself, it's 1 inch so if you liked the old 1 inch webbing go with this one. It's not as stretchy as the old stuff, which is good, but still has a good feel to it. Also this width is going to be more challenging than the 2 inch option. I've used both and the 2 inch webbing is definitely a little easier than the 1 inch.
Love the line
Familiarity:

I've used it once or twice and have initial impressions
Love the line, its the perfect thickness, great weight, and the length is enough to string a tough distance. Unfortunately, the ratchets are insanely heavy, and pretty heavy duty. I was hoping they would be lightweight enough to throw in my bag and take a quick jog up the mountain during spring and string a quick line, but the weight is too significant for that kind of use.