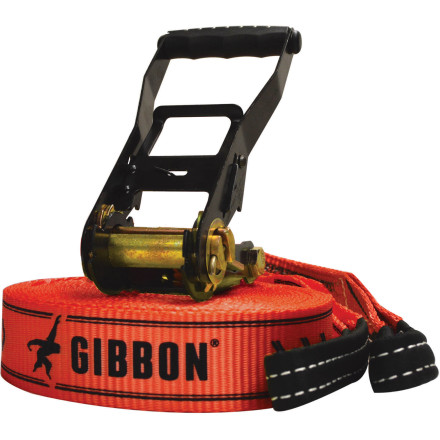 Community Images
Instead of school or work, head down to the park for some slacklining action with the Gibbon Classic Slackline X13. This original slackline features the classic two-inch wide design, making it ideal for beginners to intermediates who are learning tricks. This set includes a ratchet tensioner for a quick and simple setup, and a cover to protect the ratchet and anything it comes in contact with.

Polyester webbing with multilayer silk screen
Ratchet tensioner with padding and plastic handle
Cover for ratchet included
Love This Purchase
Familiarity:

I've put it through the wringer
I purchased this slack line a few months ago and I absolutely love it. I am kind of a beginner and it was easy for me to set up and the perfect width for me to learn on. When I first set it up I didn't need it to be 80ft long so it was a pain to have to pull all the extra length through the ratchet. Now that I'm better I love that I can set it up longer any time I need a new challenge.
Great pastime!
Familiarity:

I've put it through the wringer
Great way to get outside and kill time on nice evenings. I try and get out on mine whenever the weather allows. Be careful to not let the line rub anything while under tension or it will fray pretty easily. Great beginner line and for learning new tricks.
Best Purchase Ever
Familiarity:

I've put it through the wringer
I bought my first line last fall and ever since then I've been using it at least once a week. It's my new favorite thing to do. Whenever I can I am outside slacking, teaching new people, learning new tricks, it's the best.
BUY IT. BUY IT NOW
Familiarity:

I've used it several times
This is the most fun that anyone can have in between two trees. After watching a few videos on how to get better I've spent at least 3 hours a day on this just for fun. If you ever need something to get outside and enjoy this is it.
Great way to spend an afternoon!
Familiarity:

I've put it through the wringer
I originally purchased the 82 foot line over the summer to train my balance for skiing, but once I got it and started practicing, I got hooked, and now I'm thoroughly convinced I would do it purely because its fun! The line itself is great, really easy and quick to set up if your just getting into the slacklining game. The ratchet system does have its drawbacks, at 82 feet your close to the limit of tension for the system (still totally doable) and I wouldn't use the system for a high line. But, for hanging in the park having a good time and practicing, its perfect!
Awesome!
Familiarity:

I've put it through the wringer
I've had this line for about a year and a half now and it's held up great! This line is perfect for beginner to intermediate levels. I would definitely suggest that if you are looking to get your first line, start with the Gibbon Classic!
Gibbon Slacklines Rock
Familiarity:

I've put it through the wringer
We use this almost everyday with our family and take it camping, climbing, to concerts, REEL ROCK TOURS and all places cool. Awesome for balance, fun and confidence building.
Classic Gibbon SlackLine is the BEST!
Familiarity:

I've used it several times
My buddies and I are reluctantly letting winter slip away and we needed something to pump us back up so we started slack lining! My friend has the Slack Line X13 and we use it all the time! It so fun and chill to just take it down to the park and have some fun on it. The Classic Line is perfect for beginners and is super easy to set up and use. I really enjoy it for the variance of tension that can be applied to it and its versatility. It can be set up almost anywhere. I admit I may have slacked off during class a couple of times but I just can't seem to stay off of it! Its incredibly fun and is an awesome thing to get into!

Thanks Gibbon for this sweet product!